If you are looking for a great mix of fun, adventure and relaxation, visit Rincon Country RV Resorts in Tucson, Arizona. The perfect retreat for active 55+ adults.
Play pickleball, bocce ball, tennis, shuffleboard and horseshoes. Swim in the sparkling, heated pool or gaze at the famous Tucson night sky while relaxing in the spa. Spend your days in the lapidary and silversmithing room, ceramics room, sewing room, billiards room, woodshop, gym, and library. Fully-equipped activity rooms make it easy to keep up with your old hobbies or try things you have always wanted to do.

Events and Activities
During the peak season from October through May, full-time Activity Directors provide an amazing line-up of scheduled activities and live entertainment. Attend dinners and dances, shows, sports tournaments and craft fairs, seminars, and classes ranging from woodcarving to computers to oil painting to water aerobics, and more.
Between the two resorts, there are more than 140 hobby and interest clubs you can join. Whether you're staying for a few days or a few months, club volunteers are ready to welcome and teach anyone interested in learning or socializing.
Enjoy one of a kind desert sunsets as you take an evening stroll down wide lanes, meet up with friends for a dinner deck party, or head to the Auditorium for an evening show. The day is yours! Whether you plan your own activities with newly made friends or check in with the Activity Directors, you can make your day as full or relaxed as you want.
From classic car shows to Mardi Gras parades, there's so much fun to be had at Rincon Country RV Resorts that you won't want to leave! In fact, many guests purchase a park cottage resort home and return year after year or stay year round. New park cottages start from $39,900 with 2 years free rent (exclusions apply). They range in size from 400 to 800 square feet. Low maintenance and countless amenities make these homes perfect for the active senior looking for independent living and an active social life.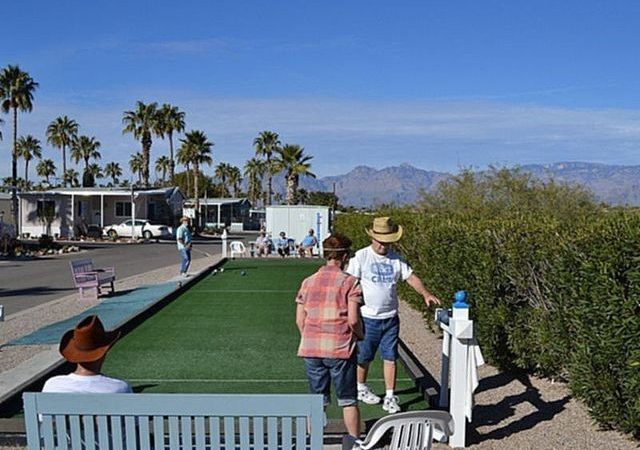 Rincon Country West
Rincon Country West has 1,100 spaces including deluxe courtyard pull-through RV sites and the convenience of an onsite hair salon, dog park, and convenience store. This location also has what is widely recognized as the largest privately-owned garden railroad in Arizona.
Rincon Country East
Rincon Country East has 460 spaces with gorgeous mountain views. The photos depicted in this article highlight Rincon Country East.
The resort is conveniently located near shopping, dining, and incredible area attractions. Visitors can see the largest solar telescope in the world, explore what life was like in the Old West with a visit to nearby Tombstone, Arizona, or tour one of the largest air museums in the world. The possibilities are endless.
Family owned and operated, the O'Leary family has been welcoming guests from around the world to Rincon Country RV Resorts since 1970. Their renowned Irish hospitality and the friendly Rincon Country Resort communities warm the heart and the fun is simply impossible to resist.