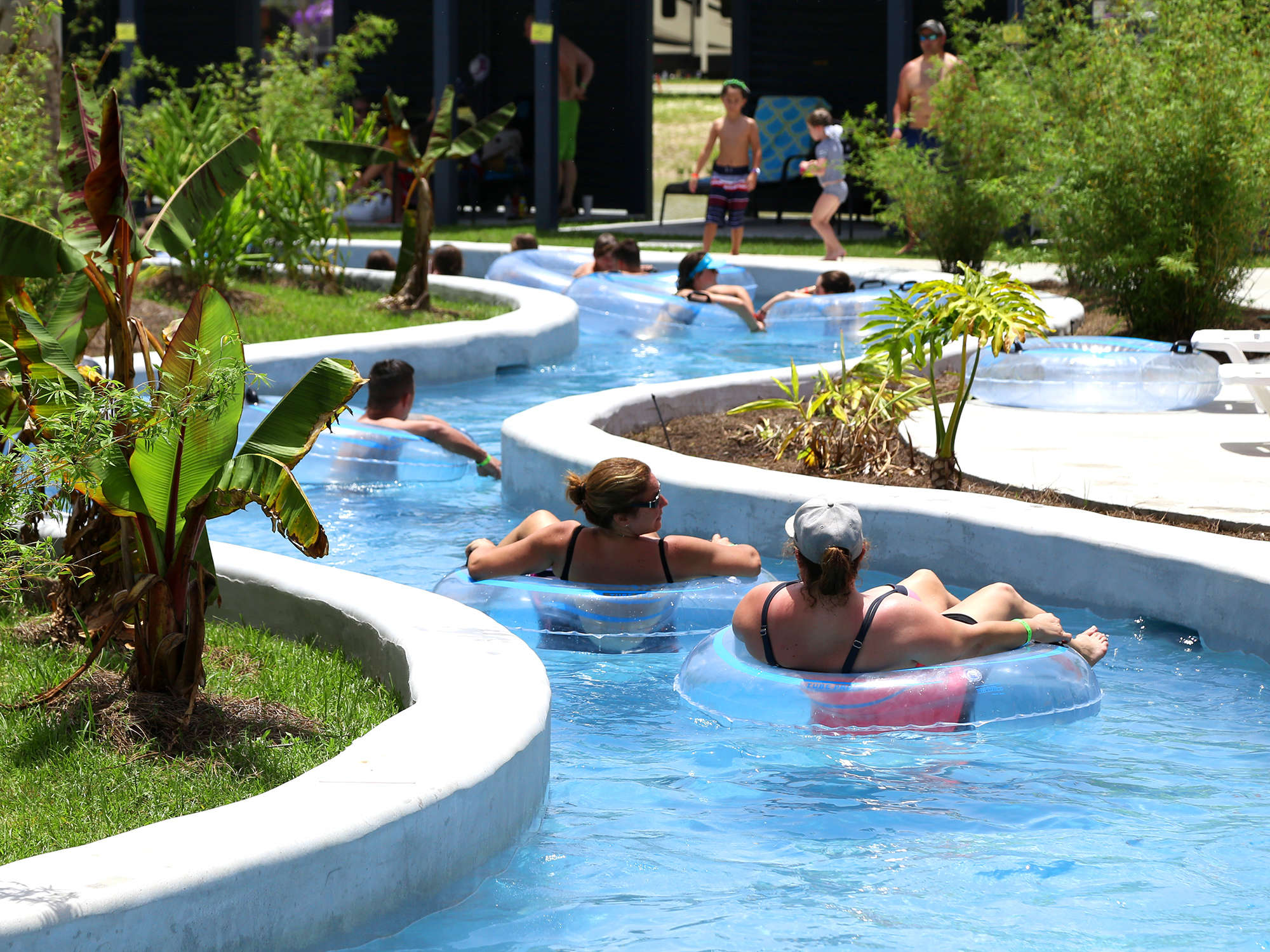 Open year-round and located right off I-12, Reunion Lake RV Resort is among the fastest-growing and most popular campgrounds in the South! Our family-friendly entertainment and amenities include lazy river with tiki bar, floating lake obstacle course, family pool and adult pool with swim-up bar, and a huge lineup of events for all seasons.
Since opening in 2016, we've doubled in size and have expanded our resort to include a huge list of all-new features and amenities. Being a reservation-only campground with a "no day pass" policy means Reunion Lake is able to provide a private and safe camping experience free of outside disruptions. Something our RV campers enjoy and appreciate. We also have an RV-friendly On-The-Run gas station and convenience store, as well as a Sonic Drive-In, opening soon!
Perfect for Snowbirds
Snowbird campers looking for a winter haven won't find a better spot than Reunion Lake! Enjoy our giant hot tub out by the lake and plenty of planned activities during the Fall and Winter months. We're right off I-12, which runs from the east to west coasts along the southern states. That makes us a popular stop for travelers to and from Florida, California, Arizona, and everywhere in between. We're also located extremely close to I-55, which connects us to the northern parts of the country, making that southern migration easy for those RV campers looking to escape the snow during the colder months. Our resort offers exclusive extended-stay benefits between November and March that include complimentary WiFi, cable, and electricity.
Hours of Adventure and Fun!
Our pool-side grill cooks up your favorite foods while you and your family enjoy an endless array of activities for both kids and adults. One of our newest and most popular activities for the kids is our Float Island obstacle course, creating hours of adventure along with our kayaking and paddleboarding lake activities. "Something for everyone" has always been the driving philosophy behind the design of our resort, so whether it's just you and your spouse taking a weekend getaway, or a week-long vacation with the kids, Reunion Lake will give you the unforgettable camping trip to keep you coming back for years to come.

Perhaps the biggest thing that people talk about when it comes to our campground is the quality of our staff. We offer true resort-caliber service and will do whatever it takes to make sure your every need is tended to. Not only that, but our facilities are the cleanest of any campground you'll visit! Spotless bathrooms and safe, private bathhouses are extremely important to campers and their families, which is why we've gone the extra mile to ensure that every inch of our campground is well-maintained and tended to at all times.
Whether you're a local resident or a snowbird camper looking to get away during the winter, Reunion Lake RV Resort has become a premiere destination for the RV camping community nationwide. We invite all Good Sam Club members to visit us and see why our slogan is "Memories are Made Here!"