WORLD-CLASS AMENITIES set Reunion Lake® apart from other RV parks! We've gone the extra mile to create a brand-new, state-of-the-art campground. It's complete with the high-end touches you would only find at luxury resorts and country clubs. Recently named the BEST Pool and Splash Pad Combo in the country for our pool and water amenities by Good Sam. Reunion Lake® combines the excitement of camping with the amenities of a luxurious getaway.
Built around a beautiful scenic lake, our park offers a unique experience that you won't find anywhere else.
Watching the sunrise over Reunion Lake® will take your breath away.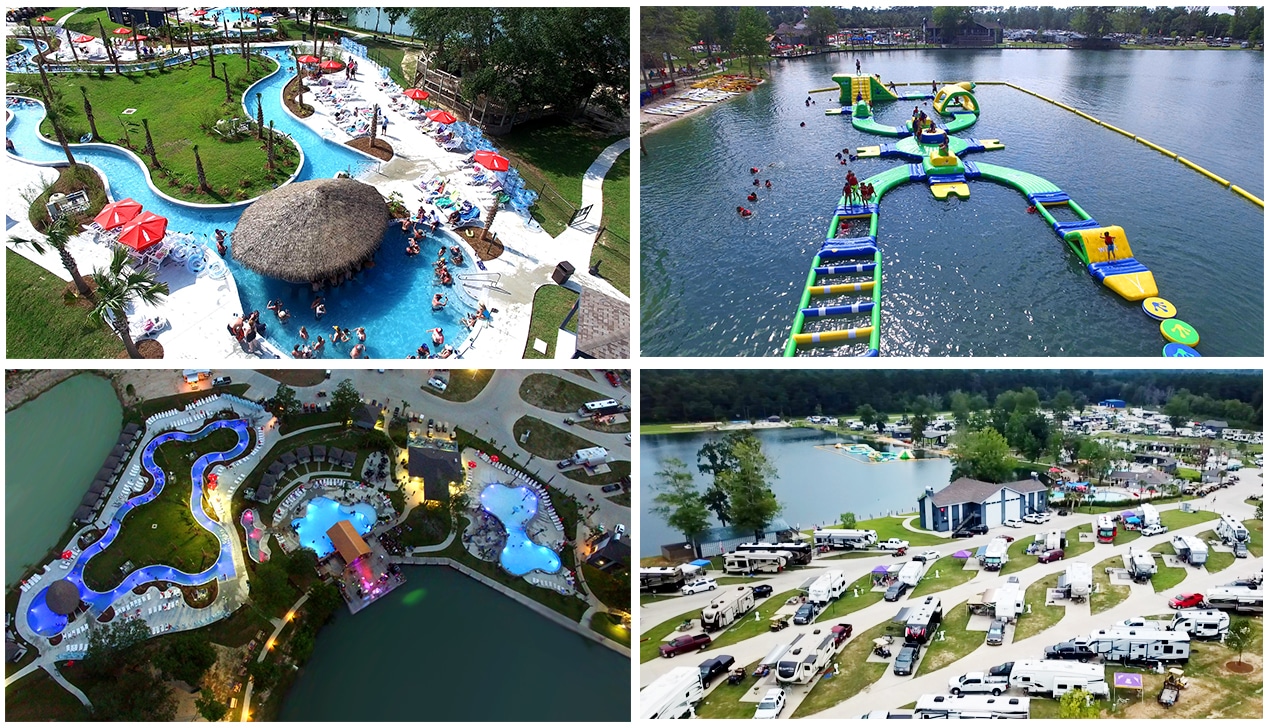 Our lazy river provides the ultimate relaxation during the summer months. The tiki bar section of the lazy river provides the perfect spot for adults to relax and soak up the sun. Our family pool includes plenty of water activities for the kids!
Campers staying with us during summer months can now enjoy our brand new water attractions including kayaking, paddle boarding, and the NEW FLOAT ISLAND! All-day access for one low price.
Another adults-only section is our famous swim-up bar in the adult pool. You'll love the great atmosphere here during both day and night! Our poolside cabanas offer shade, ceiling fans, comfortable chairs, high-def TV, and personal guest service. Our giant hot tub is heated in winter and chilled in summer, sitting right along the lake it is the perfect spot to grab a drink and enjoy our top-notch resort experience.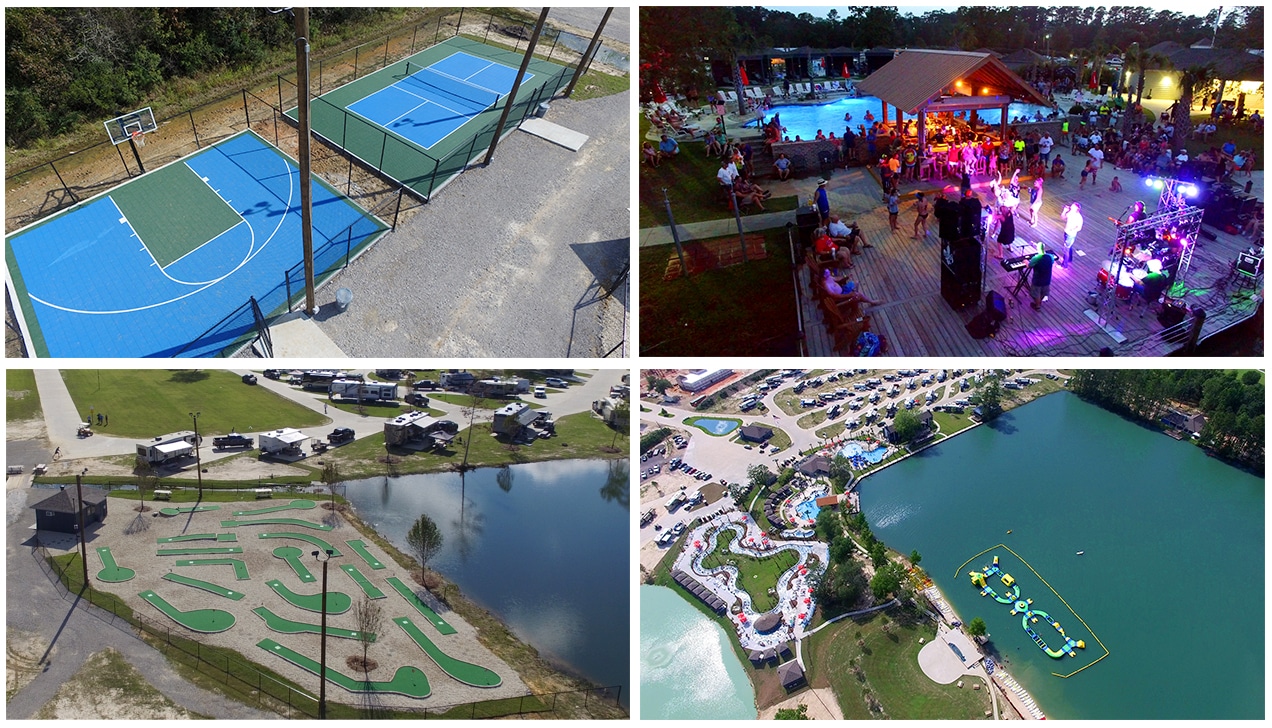 There are so many things to enjoy! 18 hole mini-golf course, outdoor amphitheater, expanded fitness center, children's playground, fenced grassy dog park, all concrete roadways and sites, hi def cable TV and high speed wifi are available for you. To make your stay fun-filled this fall and winter we have basketball & pickleball courts providing hours of action during your stay this fall and winter.
Reunion Lake is a Snowbird Paradise offering the best snowbird RV camping experience anywhere!
We take cleanliness seriously here at Reunion Lake®; you won't find a cleaner RV resort anywhere else in Louisiana! Spotless bathrooms. Crystal-clear swimming pools.
Right outside our gates you can enjoy your favorite Sonic treat at our Sonic Drive in and conveniently fuel your vehicles at our Exxon On the Run gas station and convenience store.
We're setting a new standard. Camping, RV living, enjoying the outdoors, family fun… these are all things we're passionate about, and Reunion Lake® is determined to bring the best to you in a way no other resort can. We are Good Sam rated 10/10*/10 RV resort, and we're proud to say that MEMORIES ARE MADE HERE®!
Well positioned on the I-10/ I-12 corridor at Hwy 445 (exit 47) Robert, Louisiana.
CALL 985-520-6600 or make reservations online at ReunionLakeRV.com!
Photos: Reunion Lake® RV Resort