Springtime RV Travel
You are in the midst of winter and your thoughts turn to spring. Think about spending May or early June with RedRock RV and Camping Park. That's a time when most people are still just thinking about their vacations. Why not get a head-start on them and enjoy the pleasures of spring near Yellowstone National Park. It's a much quieter time than just a month later in mid-June or July.
As a Good Sam Park we are the highest rated (8.5, 9*, 9) park in the area. We have first class bathroom and shower facilities, large grassy sites with fire rings, free-WiFi, clean laundry facilities, a and friendly staff. We have outrageously beautiful mountain views, and are close to everything you'll want to visit.  There's Yellowstone Park, Red Rock Lakes Wildlife Refuge, Mesa Falls, the Madison River, and much more. Plan a trip to Yellowstone for the day. Return to our park for well-deserved quiet and relaxation, away from the crowds. We are off-the main highway only 5 miles on a well-maintained paved road. Far enough for quiet and close enough to get an early start on your adventures.
In May, our springtime is just starting. The animals are beginning to give birth, the flowers are starting to bloom, and the birds are building their nests. The snow is melted except on the surrounding mountain tops and the meadows are showing off their lush greens. Maybe best of all, the prices are still down from their summer highs. The weather is mild this time of year, from 52F to 72F during May. Although it is mild during the summer here, May and June are our most temperate months.
Mountains and ATV's
RedRock RV and Camping Park is situated in the Centennial Valley of Idaho. This east-west trending range of the Rocky Mountains  affords expansive mountain views and gorgeous lakes. As well as life-filled forests, green meadows and sagebrush open spaces. The mountains surround us up to 10,000 feet. In May they are still covered with snow, (we are at 6500 feet.) Henry's Lake is only one mile north of our park. This is mainly an undeveloped part of the greater Yellowstone Eco-system, attracting birders, hikers, photographers, fishermen and ATV'ers at this time of the year.
We have miles of ATV trails that depart from our park which will allow you to explore the wildest parts of this fantastic western scenery. You'll be able to explore three states within only a few miles of our park. Bring your kayaks for some great scenery on our nearby lakes, and rivers. Hiking trails depart from several nearby trailheads that head into the wilderness for spectacular views. Even the creeks and rivers are open for our renowned trophy fishing.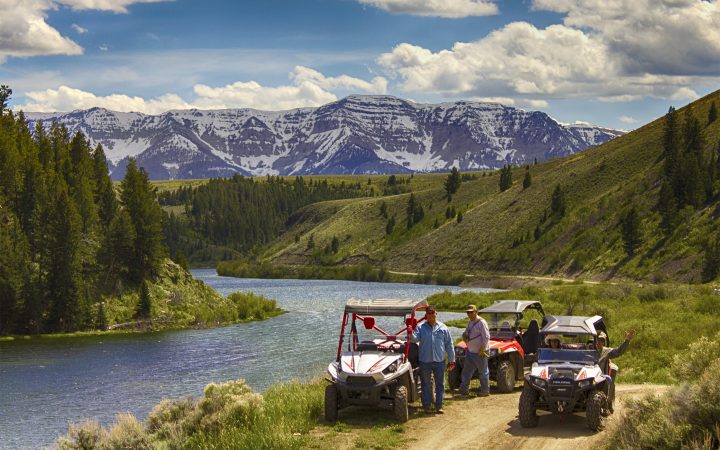 Springtime Discount!
Come visit us in May through June 5th and receive a 25% discount off our normal prices. Just mention this blog and you'll be on your way to saving big on your vacation. Find out more and request a reservation on our extensive web page: RedRockRVPark.com.