Phoenix RV Park is a top-rated (9/10*/10) Good Sam park in Oregon's beautiful capital city of Salem.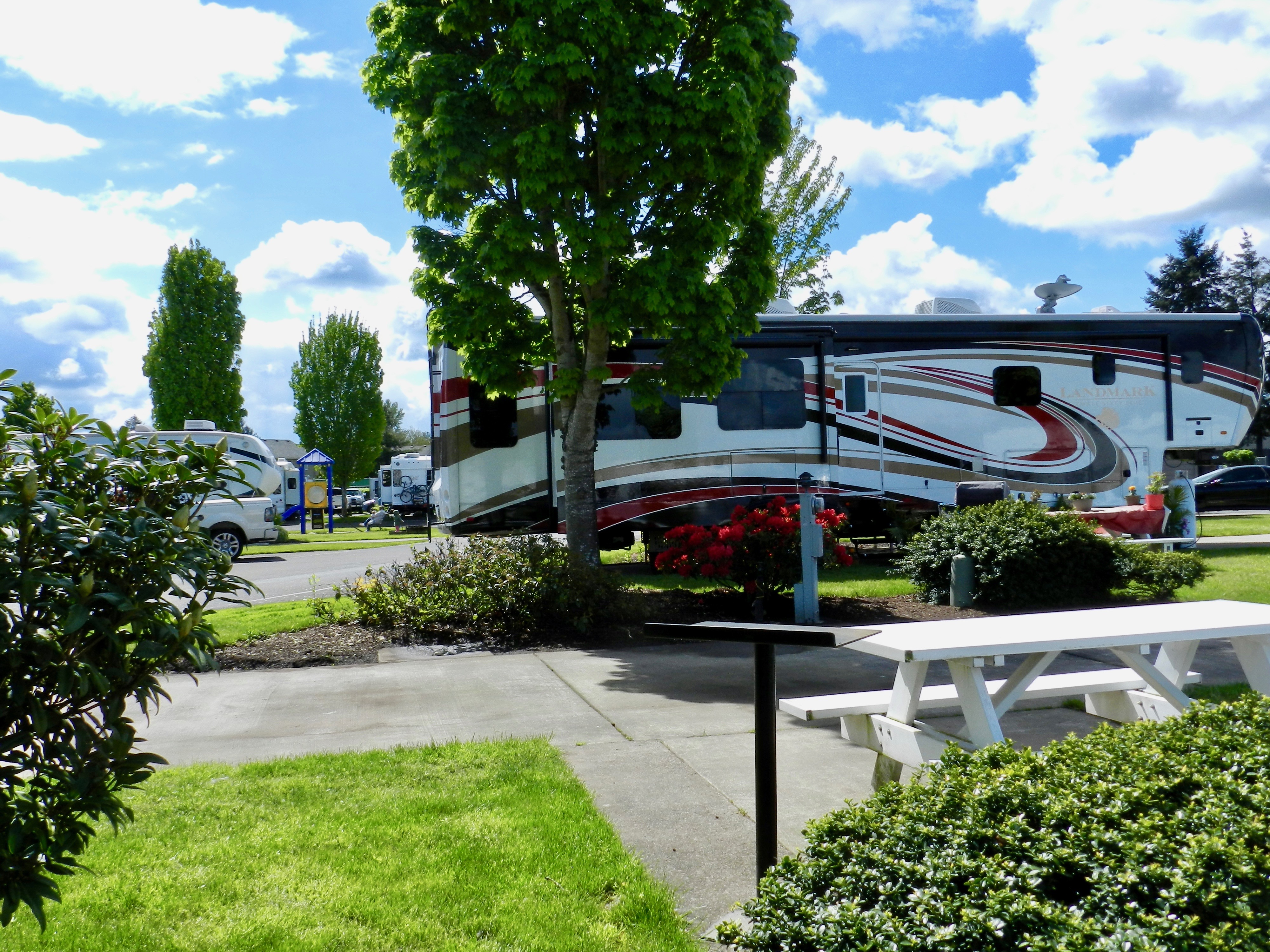 With 107 wide, grass-bordered, paved sites – each with a patio, table and grill stand, Phoenix RV Park offers travelers along Interstate-5 the perfect stopover for a night, week or month.
Now, adding to the long list of amenities offered, Phoenix RV Park has opened an adjacent, nearly two-acre RV storage facility.
Park owner and manager Todd Call says, "With home lots becoming smaller, and with CC&R and homeowners' associations not allowing RV storage, people who have an RV do not have a place for them. Most storage in Salem is uncovered, but the best way to protect this investment is to keep it protected from the elements."
Convenient RV Storage Space
Call purchased the lot two years ago, with the plan to build the facility. After $1.35 million of renovations, the location now has 42 covered RV spots (either 12×40 or 12×45) and 24 uncovered, including twelve 8×20 enclosed storage units. Spaces will be available monthly with no minimum lease required. The lot is fully fenced, lighted and secure, with management on-site.
Judy Howard, who owns a motorhome, has stayed at Phoenix RV Park for the last few years. "RV-ing is a great way to travel. You get to see the world and meet new people. We really enjoy it," she said. She also likes living in Salem and appreciates the addition of the storage lot. "Phoenix RV is great because it's close to everything and the manager is very accommodating. The storage is good for people, who live full-time at Phoenix RV and need a place to store all of their stuff," explains Howard. "We store our motorhome at the RV storage, and then use it to travel. It's very convenient."
RV storage spaces are available through the Phoenix RV Park at 4130 Silverton Rd., NE.
If you're planning a trip that takes you to or through Salem, plan a stop at Phoenix RV Park and enjoy this friendly oasis with convenient access to I-5, downtown, wineries and other area attractions. See the Riverfront Carousel, the Saturday Market, museums and gardens, including nearby Oregon Garden.
For more information give them a call 503-581-2497 or visit PhoenixRVPark.com.