This week I'm jumping over to Pennsylvania to highlight some great nature parks for those of you in the Middle Atlantic region of the continent. The forests of northwestern Pennsylvania offer some lovely scenic views, which are often overshadowed by the sprawling farmlands of the southeastern part of the state.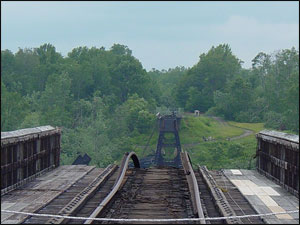 General Info: Kinzua Bridge State Park preserves the Kinzua Viaduct railway bridge and 329-acres of surrounding wilderness lands. I think it's an interesting area because the bridge is a monument to the region's importance as a center for raw materials (such as timber, coal and oil) that fed this country's Industrial Revolution.
This park is also a fun stop along the scenic drive on U.S. 6 from Wellsboro to Warren on the Grand Army of the Republic Highway. Travel 129 miles (about 5 hours) through the hills and mountains of Pennsylvania's historic coal, oil and timberland region. Step-by-step routing is a bit too complicated to describe in this blog, but I used the National Geographic Guide to Scenic Highways & Byways for directions and points-of-interest along the way. It has routes organized by region, then subdivided by state and includes photos and basic trip maps–all in a compact package that can easily fit in your RV's glovebox. If you'd like to journey across the state from Lake Erie to the Poconos, Woodall's has a One Tank Trip along Route 6 that covers some of the same ground!
The 301-ft. high railway bridge in Kinzua Bridge S. P. was originally constructed out of iron in 1882 to save track that would have been laid over rough terrain. In 1900 it had to be rebuilt out of steel to accommodate heavier freight trains. The 2,053-foot bridge was partially damaged by an F1 tornado in 2003, but luckily no one was seriously injured. Eleven towers were thrown to the valley floor, making the remaining bridge unstable. For this reason, hiking is not allowed in the immediate vicinity of the bridge towers in the valley below, and the bridge is closed to foot traffic. However, you can get a good look and take photos of the bridge from the observation deck adjacent to the bridge.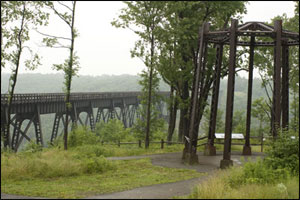 The park has a carry-in/carry-out policy for all trash and disposable items. Please contact the park at 814-965-2646 ahead of time if you would like special accessibility accommodation for park activities.
Hours and Fees: There are no entrance fees and the park is open from 8 a.m. to sunset daily. Contact the park office at 814-965-2646 for more park information.
Activities: A picnic area with water and restrooms is near the scenic overlook for the bridge and the Kinzua Creek Valley below. About 100 acres of the park is open to hunting during certain seasons. Common game includes deer, bear and turkey. Visit the Pennsylvania Game Commission website for complete hunting information.
Pets: You may bring your pet to the park as long as it is leashed, well-behaved and under your control. Pets are not permitted in buildings or swimming areas. Please pick up after your pet and dispose of waste properly.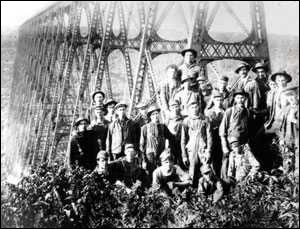 Camping Info: Red Oak Campground is conveniently located 15 miles north of Warren at the end of your scenic drive along U.S. 6. This Good Sam Park has more than 200 campsites, each with full hookups (20/30 amp), a fire ring and picnic table.
The campground features a dump station and full, modern bathroom facilities. The campground also offers LP gas, a Laundromat, camp store (complete with soda fountain and onsite bakery!), and a pavilion for large gatherings. Relax in the game room (pool tables, air hockey, video games) or take a dip in the heated pool. The kids will enjoy the playground and recreation field for burning extra energy. Last year's rate was $32 per night. Oh, I almost forgot: Red Oak Campground welcomes your leashed pets during your family's stay.
Weather: This part of Pennsylvania is cooler than the southeastern part near Philadelphia. Expect average high temperatures in the spring from the high 60s F, climbing to the low 80s F in peak summer. Rainfall is a possibility at any time of year.
If you're from the general Pennsylvania Wilds area or have visited Kinzua Bridge State Park in the past, please chime in with your stories and tips! Your insights can help others have a fantastic trip.