The Texas Hill Country is beautiful year-round, and the sensational sips of wine just add to the experience. Check out the local wineries in San Marcos, and kick back at Pecan Park Riverside RV. 
Three Dudes and a Dog Winery
for a great local experience. Their tasting room features a riverside deck, and it's open all week from noon to 6 p.m. Enjoy the terrace and sip happily as you overlook the San Marcos River. The serenity will make you think you've escaped into an oasis, and perhaps you have! Three Dudes also sells handmade baskets, wine racks, accessories and spices, so take a look around!
Winery on the Gruene is just a short drive from San Marcos, located in New Braunfels, TX. Make your own wine in store or sample over 30 wines ranging from reds to whites and rosés. This custom winery is a great place to meet friends, host get-togethers or just relax with a glass of wine you crafted yourself.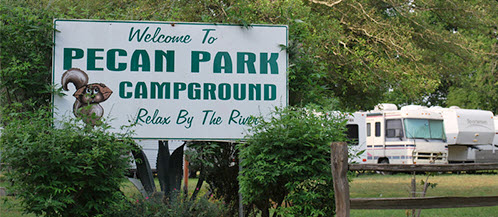 Toast to a great year with your loved ones at Pecan Park Riverside RV and vacation to relax and unwind. Watch a spectacular sunset and cozy up in a cabin or stay on a spacious RV site. The choice is yours!  Reserve your vacation by calling (512) 396-0070.
Pecan Park Riverside RV is located in San Marcos, near Austin and San Antonio, their scenic location provides the peace you need to escape the hustle and bustle of a busy schedule. Enjoy fishing and strolling by the San Marcos River, and the many birds and wildlife that call the park home.
The campground is set in a large grove of green pecan trees along the river. When you stay here, you'll be immersed in a lush, quiet atmosphere. The mild winters in San Marcos make it a prime destination for "Snowbirds" and other "Winter Texans". Local humidity is less than that of the coastal cities and, averaging only 30 inches of precipitation per year, there is no real "rainy season."