So….you want to vacation at the beautiful Florida beaches? You dream of waking up hearing the giant waves lapping at the beach and the seagulls chattering while you take in the smells of the sea air and coffee brewing, feel the gentle breeze wisp your hair from your eyes and the warm sand between your toes?
This would be paradise, it is just not the experience you will get going to the city on a camping vacation! In Florida coastal cities, the condos and hotels have the beachfront properties for the most part. Don't get me wrong, you can get some of that experience at our beaches, you have to drive a bit, through traffic in the city to get there. The upside is not having to pay $200++ per night for an ocean view hotel room! This is the actual picture of our beach once you get about 4 miles through the traffic to get to it. It is breathtaking and once you get to the beach, that little piece of heaven is yours!
People get disappointed when their expectations are not met regardless of whether they are realistic or not. This becomes evident when reading through guest reviews….how can a resort be a 1-star review for one person and a 5-star review for others? Depends upon what the guest was expecting! That makes it hard for visitors to decide whether it is good or not so good.
Those of us in the hospitality business try very hard to meet guest expectations but fail because we don't manage guest expectations well. Most campgrounds or RV Resorts that are in the city near beaches are blessed due to location, location, location! But they are also plagued with the downside of the city traffic, noise, hustle & bustle, crowds or crime. It can however be a valuable trade-off to those that value being close to everything.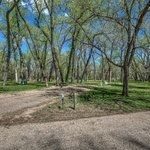 I've camped all my life in South Dakota in everything from a tent to a 37 foot fifth wheel and usually pulled a boat. In the South Dakota campgrounds you can hardly see your neighbors let alone hear or touch them. This is an actual picture of my typical campsite below the Oahe Dam on the Missouri River. The night noise consisted of owls, distant coyotes, cows mooing, corn tassels rustling in the wind and waves of the lake lapping on the sandy shore. It was relaxing and sometimes the highlight of the day was watching the sunflowers turn toward the sun as it rose.
Suppose that was my expectation coming to Florida to camp? I would likely be highly disappointed as I drove to my destination through residential and commercial streets to reach the campground behind a Burger King and Auto Parts store. And would I have expected it to rain every day that I was there in August? But that IS Florida's rainy season…..normal!
And here is my destination at Paradise Island RV Resort. Beautiful but not as much space between sites! I had to trudge down city streets to get here but it feels private, has beautiful pool and the park is well maintained.
Tips for the Vacationer:
Do your research:
Location: how far to the beach, ballpark or concert that you might be after?
Transportation: what is available?
What activities available on-site?
What other attractions are near?
Look at website and social media for actual pictures
Tell the booking agent what kind of experience you are looking for
Ask questions when booking!
Check the expected weather pattern while you are there
Keep an open mind, you are on vacation! Try something new!
Tips for the Resort Managers:
Accurately represent your resort on your website and over the phone. This is the guest's first encounter with you. When a potential customer asks where you are located tell them you "are in the city but….. only 2 miles from the beach". When they ask about crime, tell them "you have a problem with occasional bicycle theft" but … "this is how we remedy that".
So many guests ask for a "pull-through site" which we know are usually limited. When polling guests to ask why they want a pull-through I found that 95% of them did because they "weren't any good at backing in".
If your sites are tight or roads narrow, consider having a parking attendant for arrivals. Let them know we will escort them in to put their mind at ease. This is the guest's second encounter with you. If parking goes poorly (which it can when they are on their own!) the rest of their experience may be tainted.
Friendly faces and concierge type service can minimize the negative things you cannot control about your location, lot sizes, neighborhood or traffic.
Share your activities schedule or lead them to your brochure display so they can choose some exciting things to see while they are with you. Share your personal experiences with them (restaurants, events, places, etc).
Know about your public transportation system. Know the bus routes, cabbie numbers, Uber or Lyft availability, train schedules, shuttle availability and give guests a copy of these so they can manage their activities themselves.
Anticipate that international guests are renting RVs and don't have transportation aside from their RV. Be ready with solutions.
Put added value to your amenities
Who would think a campground would have bathrooms that look like this?
Do the unexpected where you can….that's what Paradise Island RV Resort  in the heart of Fort Lauderdale did when they renovated bath houses to resemble 5-star hotel bathrooms. Included in that renovation was making one of the bath houses wheelchair accessible. They may be in the city, 4 miles from the beautiful beach and close to many other venues but you can be comfortable whether this is your destination or just a place to sleep while you explore the surrounding area.
Look for specials that pertain to the your reason for coming. Paradise Island RV Resort  is a convenient location to stay a night before going on a cruise and a night or two when returning. Special rates apply while you are cruising during certain times of the year. They also can make shuttle arrangements for your delivery directly to or from the ship or airport right from your doorstep even as far as Miami.
Camping in Florida is really fantastic whether you are camping to have cost effective lodging while you spend more money to experience the collage of sights, sounds, smells and tastes of South Florida or if you are coming as an extended stay guest to escape the cold winters of the north. There really is something for everyone!
Photos: Paradise Island RV Resort