This is the second part of a two-part article, No. 32 in a continuing series about our trip through Canada to Alaska
CB Radio – Since caravans require having a CB radio to communicate with the staff and other rigs while on the road, on my son's advice we got a powerful CB radio with a faceplate loaded with knobs and toggles.  That gave us more opportunities to accidentally hit or turn the wrong feature, … opportunities we took!  Suggestion 1) Get a good CB radio, but if you're not familiar with them, don't go overboard with features. And 2) ask advice on which antenna to buy and where to put it on your truck or rig.  It makes a difference in reception, particularly, for us, when you're trying to talk with a caravan member located behind the trailer.
Speed Limits – I mentioned earlier that I taped a chart on my steering wheel to convert mph to kph.  We're still in Canada and I'm still referring to it often.  An inconvenience is that Canadian roads don't have "Resume Speed" signs, so it's not obvious when you can legally get back to 90 or 100 kph.  And it gets tricky in towns posted at 40 which have a stretch of unpopulated areas and then you realize you're still in town where 90 could get you a hefty ticket.  Also, when a road sign before a curve says "SLOW," it's a good idea to slow down.
Sales Tax – The merchants often explain, "The ministry wants its share" when adding the sales tax.  In Alaska, there is no sales tax – except in a few towns.  It's a good idea to ask before buying.  By the way, the State of Alaska has about eight "boroughs," comparable to counties, and the rest of the state in the Interior is mainly U.S. Government lands.
Carrying Cash – There was a question in the last comments section about having enough cash with you for the trip.  First, Visa & MasterCard credit cards are accepted just about everywhere, but we did run into a couple of times when the local electricity wasn't working – a minor inconvenience that can be overcome with cash.  Another reason to get cash at banks or money exchanges along the way is that when you're in Canada, you do better using Canadian currency.  When in Alaska, you're better off with Uncle Sam's greenbacks.  It's a good idea to check with your bank about extra charges for using your plastic in Canada.
Brochures – Monique is an avid brochure reader, which often results in our finding places and attractions that are off the beaten path or that explain why a place we wouldn't consider visiting could be the highlight of our week. There are lots of free brochures and tourist books everywhere, so it's advantageous take some time to skim through them.
We had our photo taken at Mile 0 of U.S. Hwy. 1 in Key West and Mile 0 of the Alaskan Highway in Dawson Creek.  I asked two Park Service rangers where Mile 0 is in Skagway, which is the end of the road.  Neither knew, but one mentioned there is the Mile 0 B&B in town.  When I replied that that's closer to Mile 1 than the end of the road, he opined that Skagway is a town of hoaxes, trickery and a take-advantage-of-you attitudes, which could be why they named the B&B Mile 0.  Good answer!
 Inukshuks – In my article listing handy definition you should know, one important omission was the "Inukshuk" (another spelling might be "inuksuk").  Monique adopted a couple of them for our trailer and we had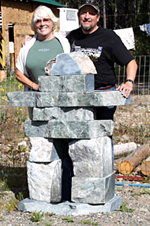 pictures taken with others.  The First People's "Inukshuk" is a statue built of stones that, depending on the person giving you its history, is either, 1) to point the way from one place to another by: A) looking in the direction of its arms or B) by looking between the legs, or 2) a marker of a spot, like where to find the best caribou, or 3) since it is in the form of a man, it was to scare away critters.  Take your pick.
We crossed over from British Columbia to Washington, camping in the Mt. Baker-Snoqualmie National Forest, enjoying an aqua-water riverside campsite just down the road from Mt. Baker with views of several of the most scenic mountains in the U.S.  
And with that I wind up the series on "Our Trip to Alaska."  BUT, one final thought about visiting Alaska by RV.  For only a very few independent spirits, Alaska is not a destination, but rather a journey.  The absolutely unforgettable adventures encountered while driving through Western Canada with all the wonders of nature surrounding you and of wrapping yourself in the widely varied experiences of Alaska is what it was all about, at least for us.  In our opinion, this is the ultimate RVing experience of North America.
 I have more articles in mind relevant to RVing, including memorable travel experiences, past and future, so stay tuned.
From the "Never-Bored RVers." We'll see you on down the road.