This is the 20th in a continuing series about our trip to Alaska
 In case I didn't mention it lately, the rumors are true,. Alaska is a beautiful state.  Tuesday morning we left Anchorage in a light rain … destination:  Seward on the Kenai Peninsula (pronounced "Keen-Eye, equal stress on the syllables).
 After leaving Alaska's largest city, we found ourselves driving on another postcard-quality road, the Seward Highway South.  On our left were steep forested mountains featuring numerous glaciers at various elevations.  At one point, a glacier sat just above a lagoon, actually at sea-level. 
 How do we know it was sea level?  Because on our right was a fjord, apparently in the Turnagain Arm of Prince William Sound.  Absolutely stunning, even in the dismal weather that followed us for our entire route today.  When we drove along the shore, the water was high, but the fjord is known for having the third largest "bore tide" in the world, a change of 28 feet.
And now to today's theme (one of the three I mentioned in Part XIX:  Even Farther Northward).  A feature of our caravan provides opportunities to enjoy unscripted side trips, like the one that Ivan and Shirley Yurtin took to Port Barrow on the Arctic Ocean.  Since only a small percentage of Alaskan travelers have or will endure that journey, I'm excerpting parts of their journal for you.
Ivan and Shirley's Story
 As we approached Point Barrow from the air, we first noticed that the lakes were frozen. As we descended the next significant thing we noticed was that there were no trees or shrubs as far as you could see … it was only flat tundra.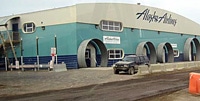 The airport terminal is an old, blue metal commercial building that looks like a factory. The shuttle driver drove us to the Top of the World Hotel, a long two-story building that has simple rooms. 
We had dinner at Pepe's Restaurant next door that is run by 81-year-old Fran, who has lived in Point Barrow for over 40 years.  She had a restaurant in her home for years but now manages Pepe's.  She also leads tourists down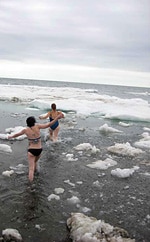 to the ocean at 5:30 p.m. each day for a dunk in the Arctic.  In order to qualify you must submerge completely in the frigid Arctic.  For doing so, you must pay $10 and will receive a patch and certificate from the Polar Bear Club.  Fran has made the plunge many times and tried to get 80 of her friends to join her last year for her 80th birthday.  She was only able to convince 67 brave souls to do it with her.
The Mexican meal of enchiladas was good.  Afterwards we roamed the immediate area for photos—including those along the ice buildup in the ocean. We noticed that parking spaces for workers at the bank, police department and other businesses had electrical cords in each space to plug in engine heaters.  None of the roads in town are paved—they consist of powdered dust that billows every time a car passes.  Four-wheeler ATVs are also a common form of transportation.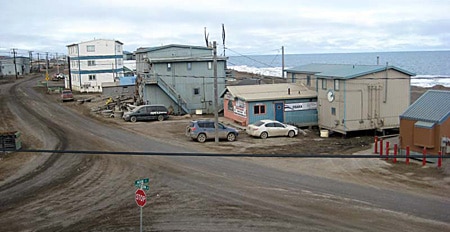 Our tour guide, Bana, is a native Inupiat Eskimo. He said that the population of the whole area is 4,500 and one-fourth of the population is under the age of 18 years.  The village hunts whale for food and harvests about 34 whales each year to feed the village.  The Inupiat are not allowed to harvest whales
to sell … only to feed the village. The whale harvest is in the early spring and late fall.  Whale meat is either eaten boiled or frozen raw.  Ivan had a chance to eat some of the raw whale meat.  It tasted a little fishy.
They only get about 13 inches of snow and 8 inches of rain a year, but it is a very cold and dry environment.  It is very cloudy most of the summer with only five days of sunshine. The temperature during our visit ranged from 30 – 36 degrees F and it was cold and windy.  The Inupiat Eskimo Corporations control most of the utilities and government offices.  
The city has several gas wells that supply the heating for the village. The village has one fairly large grocery store and one gasoline station.  Gasoline is delivered to Barrow once a year in August.  In our visit to the grocery store the price for a gallon of milk was $10 and the price of a dozen eggs was $8.
On our tour we saw a Snow Owl and the Tundra Swans. We got to visit the Inupiat Heritage Center where the local Eskimos performed their native dances for us.  We were then invited to join them in their local dances, which we did.  It was very enjoyable.
There were enough people so we all joined in for the Blanket Toss.  A large blanket made of whale skin is woven with rope around the outer edge for handles. About 25-30 people hold the perimeter of the blanket while a person is in the middle of it.  The blanket is pulled outward and the person in the blanket is propelled upward and can reach heights of 20-30 feet.  This is used to be able to see whales and game at far distances, since there are no trees on the Tundra.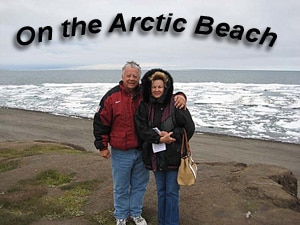 Our tour guide Bana drove us to the airport and we bid him farewell.  It was a packed full day of facts and adventure trying to understand how these people survive under extreme conditions.  We sure were glad to be back to our RV with all the modern conveniences.
Thanks, Ivan and Shirley.  Sorry we missed that trip.
From the "Never-Bored RVers," We'll see you on down the road.