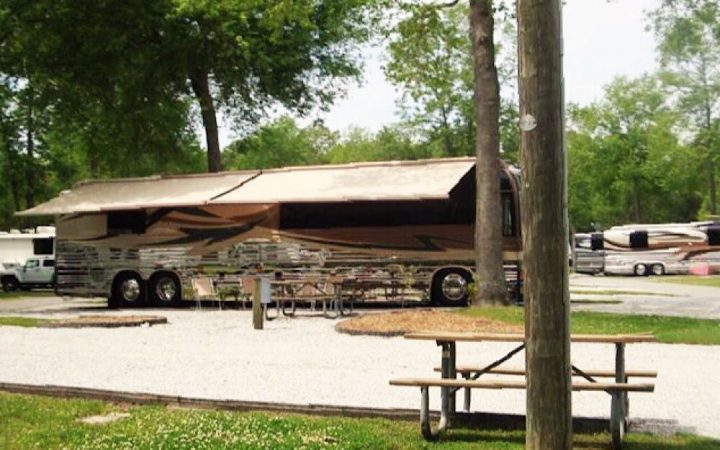 Just 10 miles from historic downtown Charleston, Oak Plantation Campground is the ideal place to enjoy your RV travels.  Whether you're towing a pop-up or driving a large motorhome, Oak Plantation Campground will welcome you with friendly, southern hospitality.  Oak Plantation Campground is just minutes away from Charleston's historic plantations, downtown historic district, shopping, golf and the beaches.
Visiting Charleston
A good place to start your research for your visit to Charleston is the Metropolitan Charleston Convention and Visitor's Bureau.    You may want to enjoy visits to the historic downtown, the plantation sites, or see military landmarks like Fort Sumter, Patriots Point or the Hunley Submarine.  There are area museums, bird watching, sea turtles and more.
Or perhaps you would prefer to enjoy some tours. No problem as you can go by bus or boat or even do a haunted tour.   Visitors can enjoy great shopping and restaurants as well as fun seasonal festivals and events.  In addition, there are many local beaches and parks.
Oak Plantation Campground
Enjoy your time visiting the many attractions of Charleston, then relax and enjoy picturesque Oak Plantation Campground and the comfort of your RV.  This property has been family owned and operated for over 40 years. You'll see that commitment reflected in the friendly, southern hospitality.   Guests will find over 200 campsites, clean & modern facilities, a park-like setting, pool & convenience store with RV supplies and some groceries. Paved roads provide easy access for big rigs and amenities include wifi/cable, LP availability, large fenced in dog run and more.  For recreation, guests will enjoy garden chess and disc golf in addition to a play area.  AND there's a freshwater fishing lake!
For sightseeing or just relaxing, let us host your next camping experience.
Make your RV site reservation early by calling 843-766-5936, or visiting Oak Plantation Campground and start preparing for your trip to Charleston!