For over the past 47 years, the same family has operated Merry Meadows Recreation Farm in Freeland, MD. Founded by Mr. Clyde Morris in 1970, this campground has evolved over the years to be one of the finest and most highly rated Good Sam parks in the state. Nestled in the rolling countryside of northern Maryland, this is a beautiful 375 acre campground where folks of all ages can explore nature by camping in the refreshing outdoors and enjoy the many activities and recreation facilities Merry Meadows has to offer.
Wildlife and Woodland
The Park is situated on three levels of both open and heavily forested countryside. Nature abounds there with animals, rare birds, natural springs and a large variety of plant life. Little Falls Stream hiking trails run for two miles along the bottom level of the park in Little Falls Valley. Whether you spend the day becoming one with nature or take advantage of the huge variety of amenities, you will long remember the many fun times you had and the many friends you made while camping at Merry Meadows.
Festivals and Events
When you camp at this park you can experience some very unique "festival" type events such as the Car & Motorcycle Show and Truck & Tractor Show. The afternoon is filled with sounds from Rock 'n MM Entertainment! You can bring your own car, motorcycle, truck, or tractor for the show.
Every year you can enjoy Old Time Days Festival at the 1800 Homestead. Demonstrations feature hay rides, tours of the park's newly restored Log Cabin, old Mill, and 1925 Caboose. Learn how to make Homemade Ice Cream, Popcorn, Freshly Churned Butter, and more about how folks lived 200 years ago. Try out the new Mechanical Bull!
Plan to come out to the Annual Apple Fest & Open House. If you like apples, this is the weekend for you. There are apples everywhere and delicious apple desserts of all kind. You will see how apple butter is made and have a chance to taste it warm off the fire! There are various demonstrations depicting how apples and other foods use to be prepared about 100 years ago- with free samples!
Merry Meadows Recreation Farm offers the very best groomed, cleanest, and roomiest wooded sites of any campground in the area. There are great walking and hiking trails. This is a very peaceful and safe environment for kids and parents.
Civil War History
And while you are at Merry Meadows Recreation Farm, make sure that you head over to nearby New Freedom, PA, where you and your family can take a ride on a real old fashioned steam train. alike. Friendly people.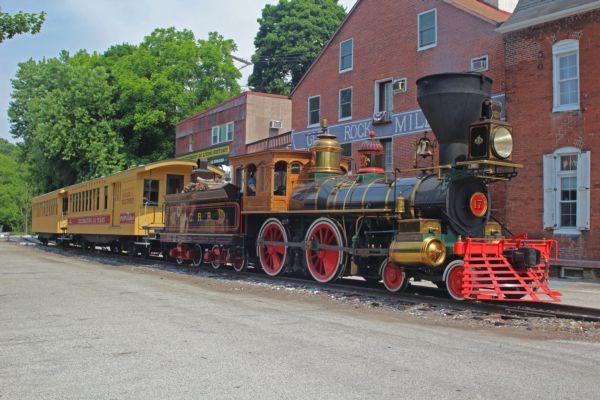 "Steam into History" aboard a faithful replica of the Civil War steam locomotive that carried Abraham Lincoln to deliver his now famous Gettysburg Address. These same tracks carried Lincoln's funeral train two years later. Come experience history as you ride in our custom built coaches, pulled by a 1860s replica steam locomotive.
Merry Meadows Recreation Farm will give your whole family a great weekend or vacation experience.
FOR MORE INFORMATION: