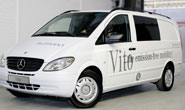 By Bob Difley
Mercedes-Benz this week debuted an electric battery-powered version of its Vito commercial van, stating that it will have an average range of more than 80 miles and a top speed of 50 mph.
The van was unveiled at a meeting of the EU Competitiveness Council in Spain, where it was also announced that the German government is to provide funding towards a major trial of the new technology.
Mercedes-Benz said that as part of the trial it plans to provide more than 100 electric vans to 20 customers, including fleet operators and public sector bodies.
A spokesman for the company in the UK told BusinessGreen.com that the firm hoped to begin trialling the vehicle in the UK by the autumn. "We've had considerable interest from corporate customers who want to get involved in a trial," he said, adding that the vehicle was on track for a commercial launch before 2012.
Mercedes-Benz said it was planning to deliver 2,000 models during the first phase of production. It added that the electric motor would be powered by a Lithium-ion battery with a peak output of 90kW.
This is another of those "delivery van" sized electric vehicles that is an incremental step toward a small Class B RV when the technology filters down to RV manufacturers. The success of electric vehicles of this type, and of those larger ones that follow, will be the further development of battteries to provide a longer range, andthe availability of charging stations with the frequency of gas stations. The ability to recharge the battery from an onboard RV generator while driving to extend the range and by plugging in to your campground power at night to recharge will also bring it closer to mainstream acceptance.
Check out my new eBook, BOONDOCKING: Finding the Perfect Campsite on America's Public Lands.