Check out these highlights of RV-related news and events from the previous week.
1. Lazydays Employees Raise $400,000 for Kids: The Lazydays Employee Foundation has made the final payment of a $400,000 pledge to build a shelter for abused children in Hillsborough County, Fla., according to the Tampa Business Journal. The foundation, a nonprofit corporation affiliated through the Lazydays RV dealership in Seffner, Fla., presented funds to the children's charity A Kid's Place, with whom the foundation partnered to build the shelter that opened in June.
2. Camping in the cold: Juliet Pennington writes in The Sun Chronicle of Attleboro, MA that many RVers choose to spend weekends at local campgrounds despite the cold weather. Some RV parks offer discounted winter camping packages for folks who enjoy the crisp air and clear night skies. Could this be a growing trend?
3. RV Recalls, January 2010: The latest recall announcements for motorized and towable RVs. Includes contact information for owners to get more information about recalled models. Affected models include units from Coachmen, Navistar, Starcraft, Winnebago, Jayco, Entegra, and Four Winds.
4.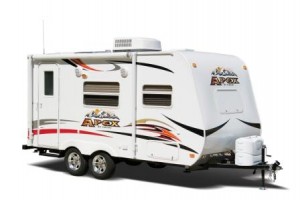 Viking Introduces Ultralight Apex Travel Trailer: Viking RV of Centreville, Mich., has introduced the new Apex ultra lightweight travel trailer featuring aluminum framed vacuum bonded sidewalls, roof, and floor. Lengths for the first four models begin at 18 feet 9 inches and continue to 24 feet, including two slideout floorplans.
5. Bringing the outdoors back to camping: Dave Halliday reports in the Edmonton Journal that back-to-basics units and outdoor kitchens gained favour at the recent Edmonton RV Show. After years of seeing many RVs add more and more comforts of home, some of the trailers at the 2010 show took a back-to-basics approach to bring the outdoor experience back to camping. These more Spartan models are available both in tent and hard-wall travel trailers.
6. FEMA Actions Peeve Arkansas Congressman: The Hope (Ark.) Star reports that U.S. Rep. Mike Ross (D-Ark) wrote FEMA with questions about the single lot sale of some 15,000 mobile homes and trailers warehoused there after Hurricane Katrina. The units sold for $27.4 million, or approximately $1,825 each, and Ross wants to know why FEMA departed from its typical sale of lots of 200 or less. Arkansas Attorney General Dustin McDaniel cautioned consumers who acquired the RVs as a result of the bulk sale to be aware of their condition and potential hazards.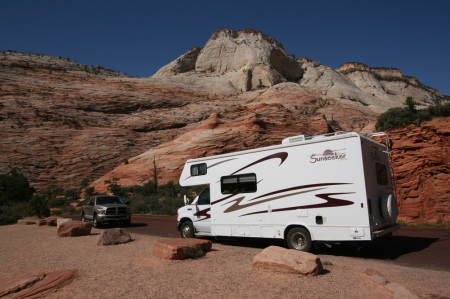 7. Reluctant first-timers warm up to the RV life during trek from Vegas to Utah: St. Petersburg (Fla.) Times staff writer Graham Brink tells of how he finally tried on the RV lifestyle for a recent trip to Zion and Bryce national parks. While Brink always thought he'd save RVing for retirement,the convenience of an RV rental was what finally persuaded him to give it a try.
8. Snow Birds Opting to Buy, Not Rent, RV Sites: The ARVC reports that a growing number of RVers are buying RV sites at upscale RV resorts across the country. While most campgrounds, RV parks and resorts rent their sites by the night, week or month, there are growing numbers of parks that have started selling their sites, particularly Sunbelt parks that cater to Snow Birds. "This segment of the industry is generating increasing attention from consumers," said Linda Profaizer, president and CEO of the National Association of RV Parks and Campgrounds. Most RV resorts that sell their sites also set up rental pools, which enable RV site owners to generate income from their campsite when they're away. The resorts take a percentage of the rental income to cover their management services.