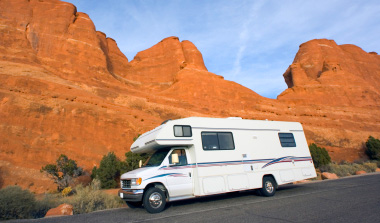 Long ago, back when I had a real job, I had a favorite saying when interacting with potential customers. At some point in the beginning of our conversation, I would say, "Everyone should take an RV trip at least once in their lifetime." You might expect a statement like that coming from the Regional General Manager of a recreational vehicle (RV) rental and sales company. But I fully and completely believed it.
And now – 21 years after retiring and 17 years of traveling and living fulltime in my motorhome – I believe it more than ever.
I've been RVing for more than 45 years, beginning with renting a Class C motorhome for a one-week vacation to Sequoia and Kings Canyon National Parks with my wife and parents. While operating the RV rental company in Northern California I also managed to slip away for several weekends a year in one of my rentals (one of the best perks of a job I can think of), trying different models and sizes of RVs in the guise of "research."
My wife and I would take off on a Friday afternoon for the redwood country, or up the coast, or into the national forests, or to the Mojave and Sonora deserts. We stayed in a variety campgrounds ranging from fancy RV resorts – with swimming pools, spas, and organized recreational activities – to primitive no-frills forested campsites surrounded by towering evergreens. My agenda: to evaluate how the RV and all its systems worked, comparing livability of small to large-sized RVs, and how a particular size or floor plan fit my wife's and my specific needs. It was a tough job but somebody had to do it.
On the RV rental side of the business, I got to meet customers from around the world, discovering their particular reasons for wanting to rent an RV, their preconceptions, and the response from them when they returned their RV after use.
One of the more memorable responses was from a middle-aged English couple that set off to explore the Wild West. Three weeks later they returned all decked out in cowboy hats and boots. When I asked where they had gone, they replied that they hadn't actually gotten much further than the old west gold mining town of Murphys. They had stopped in a cowboy bar for a drink, made new  friends, and were having such a good time that they stayed there for half their vacation.
In fact, the two most mentioned features of the returning renters were the spectacular scenery of the Western States and the people they met – both in and out of campgrounds. Some new to the RV Lifestyle, however, might be concerned that RVing is too much "roughing it," foregoing hotel room amenities like room service and on site restaurants, to "sleep in the woods." To those I respond, you might be surprised – and pleasantly so – after just one RV trip.
And, of course, the easy and smartest way to find out is by renting an RV before considering a purchase. You can see whether you enjoy the life, traveling, sleeping "in the woods," and what size and type of RV you are comfortable with and that fits your particular needs. One way to take the plunge is by logging in to an online rental company, such as RVShare.com, and search for RVs to rent in your area. Their format is easy to use and you can look at pictures of the various RVs available for rent. Pick one out that fits your needs, and call the owner for further information.
So after 45-plus years of RVing – both in the business and as a fulltime RVer – I have learned a lot about RV travel and I would like to share short list of tips (the long list would be too long to print) of why "everyone should take an RV trip at least once in their lifetime."
Your family can travel the scenic backroads of America together and in comfort
See parts of the country you would never see from an airplane
Choose your camping style, from amenity-rich RV resorts to primitive woodsy campsites
With the RV's onboard systems you have everything you need for livability: restroom with shower, cooking facilities, refrigerator, generator for electricity (if not connected to campground power sources), a comfortable bed, and holding tanks for sewage, waste water, and drinking water.
Spend the night on a desert plateau and watch the sun set in a blaze of glorious colors over a distant mountain range
Wake in the morning to the songs of forest birds surrounded by towering Ponderosa pines and Douglas firs
Camp next to a mountain stream where you can fish fright from your camp chair
Visit RV hotspots like the massive winter gathering of friendly RVers (called snowbirds) in the small desert community of Quartzsite, Arizona
Watch NASCAR races in designated RV campsites right along the race course
Visit dispersed relatives across the country
Meander along the country's beautiful National Scenic Byways, camping in picturesque campgrounds along the way
Bring your bicycle and ride some of the thousands of miles of former railroad lines now maintained as recreation trails by the Rails to Trails organization.
Discover the best hiking, paddling, birdwatching, and wine trails, follow the fall turning-of-the-leaves, find music festivals, mountain lakes, large mammal viewing spots, and more
Follow your favorite venues or interests, such as touring historic sites, old mines, ghost towns, chili cookoffs, RV rallies, square dance competitions, and our national and state parks
And there is much, much more. Happy Travels. For more RVing articles and tips take a look at my Healthy RV Lifestyle website, where you will also find my ebooks: BOONDOCKING: Finding the Perfect Campsite on America's Public Lands (PDF or Kindle), 111 Ways to Get the Biggest Bang for your RV Lifestyle Buck (PDF or Kindle), and Snowbird Guide to Boondocking in the Southwestern Deserts (PDF or Kindle), and my newest, The RV Lifestyle: Reflections of Life on the Road (PDF or Kindle reader version). NOTE: Use the Kindle version to read on iPad and iPhone or any device that has the free Kindle reader app.