General Info: Fundy National Park, in southern New Brunswick, Canada contains two distinct environmental systems. The Bay of Fundy marine coastal environment features salt marshes, tidal flats and rocky shores. The park's interior is part of the Caledonia Highlands plateau, featuring pine forests, deep river valleys and bogs. Download the park brochure PDF to learn more about the area.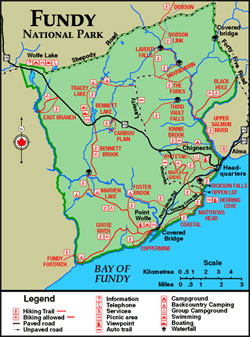 The Bay of Fundy sees the biggest tidal changes in the world. At the head of the bay, the difference between high and low tide can be 16 meters–that's the height of a four-storey building!
The park is a wilderness area so visitors must take care of their personal safety and be mindful of natural dangers.
Hours and Fees: The Headquarters Visitor Reception Center is open daily in summer from 8 a.m. to 10 p.m., and from 8 a.m. to 4:30 p.m. in spring and fall. In winter the reception center is only open from 8:15 a.m. to 4:30 p.m. Monday through Friday. The Wolfe Lake Information Center is open from June 26- August 23 from
10 a.m. to 6 p.m.
A daily entrance fee of CAN$7.80 applies to each adult (ages 17 to 64), CAN$6.80 for seniors (age 65+) and CAN$3.90 for youths (ages 6 to 16). A group rate of CAN$19.60 covers two adults and up to five children all traveling in the same vehicle. Season passes are also available.
Activities: Fundy National Park hosts loads of outdoor recreational activities the whole family can enjoy. There's the tamer activities of golf, tennis and lawn-bowling (equipment rentals are available), or the more strenuous pursuits of hiking and mountain-biking. There are picnic and playground areas for families with small children. Fishing and boating can be had at the several lakes and rivers in the park. Bird-watching and swimming are also pleasant pastimes in the park.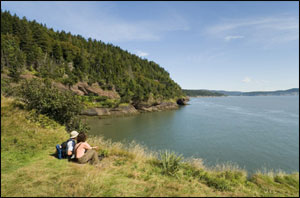 If you'd like to learn more about the area during your visit, a number of guided beach walks and evening campfire programs will give you an inside look at the park's natural splendor.
Weather: The park straddles two climate zones: that of the Bay of Fundy and Southern New Brunswick. On most days, there is a noticeable difference between the two zones in the park. When the interior areas are 22°C, the coastal areas can be 6°C colder (that's a difference of about 11°F)! Southern New Brunswick has warm summers with slight fog and cold, snowy winters.
Camping Info: The park features four pet-friendly RV campgrounds with gravel or grass RV sites. These campgrounds open for the season in May-June and close in September/October. Handicap access, full hookups, dump stations and bathrooms with showers are available. Maximum site length is 50' for some pull-thrus. Bundles of firewood can be purchased for $6.80 each. Nightly camping rates range from CAN$15.70 to CAN$35.30 depending on type of site. See the Trailer Life Directory for details about RV camping in Fundy National Park.
If you're from New Brunswick or have visited Fundy National Park in the past, please chime in with your stories and tips! Your insights can help others have a fantastic trip.