Mardi Gras in Houma County
Mardi Gras is one of the biggest parties of the year. It is an annual event that draws millions of visitors from around the world. Louisiana lights up in purple, green and gold and exudes a festive buzz. The celebration in Houma, Louisiana's Bayou Country combines this joyous occasion with Cajun culture and southern hospitality.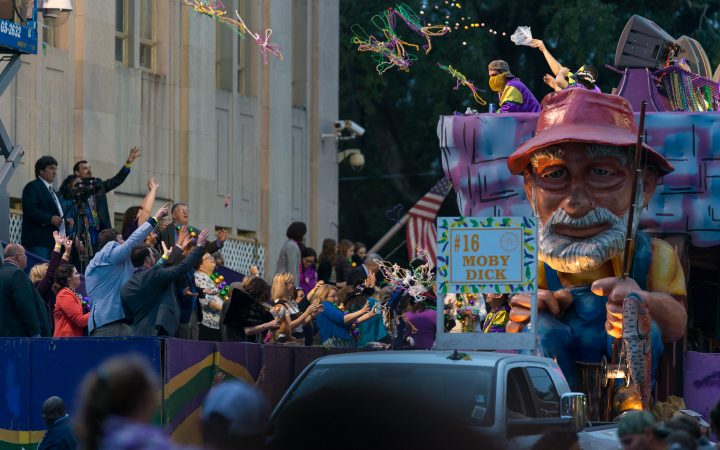 Mardi Gras is French for Fat Tuesday. The celebration gets its name because many Catholic observers of the Lenten season would typically eat up all the traditionally-rich foods in the house (butter, eggs and fatty meats) on the Tuesday before the start of fasting and sacrifice. This tradition has evolved over the years to include not only great food, but also a full-on celebration with colorful floats, lavish costumes, marching bands, masked balls, costumed revelers, souvenir beads and king cake. Lots of King Cake! (To learn more about the tasty tradition of the carnival pastry known as king cake, view our video series at www.houmatravel.com/see/mardi-gras)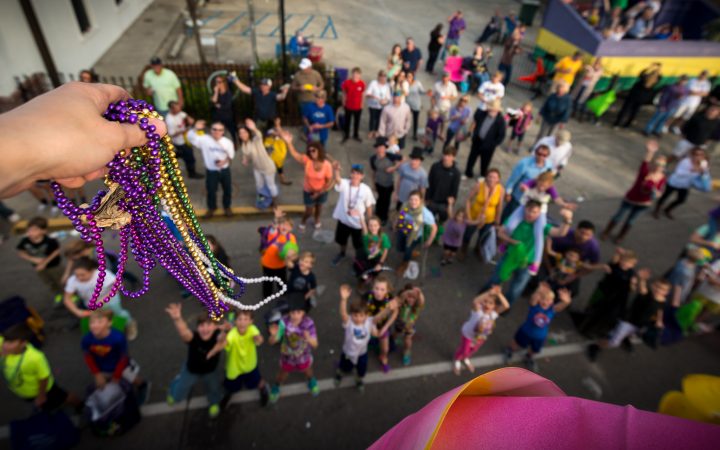 Houma shines its brightest at Mardi Gras. With one of the largest Mardi Gras celebrations in the state of Louisiana. There is always something fun around the corner. The parades in Houma include themed floats with larger than life decorations created by local artists, raucous marching bands, costumed characters and lots of dancing. If you would like to get out of the city for a more unique Mardi Gras experience, head down to the Bayou Country communities of Chauvin and Montegut, where you will take part in a truly community celebration.
Planning Your Mardi Gras Trip
When planning your Bayou Country Mardi Gras trip, here are a few tips to keep in mind.
Mardi Gras has a reputation for being a rowdy occasion. Here in Houma, Mardi Gras is a time to celebrate with family. Feel free to bring the kids and enjoy the festivities together in a safe environment
Be sure to leave room in your suitcase for souvenirs. Houma's Mardi Gras parades are known for being remarkably generous. You will go home with lots of beads, doubloons and other Mardi Gras souvenirs
Get your sweet tooth ready for a King Cake Crawl. Each of the Houma area's bakeries puts a different twist on this traditional carnival treat and you'll want to try them all. Also, new non-traditional king cake conventions are popping up each year. From donut king cake to king cake snow cones, a Houma Mardi Gras will certainly be a sweet celebration
For a memorable and family-friendly experience, join us for Mardi Gras in Houma, Louisiana's Bayou Country.