Welcome to Lakewood Camping Resort – A Myrtle Beach Oceanfront Campground & RV Park 
Encompassing over 200 acres of Oceanfront Accommodations, including Campsites, RV Sites, Rental Villas, and Individual Owned Properties with access to the Beach. Lakewood Camping Resort has a half mile stretch of sandy beach and is located on the South end of Myrtle Beach with shopping, dining, and entertainment just minutes away.
Announcing the latest in Interactive Wristband Technology
Offering Lakewood Camping Resort guests an actual relaxing vacation!
Lakewood guests can enjoy a "hassle free, care free" vacation when they power up their Play-n-Pay wristbands. These are given to registered guests at check-in.  Power up by adding funds at one of the conveniently located kiosk eliminating the need to carry cash or a credit card.
Power up and add some funds!  Play-n-Pay wristbands allow guests to access all Lakewood amenities as well as the convenience to pay for food, drinks, groceries and souvenirs.
Be one of the first to experience this exciting guest pleasing technology – book now!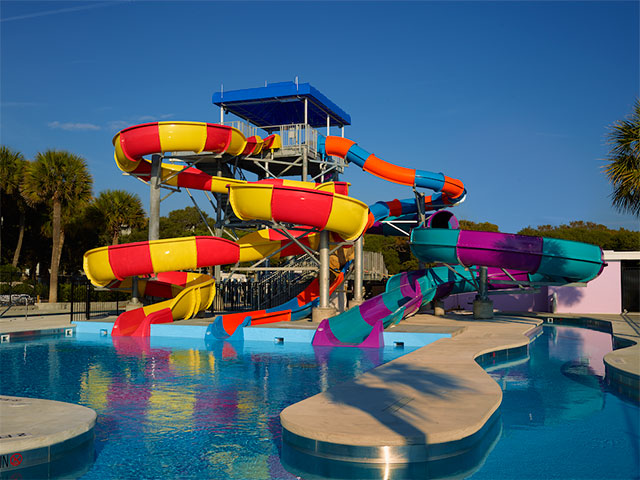 Our fantastic Water Park is open weather permitting along with many other amenities including a Children's Splash Area, Tranquility Beach and Funtastic Beach, all oceanfront on the beautiful blue Atlantic. The perfect place for "family fun"!!!
Make Lakewood Camping Resort, the 2010-2011 National Mega RV Park of the Year, your vacation destination when Camping in Myrtle Beach, SC. The first privately owned Campground on the Grand Strand with  Amenities, Family Fun, and Special Events
Groups of all sizes are welcome. Lakewood facilities can cater to any number. Our Information Center can be used for a variety of functions, and the Coffee House is great for smaller, more personal gatherings.
The Lakewood staff is honored and proud to serve you. Thank you for allowing us to provide a family fun atmosphere since 1959! We continue to value your business.
Make Lakewood Camping Resort a part of your family's favorite memories.