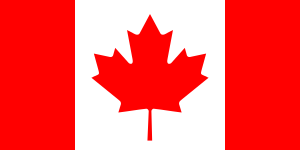 An RV Canada Travel Guide for your northern trip.
If you're considering taking an RV trip to Canada from the United States for the first time, there may be a few things you should know. As far as the border crossing, it's best to refer to the Canada Border Services Agency for details on what to bring and what to leave behind.
Once into Canada, your adventure begins. One of the first things you'll notice is speed limits posted in KMH (Kilometers per hour). If your vehicle's speedometer is only calibrated in MPH, here's a simple breakdown.
50 kmh  =  31 mph
70 kmh =  43 mph
80 kmh =  50 mph
90 kmh =  56 mph
100 kmh = 62 mph
110 kmh = 68 mph
120 kmh = 75 mph
As you would expect, destination signage is in kilometers, as well. Short distances of 1 km or less are displayed in "m" (Meters). There are 1000 m in 1 km, so a sign indicating a turn-off in "500 m" would mean ½ km ahead.
RV Canada Travel Checklist — Getting Fuel and Clearance for Your Canada RV Trip
In addition, fuel stations indicate price by the liter, and not by the gallon; it takes about 3.8 liters to make a gallon. Keep this in mind as you shop for gas in Canada.
Now, with your RV, there are a couple of other signs you need to observe: overhead clearance and maximum vehicle weight. Overhead clearances are displayed in "m" (Meters).  Here, 1 m = 3.37 feet.  Therefore, a bridge showing a clearance of 4 m would be just under 13' – 1′ ½".   Weight limits are in "tonnes"—metric tons.  One metric tonne equals 2,240 pounds. So, you should calculate the metric measurements of your RV and keep it in your rig for later use. Make it part of your RV Canada travel checklist.
Bon Appetit: What to Eat on Your Canada RV Trip
Let's go into a store to replenish your food stocks. In Canada, items sell for price per lbs., per kg., per 100 mg., per liter, per ml, etc.  The pricing by the pound is not very common, however.  Also, employees won't always know how much a pound or a number of ounces is in metric; it might be up to you to do this math.
Regardless of the differences, an RV journey to Canada is the trip of a lifetime. Enjoy!
Peter Mercer—With a Look at Canada