British Columbia is known as Canada's outdoor playground. The southernmost part of the province tends to be a bit more temperate year round, making it ideal for golfing or strapping on those hiking boots to explore the many trails that wind through BC's incredible wilderness areas. In winter, there's no better place to enjoy the snow than British Columbia. In fact, Vancouver is the site for the 2010 Winter Olympic Games! This one tank excursion from Woodall's will give you a nice introduction to the diversity of British Columbia's attractions.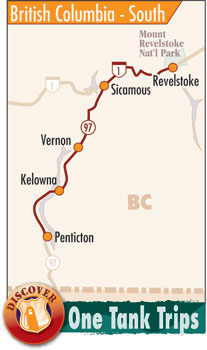 Revelstoke
For a different view of BC, start a ways off from the well-traveled areas of Vancouver and the province's capital of Victoria. The scenic town of Revelstoke, which is situated quite close to Mount Revelstoke National Park, will set the tone for the rest of this relaxing trip. There's an abundance of fishing to be had in any of the several freshwater lakes in the area, and the hypnotic natural beauty of Revelstoke can be enjoyed via a network of hiking and mountain biking trails. After a day out in the woods, you may want to take a rejuvenating soak in the local mineral hot springs. Locals swear by their restorative powers. While in Revelstoke, a place of interest to history buffs is the Revelstoke Railway Museum, which features exhibits about Canada's first transcontinental railway. The nearby Revelstoke Dam offers tours of their massive facilities, which are considered among the largest hydroelectric plants in North America.
Sicamous
Leaving Revelstoke via Alaska Highway/Highway 1, head west for 44 miles until you come to the town of Sicamous, which is considered the houseboat capital of Canada (recent statistics claim more than 300 houseboats are rented in this area annually). It sits at the junction of the Shuswap and Mara lakes, providing plenty of opportunities for year-round outdoor recreation.
For more land-locked activities, the Eagle Valley Museum & Heritage Society allows visitors to take a peek at how things were back in the gold rush and logging days. The Enchanted Forest is a magical setting containing more than 250 hand-crafted fairy folk, gnomes and storybook characters that the kids in your life will love.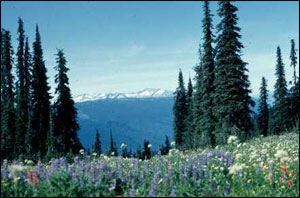 Vernon
Presuming you don't get lost forever in the Enchanted Forest, when it's time to leave Sicamous head south on Highway 97B. A beautifully scenic 47-mile cruise brings you into the city limits of Vernon. The town sits at the north end of the lush Okanagan Valley and is surrounded by three lakes – the Okanagan, the Kalamalka, and the Swan. With all this water, you can certainly find plenty to do in the summertime – kayaking, boating and fishing are among the many options that Vernon offers. Don't miss the chance to tour through the Okanagan Valley's wine country. According to various wine connoisseurs, the vintages that come from these local vineyards are some of the best to be found in all of Canada. The area is also home to some fine beachfront territory as well, so for those of you who fancy a bit of fun on the sand, you'll find exactly what you're looking for.
Kelowna
Leaving the 97B, a little more than 30 miles on the southbound Highway 97 lies Kelowna, a quaint, cultured town with museums, shops, and excellent restaurants serving some truly incredible dishes. A trip through Kelowna during harvest time will give you a chance to pick some of the freshest, most succulent fruit. Depending on what time of year you visit, you're likely to experience one of Kelowna's many events; the Mardi Gras Street Festival and the Okanagan Wine Festival are particular favorites with locals and visitors alike. Starting in the late summer and running through the early fall, you can take part in the Parks Alive event, which offers music and attractions the whole family can enjoy. Best of all, it's free!
Penticton
The final stop of Penticton lies 40 miles farther south on Highway 97. The town's name is taken from a Native word meaning "place to stay forever," and once you have a look around you'll understand why. This city is highly regarded as one of the best family destinations in all of western Canada. The city rests between the Okanagan and Skaha lakes, which are ideal for swimming, or spending the day with a hook and line in the water. The awe-inspiring Skaha Bluffs are a natural wonder, and there are nearly 90 local wineries for the wine lovers in the group to spend a few days touring through.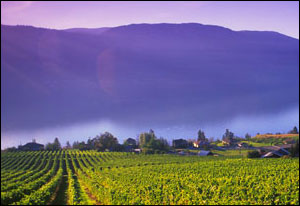 Penticton has no shortage of events for locals and visitors alike: the Canada Ironman Triathlon is a grueling challenge that may be more fun to watch than to take part in, or you can sit back and let the music flow over you at the Penticton Hot Jazz Festival. Even though it's thousands of miles from Graceland, if you're in the area in late June don't miss the Pacific Northwest Elvis Festival, a three-day celebration of the life and music of Elvis Presley – and what would such a fest be without impersonator contests? Penticton is definitely a place that knows better than to take itself too seriously – fun and adventure are in abundance here.
With several golf courses, vastly entertaining festivals, and ample opportunities to hike and bike along any one of several scenic trails, Penticton gives the vacationer a myriad of choices for relaxing and unwinding. One visit to this city and you'll understand that the Native American tribes named it correctly – it's truly a place you'll want to stay forever.
There are so many stops along this route that it's impossible to name them all here, but as you cruise along this scenic route, you'll want to come back and explore. Don't be afraid to wander off the beaten path – there's so much more to see!
Where to Stay: The Oxbow RV Resort in Penticton has 69 gravel sites with full hookups (30 amps) near Skaha Lake. If you can't make it that far before stopping for the night, try the Holiday Park Resort in Kelowna. It's got 100 paved RV sites and room for big rigs.