By Bob Difley
I've been RVing for over 45 years. My first RV, if you could call it that, was a panel van with a side sliding door. Nothing was built in and a mattress occupied most of the floor of the van. Camping in California state parks back then – none with hookups – cost $6 and you could camp in the national forests (NF) and on BLM land for free. In fact, you could sleep overnight almost anywhere, as long as you didn't become a squatter and behaved yourself.
Times have changed. Now you can't find even the most primitive of campsites for $6, and free camping, though still an option, is available only at selected NF and BLM locations – a recent change. The Travel Management Rules (TMR) are being implemented that restrict not only on which roads you are permitted to drive your RV but also where you can camp.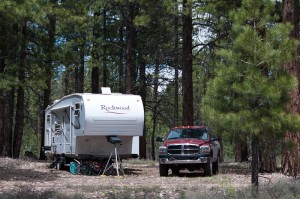 These camping areas are call Dispersed Camping Areas and are shown on Motor Vehicle Use Maps for each forest. There is a fine if you are caught camping in a non-approved area. Free use of our public lands (which are owned by all of us as part of our national heritage for recreational purposes among other uses) will now, unfortunately, be restricted.
But before you raise your muskets and storm the barricades to "take our country back" I can understand the feeling among many forest service and BLM personnel when you look at the situation from their point of view. Though we might not like to admit it, there are many among us RVers who take no responsibility for the care of the land or its resources, discarding trash around the forest campsites, dumping their tanks onto the ground, and destroying trees to use for firewood, and driving over plants, flowers, and the forest floor with no regard to its fragility (it's not just RVers, but off-road vehicle users as well).
It is these unthinking people that are, unfortunately, making it worse for the rest of us, indicating to forest management people that they had to step in and enforce regulations to protect the land.
But I do have a hard time seeing the viewpoint of the Campground Owners of America and several vocal private campground owners who have been working diligently – and relentlessly – to get local and regional legislation passed that would make camping anywhere other than in a designated campground illegal. That would mean no more overnighting at a Walmart, Flying J, Cabela's, highway rest stop, or  by a tree-shaded public park in the many small towns dotted across America.
In his June 3rd blog, Roadtreking (A journalist and friends discovering the small motorhome lifestyle), Mike Wendland writes an excellent piece titled Finding free places to overnight in your RV.
"There's a real battle going on out there in the RV world," writes Mike, "and it pits some powerful interests against those who resent paying for services they don't need and only want to take advantage of the generous offers of places like Walmart, Cabella's, Cracker Barrel, and other businesses that not only allow but welcome brief overnight stays by traveling RVers."
I suggest that all of you who travel from one campground (yes, ones that you pay to camp in) to another, and that prefer to stop somewhere just for a meal and a night's sleep, read his blog. It may be time for all of us who feel strongly about this issue to do more to remind residents in the places we pass through that we spend money with local merchants for food ,fuel, and supplies, and that supporting such measures might have adverse effects on their businesses. And maybe we might even want to follow some of Mikes' suggestions, like not spending a dime in RV unfriendly towns. (Continued next week).
For more RVing articles and tips take a look at my Healthy RV Lifestyle website, where you will also find my ebooks: BOONDOCKING: Finding the Perfect Campsite on America's Public Lands (PDF or Kindle), 111 Ways to Get the Biggest Bang for your RV Lifestyle Buck (PDF or Kindle), and Snowbird Guide to Boondocking in the Southwestern Deserts (PDF or Kindle), and my newest, The RV Lifestyle: Reflections of Life on the Road (Kindle reader version). NOTE: Use the Kindle version to read on iPad and iPhone or any device that has the free Kindle reader app.