By Bob Difley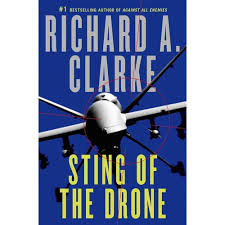 REVIEW: Most RVers are readers. Many of us have, or soon will, make the transition from the stresses of a job and raising a family, to the more laid-back live of the wandering RVer. And as such, we find that we now have more time to pursue an entertainment option for the pure enjoyment of it. Reading novels is one of those pursuits, so if all you want to read about is RV stuff, you can skip this post. But if you are interested in a page-turning thriller to enjoy in your camp chair, Give Richard A. Clarke's, Sting of the Drone, a try. Here is my review of the book.
The contentious world of fighting – or deterring – future wars by radio-controlled drones with the ability to fly anywhere in the world, make their strikes, and return to home bases is brought to jarring reality in Richard A. Clarke's newest thriller, Sting of the Drone.

In a nondescript building in Las Vegas manned by top security officials and CIA operatives, a team of Air Force pilots, used to flying F-16 fighter jets into combat zones, now sit behind computer monitors using their joy sticks to fly unmanned drones on kill missions into the world's most dangerous places from the comfort – and safety – of their stateside offices.

But all is not as safe as it once was, as the targets of these drone attacks fight back, both at the drones themselves and the pilots on American soil that fly them. This page-turning thriller, the third novel by Clarke, former Chairman of the Counter-terrorism Security Group of the National Security Council from 1992–2003, and who appears regularly on TV as an expert in national security, and commentator for ABC and other media (including the John Stewart Show), takes the reader deep into the arcane world of national security, the secretive drone program, and the politics of it all in a way unimagined by most Americans.

Who determines the targets? What terrorists are picked to be killed by the uncanny accuracy of the drone hellfire missiles? What is done to avoid making mistakes – like killing innocent civilians? Clarke's insider knowledge will keep you glued to this book until the final page is turned.

But now back to RVing specifically, you  can find lots of RV tips, trips, and information on my Healthy RV Lifestyle website, where you will also find my ebooks: BOONDOCKING: Finding the Perfect Campsite on America's Public Lands (PDF or Kindle), 111 Ways to Get the Biggest Bang for your RV Lifestyle Buck (PDF or Kindle), and Snowbird Guide to Boondocking in the Southwestern Deserts (PDF or Kindle), and my newest, The RV Lifestyle: Reflections of Life on the Road (Kindle reader version). NOTE: Use the Kindle version to read on iPad and iPhone or any device that has the free Kindle reader app.