Bastrop, TX is a quaint town with a nice small-town atmosphere. Bastrop's historic downtown area may not house livery stables, mercantile stores, soda fountains and saloons any longer, but the buildings that once housed them are still there. The historical things are the facades of the buildings. These buildings now house restaurants, antique stores, quaint shops and boutiques. There are lots to see and do, and everything is so close that you can walk. The streets are tree lined and shady, featuring a nice walk along the Colorado River. The area features a plethora of bars and eateries with stages and sound systems for after-sundown live music. Historic Downtown Bastrop is named a Distinctive Destination by the National Trust for Historic Preservation.
Contains a myriad of historical artifacts. This museum provides lively displays outlining the rich history of Bastrop and central Texas. It is surprising large considering the size of the town and very informative. The Museum has worked diligently to collect and preserve materials and documents relating to the history of Bastrop. Artifacts span more than 200 years from when Native Americans inhabited the area, to the latter part of the 20th Century. If you like museums, you will like this one. Excellent exhibits and videos make up the collection of this museum.
Right around the corner from Hwy 71 RV Park. The main attraction is outdoor exhibits of life-size dinosaur replicas. These hefty creatures have plenty of room to stretch on 18 acres of land on Texas Highway 71. The Dinosaur Park is a fun and creative way for everyone to obtain a lasting impression of the majestic animals that once ruled our earth.
Just down the road where they sell the pecans they raise: in-shell, cracked, shelled, and candied. Free Samples! 800-518-3870
This state-of-the-art museum features exhibits and interactive experiences that trace Texas history from before European exploration to the early 1970's. 512-936-8746
The Bastrop, Texas area is extraordinary in every way possible. There are things to do, people to see and places to visit. Everything that Mid-Texas has to offer is easily accessible to the area, and Highway 71 RV Park is right in the middle of it.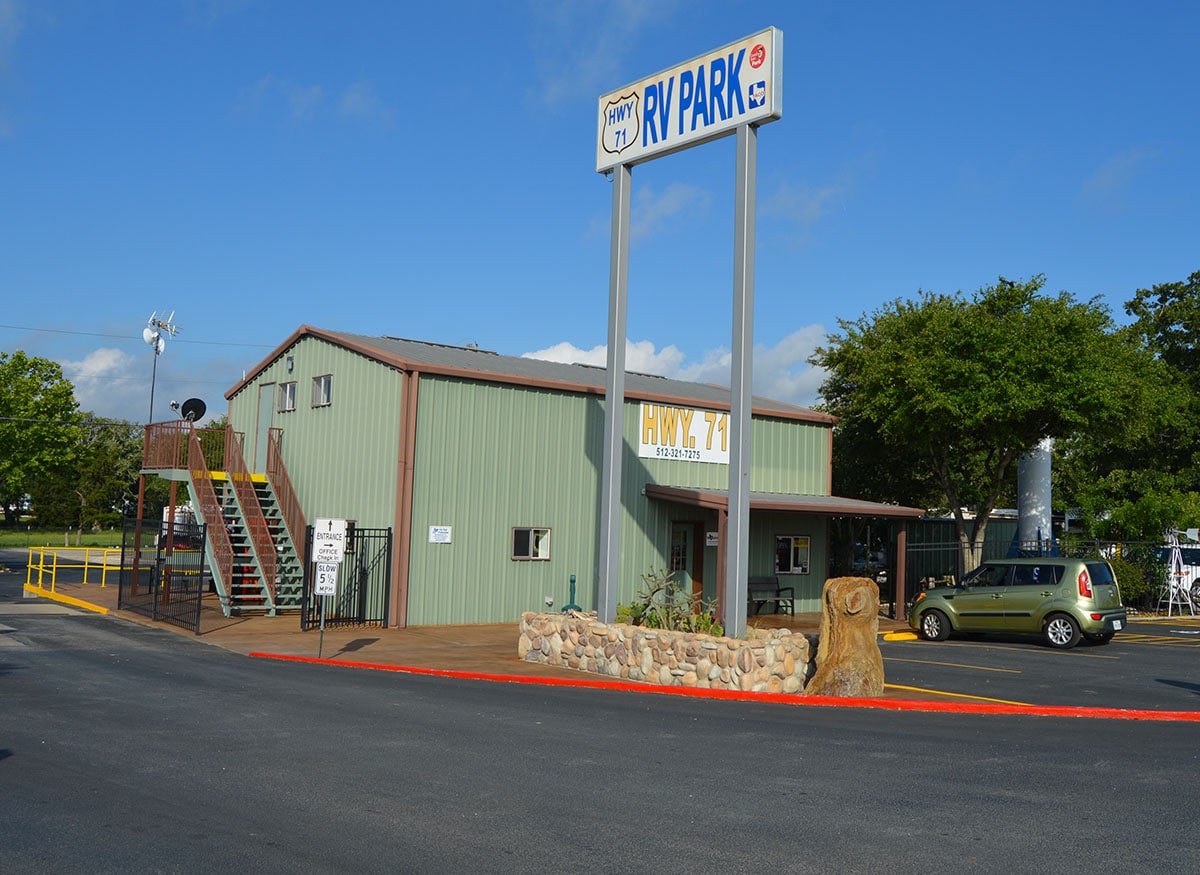 This 24-acre park is located just 10 miles from Bastrop in Cedar Creek, TX offers easy access from Highway 71. The folks are friendly and the views are vivid in this chunk of paradise. Highway 71 boasts a wide variety of activities for all ages. Whether you want to take a dip in the beautiful heated swimming pool, try your hand at dominoes and ping pong, or play a game of pool in the rec room, you are sure to find a reason to visit us. Relax and fish in our beautiful pond or exercise in our large gym. The park offers 88 channels of HDTV and Free high speed WiFi.
931 Union Chapel Rd
Cedar Creek, TX 78612
(512) 321-7275
Photos: Hwy 71 RV Park