Traveling in RVs that are modified to meet physical challenges, road warriors with disabilities are hitting the highways in large numbers. In turn, RV parks across North America welcome these nomads with more and more accessible environments.
To honor the International Day of Persons With Disabilities, December 3, we're recognizing 11 Good Sam Parks that have gone the extra mile to welcome guests with mobility issues. These parks have been evaluated for ease-of-access by RVing Accessibility Group, an organization that promotes camping and RV travel for people of all abilities.
Many parks and campgrounds on this list have embraced the the Americans with Disabilities Act (ADA) to create more ramps, power doors, more paved areas and even special sites designated exclusively for disabled users.
Arizona
J&H RV Park, Flagstaff
J&H boasts several sites that are wide enough for scooters, according to the RV Accessibility Group. Most sites are level as well, and the owner has made a commitment to add even more accessibility features.
Mesa Spirit RV Resort, Mesa
With several wheelchair-friendly access routes that connect spacious sites to bathrooms and other buildings, this site earns a positive review from RV Accessibility Group. The park is "clean with very accommodating management."
Rincon County West RV Resort, Tucson
Many sites in this highly rated park are paved and can be designated as accessible, according to RV Accessibility Group. Several amenities have accessible parking, so one can drive from the RV site to the building of their choice for activities.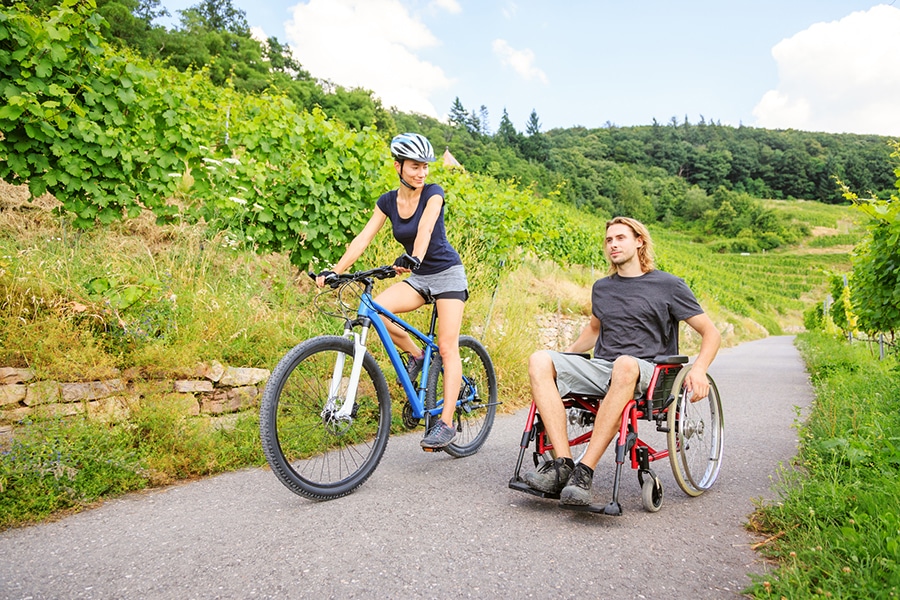 Colorado
Navajo Lakes RV Park & Campground, Arboles
Within this complex, the ROSA Campground has designated concrete RV sites that are connected by wheelchair-friendly paths to accessible showers, laundry facilities, restrooms and a gathering area. The laundry facility has front-end washers for ease-of-use. RV Accessibility Group reports that this is "one of the more accessible facilities we have examined in the past 4 years. It is quite impressive."
Mississippi
Hollywood Casino RV Park, Bay St. Louis
This park sits adjacent to the Hollywood Casino, with shuttle service bringing guests to the action. All sites are concrete on the east end, and bathrooms and showers are accessible via ramps.
New Mexico
Hacienda RV & Rally Resort, Las Cruces
This park has paved interior roads with concrete pads that are wide enough to accommodate a wheelchair or scooter. In addition, the office, facilities and amenities are wheelchair passable, and the restrooms and showers are accessible. "This is one of the better parks reviewed for guests with limited mobility," RV Accessibility Group reports.
Oklahoma
Twin Fountains RV Resort, Oklahoma City Area
RV Accessibility Group Reports two dedicated sites are available and most all amenities are wheelchair accessible.
South Dakota
Beaver Lake Campground, Custer
Some of the campground's newer, full-service sites are in close proximity to the office, main bathroom and laundry facilities, all of which are accessible. There are good interior roads and pads with plenty of trees.
Texas
Advanced RV Resort, Houston
Located near the Sam Houston Tollway, this park gives guests easy passage to the clubhouse, bathrooms, showers, laundry and outdoor grilling area. Ramps provide easy passage for wheelchairs and electric scooters, and doors have power assist, according to RV Accessibility Group.
Utah
Cottam's Willowind Park, Hurricane
With paved roads and concrete pads, this park welcomes guests with limited mobility. Ample space allows ease of passage for guests with wheelchairs. Bathrooms are centrally located with good access, stated the RV Accessibility Group.
Virginia
Holiday Travel-L-Park, Virginia Beach
This park's "super sites" are nearly 15 feet in width, making them suitable for disabled guests with wheelchairs or scooters. The park's numerous amenities are accessible by paved road.