Our Good Sam RV parks and campgrounds already offer fantastic value, but now we're upping the ante! Our brand new Campground Offer Program serves up great deals at RV parks and campgrounds just for you!
Over the coming months, more parks and campgrounds will be adding more offers and more savings! Take advantage of these offers when planning your RV adventure.
Be sure to mention these Good Sam Campground Offers when you make your reservation.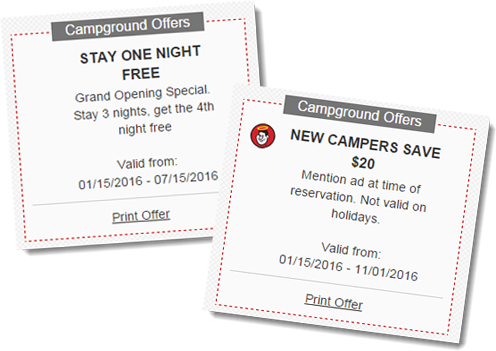 Look for offers on campground pages at GoodSamCamping.com and on our Good Sam Camping Mobile App*.
Choose Your Campground Offers!
Check out these special offers from participating parks and campgrounds just for starters—don't miss out on those free nights and valuable discounts off your stay!
Florida
RV SITES $744/MONTH Plus electric. Cannot be combined with other promotions. Exp: 4/15/2016
Montana

Glacier Pines RV Park  
1/2 OFF MEMORIAL DAY To all our Heros – Police, Fire, Military. Up to a week stay. Exp: 5/31/2016
YELLOWSTONE FOR LESS Enjoy our extra discounted rates from 5/1-5/26 and 9/6-10/10 Exp: 12/31/2016
New Hampshire

Crown Point Campground  
SPRING/FALL GETAWAY $199 stay 7 days off season. See website for details. Exp: 10/1/2016

Mountain Lake Camping Resort  
SPRING SPECIAL Book early for double GOOD SAM discount on stays 5/30-6/23 Exp: 5/15/2016
New Jersey

Timberland Lake Campground  
NEW CAMPERS SAVE $20 Mention ad at time of reservation. Not valid on holidays. Exp: 11/1/2016
New York
EARLY BIRD SPECIAL 10% discount on prepaid reservations of one week or more. Exp: 4/15/2016
Oklahoma
3 NIGHTS STAY 15% discount for 3 night stay when ad mentioned at check-in. Exp: 3/31/2016
        STAY ONE NIGHT FREE Grand Opening Special. Stay 3 nights, get the 4th night free. Exp: 7/15/2016
Ontario
WINE TOUR SEASON 5% off April 15 – June 15 2016 (Excludes Victoria Day Weekend). Exp: 6/15/2016
Virginia
         Waynesboro North 340 Campground  
         WAYNESBORO NORTH 340 Stay 7 consecutive days –Get the 7th night free! Exp: 12/31/2016
Washington
TRY-US-OUT SPECIAL   1st time guests get 2nd night at half-price or 3rd night FREE. Exp: 5/15/2016
        COME EARLY, PAY LESS  Beaches great – no crowd! Stay 4 nites, 20% Good Sam Disc. Exp: 5/15/2016
*Download the free Good Sam Camping mobile app for your Apple or Android device from either iTunes or Google Play app stores.