By Bob Difley
Whether just visiting Lake Havasu City on the way south to Parker, Yuma, or Quartzsite, or planning to spend the winter, visit the Lake Havasu Visitors and Convention Bureau's website or their physical location at 314 London Bridge Road (enter from the parking lot behind the building) to find the myriad activities available during the temperate winter months.
Because of its fine restaurants and cultural agenda, Lake Havasu City has attracted upscale visitors, year round retirees, and winter snowbirds resulting in a long list of exemplary events and activities, quite unlike the summer's line up of boat races, Jet Ski races, and fishing tournaments.
Besides locally produced little theater plays and musicals, the Lake Havasu Museum of History, next door to the Tourism Bureau, has on display historic artifacts and archives dating from the earliest Colorado Indians through the reconstruction of Robert McCulloch's London Bridge.
This is not to say that you have only cultural events from which to choose. For instance, the Grand Canyon Pro Rodeo Assn. & Little Delbert Days (photo: left), January 25 – 26 attractrs prpo rodeo association cowboys and cowgirls from around the southwest, as well as a lot of action on-stage, from Kids Karaoke, balloon animals, hula-hoop contests, to the "Cutest Cowboy and Cowgirl Contest (ages 2 – 12)". Little Delbert Days is an "old time country fair" experience that's fun for everyone!
In February you will find activities such as the 29th Annual Winterfest (Go for the day or the entire weekend and enjoy open-air shopping, dining, music, activities and a grand time for all ages!), the 25th Annual Wesstern Winter Blast Pyrotechnic Show (Feb. 12 – 16) the always spectacular fireworks show, a bluegrass festival (Feb. 28 – Mar. 1) on the beach, and more.
Semester and holiday breaks on the river mix equal parts of testosterone, hormones, and youth with warm sun, sandy beaches, and string bikinis for the form of entertainment that is only a distant memory for most of us. You can, of course, enjoy the festivities as an observant bystander.
If you are more adventurous, try jumping from a tower over 100 feet above the beach with a rubber bungee cord tied to your ankle, wet your whistle with a Ramos fizz or margarita concocted right on the beach from a portable, battery-powered blender, or test your balance in one of the gyrating balloon thing-a-ma-gigs at the water's edge.
And don't forget the state parks either. At Windsor Beach (photo: top), two miles north of the bridge on London Bridge Road, and Cattail Cove  and Buckskin Mountain State Park south of the city, rangers and naturalists lead several nature, geology, and bird and wildlife hikes, and present educational nature and historical programs throughout the winter.
These informative and interesting looks at the history of the river and its native populations and its geology, birds, and plants are open to all, even if you are not staying at the campground. Our campground finder provides you with detailed information on surrounding Lake Havasu RV parks and even lets you filter your search by amenities and other park features.
Downstream, the Parker area offers a choice of activities beyond the new Blue Water Casino, like bicycle racing, which is popular along this part of the river.  Another Dam Race follows a circuitous route within La Paz County Park for bicyclists. You can sit by your rig fishing in the river while simultaneously watching the blur of speeding bicycles past your campsite.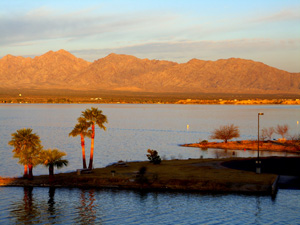 Then there's the river (photo: left), a natural and popular magnet for water recreation, with everything from unlimited hydroplanes to ski boats pulling water skiers around a long oval course at speeds that I wouldn't want to travel behind a boat on two thin boards.
Whatever your interests, the lower Colorado River has enough to keep your interest level above falling asleep in a chair in the sun, which, now that I think about it, also sounds like a pretty good way to spend the cold hard winter.
For more RVing articles and tips take a look at my Healthy RV Lifestyle website, where you will also find my ebooks: BOONDOCKING: Finding the Perfect Campsite on America's Public Lands (PDF or Kindle), 111 Ways to Get the Biggest Bang for your RV Lifestyle Buck (PDF or Kindle), and Snowbird Guide to Boondocking in the Southwestern Deserts (PDF or Kindle), and my newest, The RV Lifestyle: Reflections of Life on the Road (Kindle reader version).