Make a splash! Discover all the ways to have fun in the water of Florida's Lower Keys.
Camping and water recreation come together nicely in Florida's Lower Keys. Connected to one another by the Overseas Highway, this cluster of Florida islands between the Atlantic Ocean and the Gulf of Mexico plays host to several campgrounds for RVers and tent campers looking for tropical adventure.
While you're settling into your campsite, you may have a hard time resisting the call of the sea that laps on nearby beaches. Even dyed-in-the-wool landlubbers will feel the pull of the ocean, bays, channels and science-related attractions found in and around this famous archipelago.
Ok, ready to take the plunge? Here are just a few ways to enjoy the surrounding waters on your next trip to the lower keys.
Going Deep in Looe Key
Located about five nautical miles south of Ramrod Key, Looe Key Sanctuary Preservation is the only living coral reef in the continental United States. It's also the third largest barrier reef system after the Great Barrier Reef in Australia and the Palancar Reef in Mexico and Belize. This vibrant coral reef attracts parrotfish and surgeonfish on the north side; barracudas and jack on top of the reef; and grunts, butterflyfish, and angelfish on the reef crest, according to the Florida Keys National Marine Sanctuary.
At some points, the reef is only 7 feet below the ocean surface, making it ideal for divers and snorkelers. Go under the water to get an eyeful of endangered staghorn coral and endangered elkhorn coral. Sign up with a tour departing from Big Pine Key.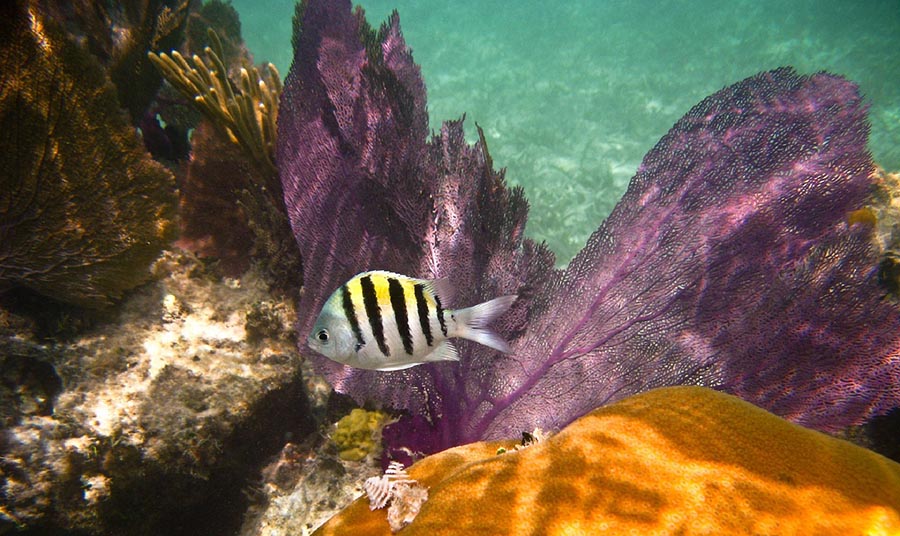 Patch Reef and Mangrove Snorkeling
Divers can get even more views of coral reefs directly south of Big Pine Key at Coupon Bright Aquatic Preserve. This protected area encompasses 4,600 Acres of seagrass meadows, hard-bottom communities, mangrove wetlands and coral patch reefs. Snorkelers will discover an array of sponges, soft corals, hard corals and algae.
If conditions are rough in the ocean, divers can still explore mangrove islands. In these environments, roots of these plants constitute habitats for lobsters, mangrove snappers and barracuda rays. Find an outfitter in Big Pine Key for a tour.

Fishing Charters
Nothing beats the sensation of the tug on the fishing pole as a hefty fish pulls on the line. Fortunately, you'll find plenty of charters in the Lower Keys who take visitors out into the ocean to fish for big tarpon, mahi mahi, tuna and marlin. Bring your own rod or find an outfitter who will equip you with a rode for ample fishing.
Note that many fish are catch-and-release only. While fishing for tarpon is popular, anglers are required to return these hefty trophies to the ocean after reeling them in. Still, it's worth it to pose next to your prized catch while you still have it. On the other hand, if you've caught a breed of fish that you're allowed to take home, you're in luck. Many outfitters will clean it for you so that it's ready to throw on the grill back at your campsite.
Make a Splash with Kayak Ecotours
Take a guided tour via kayak to some of the ecological attractions found throughout the Lower Keys. Big Pine Kayak Adventures offers tours to the shallow waters around the mangrove island of the Great White Heron and Key Deer national wildlife refuges. The tour will navigate the mangrove forests, sponge flats and grass flats of the backcountry.
Visitors can take Custom Backcountry Tours, in which the kayaks are ferried into the backcountry via a shallow water power boat. Kayak at your own pace in one of North America's most fascinating ecosystems.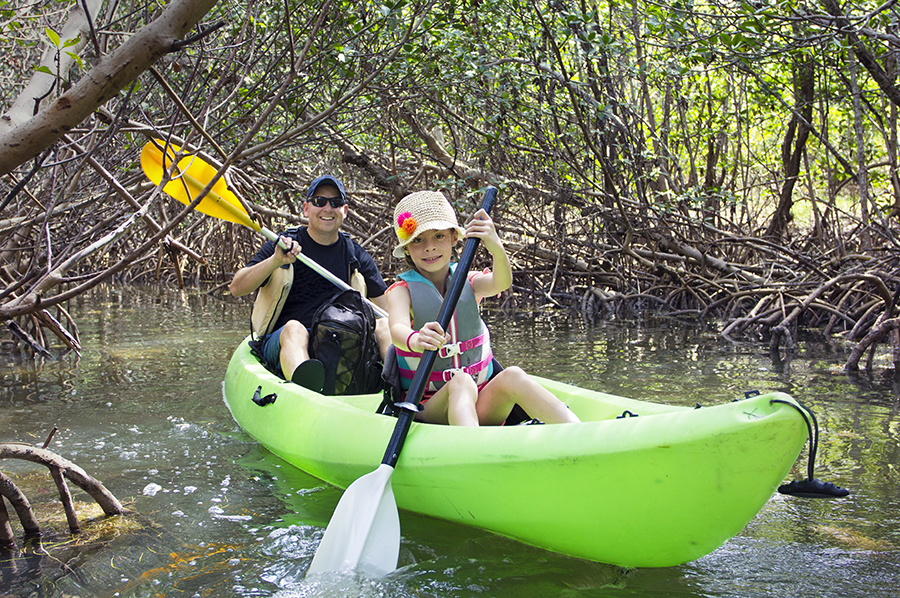 Mangrove Tunnels
Kayakers can get a unique look at mangroves by navigating the "mangrove tunnels" — waterways that snake under the dense canopies of these trees. One of the best places to explore these tropical passageways is No Name Key, located directly to the east of Big Pine Key across the Bogie Channel on State Road 4A. Start at the Key's Old Wooden Bridge Fish camp to start your tour through the tunnels. As you navigate these shady passages, you might catch a glimpse of heron or the diminutive Key deer. Keep your eyes peeled for the sunken boats found along the trip.
Kayak Fishing
Got a Florida fishing license? Then you can drop a line into the clear waters from the convenient base of a kayak. Big Pine Kayak Adventures shows kayakers how to navigate into extremely shallow waters to stalk bonefish, sharks, barracuda and many other species. Trips include all fishing tackle.
Paddleboard Yoga
Looking for inner peace while paddleboarding in the great outdoors? Many outfitters in the Keys offer classes in which students can learn the basics of standup paddleboarding while also practicing meditation exercises. Designed to connect minds and souls with the surrounding ecosystem, the classes help students will learn "drop anchor yoga" on tranquil turquoise water.
Find a nearby Good Sam Park and launch a Florida Keys adventure!