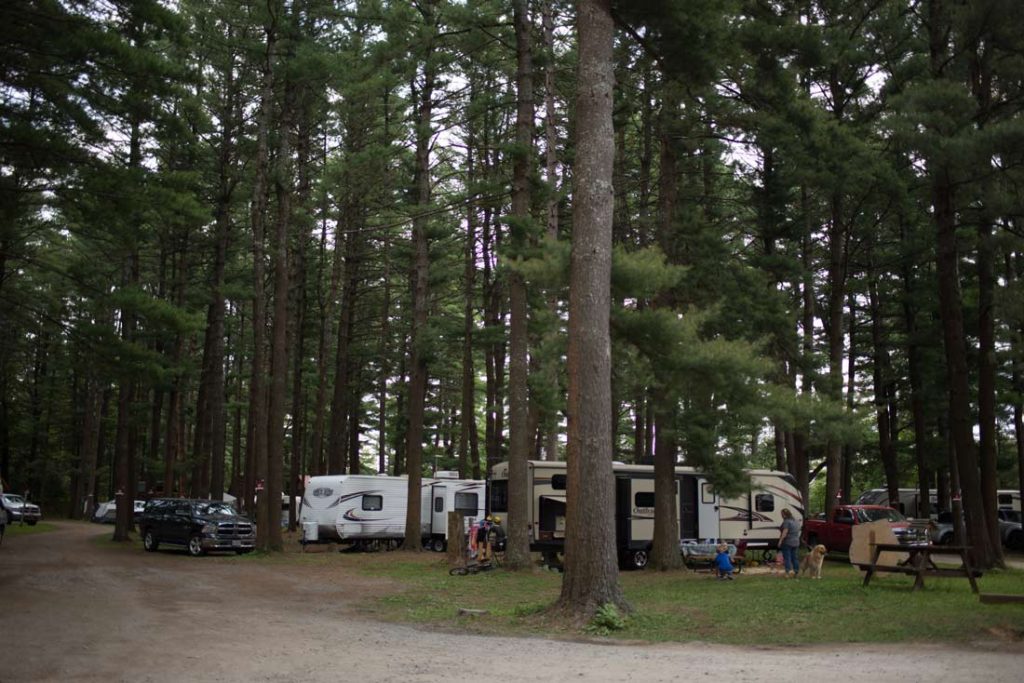 Welcome to Santa's summer home!  Nestled in the heart of Muskoka, Santa's Whispering Pines Campground the first choice in Muskoka for family camping.  Our award-winning campground with a focus on families is best known for busy days and quiet nights under the stars.  As a part of the Santa's Village family of parks, we offer a plethora of activities and amenities to help you create memories that last a lifetime.
Santa's Village
Located across the road from Santa's Whispering Pines Campground you will find Santa's Village, Sportsland and Muskoka Zip Lines and Aerial Park.  Guests can enjoy a visit with Santa coupled with roller coasters and games in Santa's Village. Or fly through the air along more than 1000' of zip lines at Muskoka Zip Lines and Aerial Park or enjoy family fun in the arcade in Sportsland.
Hiking and Adventures on Site
For guests who prefer the company of nature, and like to get away from it all, we have 25 km of hiking trails. Plus, fishing and paddling adventures on site.  Located on the bend in the Muskoka River, and only 3 km from the mouth of Lake Muskoka, fishermen, paddlers and boaters alike find adventures and rejuvenation in its waters.  Bring your boat or rent one of ours.
Muskoka
Muskoka is a Canadian national treasure. Consistently rated as one of the top destinations to vacation in the world by National Geographic.  Only a short drive from the campground you will find hiking trails on the Canadian Shield. There are waterfalls to explore, and artisans who welcome you into their studios. You can also golfing for the novice through to the pro-golfer and the world-renowned Johnston's Cranberry Marsh and Winery.  Adventures abound in Muskoka.
Whether you are bringing your RV with you or are looking for a cabin or cottage for your getaway, we are happy to accommodate all types of travellers.  We look forward to welcoming you to Santa's Summer Home this summer.