Trailer Life Cream of the Crop Campsites: Butterfield RV Resort—Benson, Arizona
Planning to take a trip out to see the Old West? Don't miss historic Southern Arizona, where clean air, natural beauty and historical sites abound. Whether traveling as a couple or with the whole family, Butterfield RV Resort in Benson is a great spot to use as your home base while seeing the sites in the surrounding area.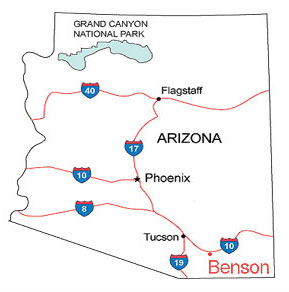 Benson is a town located in the San Pedro River Valley about 40 miles southeast of Tucson. Originally inhabited by the Chiricahua Apache tribe, by the late 1800s the town was an important transportation hub for the Pony Express and Butterfield Overland Stage. After the completion of the Transcontinental Southern Pacific Railroad in 1880, copper and silver from neighboring mines passed through Benson on its way to factories back East.
Butterfield RV Resort hosts 173 landscaped RV sites with full utility hookups designed to appeal to a wide segment of the RV community and their pets. Located within walking distance of the Safeway Shopping Center, Super Wal-Mart, post office, hospital, restaurants and other amenities, the resort is the perfect place to restock supplies and rest up during a long-distance trip.
There are 50 sites that are at least 40 feet wide and are ideal for long term Park Model units and monthly or annual renters desiring a bit more room or privacy. The other 123 sites are at least 30' x 50'. All sites sport their own picnic tables and have WiFi access. There are 24 paved and level 30′ x 55′ pull-through sites. All internal roads are 28 feet wide, fully paved and have rounded, drive-over curbs. The resort also offers onsite propane.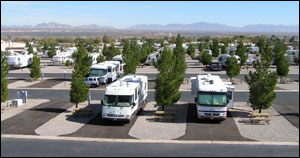 When you're not out on daytrips to the surrounding area, you can have a swim in the 40-foot heated pool or soak in the therapeutic spa. Work out in the exercise room or catch up on reading in the library. Stay in touch with friends and family in the computer room or amateur HAM radio shack. There's even a woodshop with secure storage to work on that special project you've been putting off. Visit the park website for a full list of amenities.
Of course the resort also has a laundry room and clubhouse with kitchen. Need a large space for a family reunion trip? There is a 2400 ft.2 banquet hall with a full kitchen, stage and enough space for line dancing or games. Check out the onsite observatory and see which celestial bodies are visible in the clear desert air. It's no wonder that Butterfield RV Resort is a Good Sam Park, voted Best Park and Best Activities two years running by the Arizona Association of RV Parks.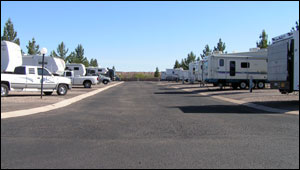 Rates: Nightly rates for two people between Oct. 1 to April 30 range from $33-$35, depending on type of site. Each additional person is an extra $2 per night. Special weekly and monthly rates are available if you'd like to stick around for a while. Discounts for Good Sam members and Military personnel are also available.
Pets: Butterfield welcomes your leashed pets as long as you pick up after them. There is a fenced pet exercise area for Fido to stretch his legs.
Area Attractions: What else is there to see or do in Benson? If "Cowboys and Indians" are your thing, Benson is a good jumping off point to visiting the 1890s mining ghost town of Gammons Gulch and viewing the Native American artifacts in the Amerind Foundation museum. It's also a short drive down Route 80 to the infamous town of Tombstone.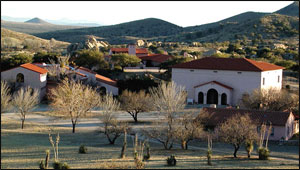 There are many options for enjoying the area's clean air and beautiful scenery. The San Pedro Riparian National Conservation Area offers many attractions for nature enthusiasts, from bird watching and hiking to camping and horseback riding, among other things. If escaping the desert heat sounds more appealing, explore the wet caves of Kartchner Caverns State Park, which boasts the most pristine caverns in the country. Just make sure to call ahead for reservations, as a limited number of people are allowed in each day to preserve the caverns' splendor. Benson is also home to two 18-hole golf courses (one championship and one executive), each with restaurants that can accommodate special events or large groups. Learn more about Benson, Arizona and start planning your trip today!
Climate: Spring in the Sonoran Desert is warm (upper 80s F) and full of wildflowers. Summer daytime temperatures reach the high 90's in Benson and can climb above 100 degrees in the lower desert areas.
Be the first to write a review about staying at Butterfield RV Resort, or leave a comment below to tell about your experience at this exceptional RV resort!