Minutes away from golf, beaches, historical sites and shopping. Coastal Georgia RV Resort in Brunswick, Georgia, is just your place.
Coastal Georgia RV Resort is conveniently located off Interstate 95 (exit 29). It's situated on a beautiful South Georgia Lake, surrounded by lush landscaping. This is a beautiful Park and one you will want to continue to come back to, whether you're traveling to and from Florida or just looking for a unique and interesting area with lots to do.
Visiting Brunswick, Georgia, is an unforgettable experience. It has the second-oldest Main Street City in Georgia. Beautiful Antebellum Homes, a fully restored lighthouse and lots of activities nearby will make you want to stay longer.
There are a variety of tours you can take in the area. Everything from shrimp and dolphin tours, to charter boats for fishing inshore or offshore. Or try a ghost and vampire tour, where you will take a fun tour of Historic Old Town Brunswick and hear all the history, mystery, legends and lore that make this sleepy coastal town a must see!
Beautiful Barrier Islands
Near Brunswick lie the four beautiful barrier islands that make up the Golden Isles of Georgia. Jekyll Island, St. Simons Island, Little St. Simons Island & Sea Island all beckon adventure seekers. Pristine stretches of marshland and small islands known as hammocks create the appearance of a continuous stretch of land reaching out to these barrier islands.
Consider a tour on Jekyll Island. This guided tour lets you step back in time and hear stories of the historic buildings constructed during the gilded age, the Jekyll Island Club and its National Landmark Historic District.
St. Simons Island has a guided food on which you can listen to stories about the area while walking under a canopy of live oak trees draped in Spanish moss. Indulge in island favorites like grits, rich crab stew made with local crab and zesty key lime pie.
From the north end of St. Simons Island, you can take a Day trip to little St. Simons Island with all its natural surroundings. Here, you will find 10,000 untouched acres with wildlife, deserted beaches, maritime forests and vast salt marshes.
Relax at the RV Resort
After a busy day exploring the area, you will be ready to head back to your site at Coastal Georgia RV Resort. The Resort has a great game room, where you can test your gaming skills. You can enjoy their beautiful lake, either by renting a paddleboat, trying your hand at fishing, or just enjoying the view. They have a beautiful swimming pool, horseshoe pits and shuffleboard courts, where you can keep up your skills or start enjoying a new game. The Resort has Cable TV and Wi-Fi and a sparkling clean laundry with plenty of machines. Their restrooms are the kind you would expect to see in a 5-star hotel.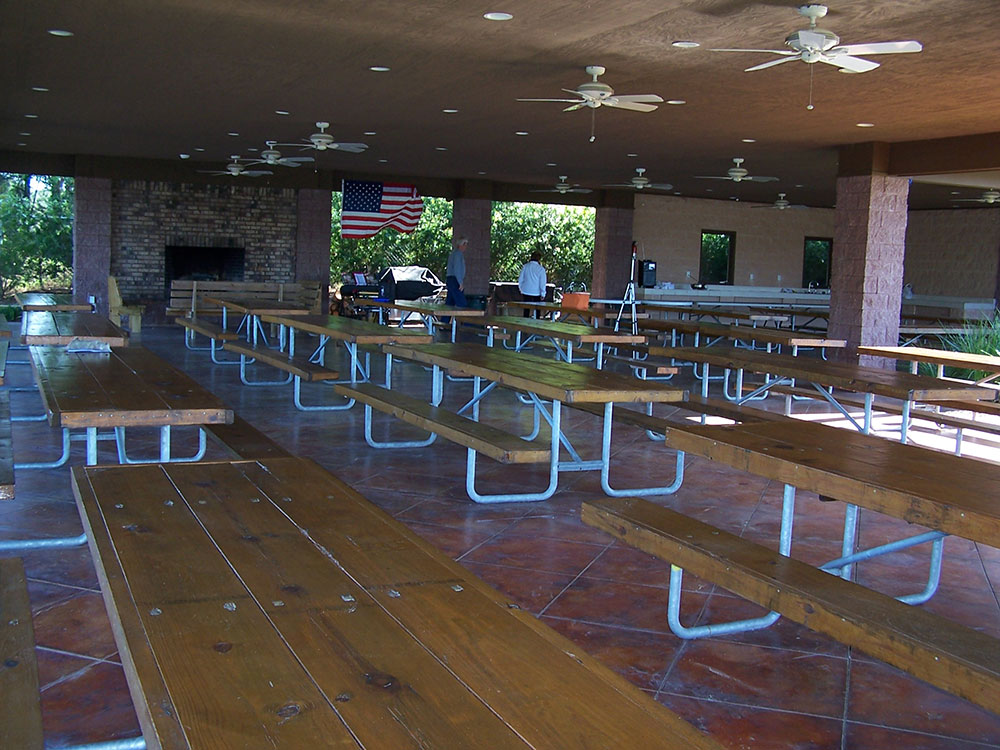 Photo: Coastal Georgia RV Resort
Get to know one of the most unique, historic and virtually stunning places in the world, The Goldens Isles and Brunswick, while you stay at Coastal Georgia RV Resort.To Reserve a site call: 912-264-3869.