This year marks the Lincoln bicentennial anniversary of the 16th President's birth in Kentucky, making it a great time to visit Lincoln Homestead State Park in Springfield. While you're in the general area, swing by the Jefferson Davis State Park in Hopkinsville for a different perspective of the War Between the States, where you can view a monument to the Confederate President built on his birth site.
General Info: The commonwealth of Kentucky has an interesting role in Civil War history: both the Confederate President and the Union President were born within its borders just eight months apart, less than 100 miles away.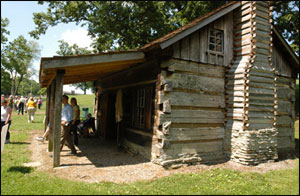 Lincoln Homestead State Park includes the original birthplace of President Lincoln's mother, Nancy Hanks, as well as replicas of the 1782 cabin and blacksmith shop where his father, Thomas Lincoln, was born and raised. The home of Lincoln's favorite uncle is across from the golf course on its original site. Learn more about the Lincoln family's ties to Kentucky.
Jefferson Davis State Park features a 351-ft.-tall concrete obelisk monument to the statesmen, set on solid Kentucky limestone on the site where he was born. Construction of the monument started in 1917 and was completed in 1924. It is the largest concrete obelisk in the world, with a base width of 35'x 35' tapering up to 2'x 2' at the tip. As you'll recall from history class, Jefferson Davis is best known for being President of the Confederacy; however, he was also known as a Mexican War hero, Mississippi Senator and Secretary of War under Franklin Pierce. Learn more about Jefferson Davis and the memorial.
Hours and Fees: Jefferson Davis S.P. grounds are open year round, but the monument and visitor center are open daily only between June 1 through October 31 from 9 a.m. to 5 p.m. Download a PDF map of the Davis grounds. Lincoln Homestead S.P. is open from May 1 through October 31 from 9 a.m. to 5 p.m. The gift shop in the cluster of cabins is open from May 1 through September 1. General admission to all Kentucky State Parks is free, although nominal entrance fees are charged for viewing the homes at the Lincoln Homestead park. Download a PDF map of the Lincoln grounds.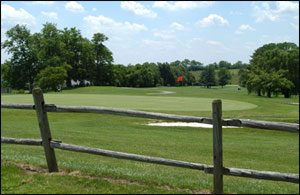 Activities: Tour the Berry House, where Lincoln's mother Nancy Hanks lived, to see fine examples of pioneer furniture and frontier construction. Entrance is $2 for adults and $1.50 for children. You can also tour the Mordecai Lincoln House and the Lincoln Cabin and Blacksmith shop for a nominal fee. You can find Kentucky handicrafts and souvenirs at the gift shop as a keepsake of your visit or as gifts for family and friends back home. Picnic grounds featuring a shelter, tables, grills, restrooms, a playground and separate parking area make a great place to enjoy Kentucky's gently rolling hills with the family. These hills also make for great golf at the 18-hole regulation course on site. There are four tee locations to challenge players of all skill levels. Call the park at 859-336-7461 to book your tee time!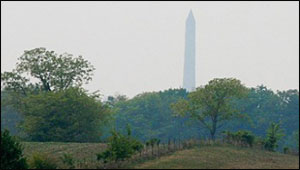 Ride the elevator to the observation deck at the top of the Jefferson Davis monument for stunning views of the surrounding wooded countryside. The Jefferson Davis park includes a picnic area (near restrooms) where you can take a break amidst the beautiful natural scenery. The park also hosts horseshoes, basketball courts and a playground for your family's entertainment. The Visitor Center includes a gift shop where you'll find unique Civil War related items, from books and flags to chess sets and figurines. Here you can also view a DVD presentation and exhibits about Davis' life and political career before and after the war. Don't miss the exhibits about the little-known Orphan's Brigade of the Confederate Army, which came up with the idea to build the monument.
Pets: State Park policy allows leashed pets in park campgrounds and on many trails, but does not permit them at any lodges or cottages. For more specific information, call the Jefferson Davis park office at 270-889-6100, or the Lincoln Homestead park office at 859-336-7461.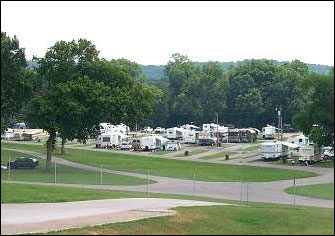 Camping Info: Neither park allows camping, but a stay in Bowling Green will put you almost halfway between the parks (the town is also on the main artery north to Evansville, IN, or south to Nashville, TN). The Beech Bend Family Campground is a great stop for tons of family entertainment! Beech Bend Park has an amusement park and water park as well as an oval track and drag strip for racing enthusiasts. Cast a line in the Barren River along the park's edge for a more relaxed outdoor experience; a boat ramp is available.
The RV campground features paved sites and roads with long, level pull-thrus (24'x 60') in a wooded setting. Back-in sites measure 28'x 48'. Full hookups are provided at 230 sites, of which many also have telephone/modem hookups. Free WiFi Internet access is available throughout the park so you can surf the web without leaving your camper. The park provides bath houses and a laundry facility for your convenience, in addition to a dump station and public phone. Firewood and LP gas are availableYour leashed pets are welcome to camp with you as long as you take care of waste clean-up and disposal. Nightly rates are $30 for 30 amp power and $40 for 50 amp power. The campground is open all year and no reservations are required.
Weather: Expect warm temperatures in the low-mid 80s with humid air in summer. Summertime lows average in the 60s.
If you're from the Bluegrass State or have visited either of these historic state parks in the past, please chime in with your stories and tips! Your insights can help others have a fantastic trip.