Carefree makes an Add A Room (AAR) you can attach to your awning for extra living space while camping. It gives you an enclosed room you can enjoy all day long. I highly recommend this for people camping with kids or pets. It takes us about 25 minutes to set up and we find it well worth the extra time when staying somewhere for at least 3 nights.
We opted for the LTD room which has heavier vinyl panels and zippered privacy panels. There is also a hard screen door you can buy and use in place of the zippered screen door. We've used both. The hard door option is very nice. No more bending over and zipping and unzipping every time you want to enter. It makes it feel more like a real "room". It does require more storage space though. The AAR comes in 2 bags already and then the door folds in half for storage so it can be tricky to bring with you to the campground. We only bring the hard door when we are staying more than a week at a campground. It also adds about 20 minutes to your set up and take down time.
There are 4 panels with the AAR. The long one attaches to the awning. This side has the door which zips up and down for entry. Then there are two side panels which attach to the RV with snaps or optional snapless kit. The 4th panel attaches to the bottom of your RV to complete the room. If shade is your main goal and you aren't worried about keeping pets inside or bugs out, you can skip the 4th panel and just leave that side open.
We used the AAR last fall when Halloween camping. It was a cold, rainy weekend so we left the panels down to keep it dry. One word of caution…you do need to be careful of where your furnace is venting. You must leave at least one of your panels up if your furnace is on and venting directly into the room ! We opted to use a small, portable heater that weekend for our heat source. We put our picnic table in the AAR and it was a great place to carve our pumpkins and play games with the kids. Since it was cold it also became a *mud room* of sorts where we could store our coats and heavy shoes.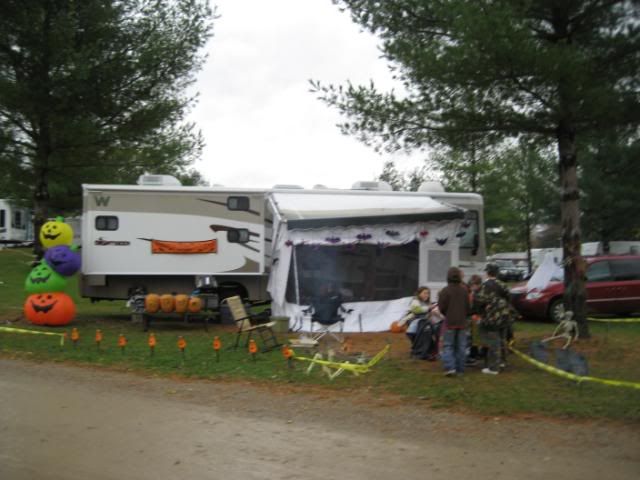 This past weekend we used it again, this time with the panels rolled up since it was a beautiful weekend. We opened a few of the interior windows and then kept the AAR door closed and left the RV door open. Our dogs were able to wander back and forth and enjoy being outside too. The room was a great place for reading, playing games, and enjoying a meal without those pesky bugs. Another word of caution…these rooms were not designed to contain your dogs. If your dog is one who doesn't like boundaries he may be able to dig under the walls, even when they are staked down. I would also not recommend them for someone with big, jumping dogs. I can see how easy it would be for a dog to jump on the screening and bring the whole thing down and possibly mess up the awning in the process. My advice would be to never leave your dog in the room unattended, no matter what size dog.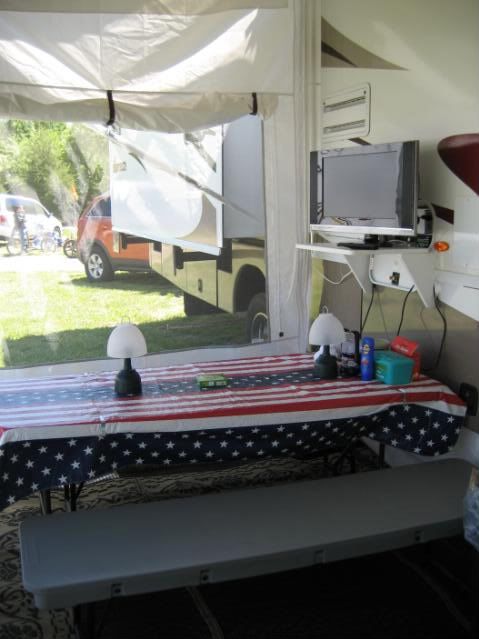 Last season we used a free standing screen room/tent instead of an AAR. While it was easier to set up and take down we found it was too hot during the day for practical use, even with the doors tied open. For meal times it was a bit of a pain to take all of the food and supplies out to the tent and then back again to the RV afterwards. And we'd zip it up to keep out the bugs, but then one of the kids was also zipping and unzipping to go grab another drink, another napkin, or something else. And unless we used an extension cord and brought out a lamp, a lantern alone wasn't enough to light up the free standing room well enough to play cards at night.
We decided at the end of last season to invest in an AAR. We thought the benefits were worth the expense.
With the AAR you have panels to put down for privacy or to keep out the rain, the benefit of the porch light and awning lights, our tv can now be enclosed, it is much easier going in and out of the rv during mealtimes for anything we might need. If you think an AAR would be great for your RV, you can check for a local dealer and installer on their website. They will check out your RV and talk to you about the options available for you. They can also take care of proper measuring and installation. Make sure they show you how to set it up and take it down when you pick up your RV. There is a certain order things need to be done so that nothing is damaged (lesson we learned the hard way ).
Until next time,
~Shannone 😀