Comfort food is sentimental, nostalgic and in quite a few cases, filled with delicious rich flavors. It's a food item overflowing with memories and, if you are like me, carbohydrates. Comfort food has this dreamy power that can transport you out of a sad day or a lonely feeling. It brings forward lost memories and reminds you of a time that was safe, happy and delicious. This is the reaction many eaters get from Campfire Mac and Cheese.
 It Began in Italy
Somewhere in the kitchen of an Italian villa in the late 14th century, they discovered a recipe using sheets of pasta, spices, cheese, and fat. That recipe was published in "Liber de Coquina," the recipe was called "de lasanis" for the layered pasta and cheese dish. They layered the ingredients in a shallow pan and then placed it deep inside a wood-burning oven to bake. The birth of Italian macaroni and cheese had happened and food cultures around the world would soon adapt and recreate this dish to their liking.
In Switzerland, the pasta and cheese dish is known as Älplermagronen, made with rich cream and delicious Gruyère cheese made from local cheese farms. The Swiss believe this is a comfort food dish best enjoyed after a day of hiking in the Swiss Alps because you have earned it.
Travel to Germany and there you will find Käsespätzle, a soft chewy dough that is pressed through a spätzle press then boiled in highly salted water, drained and served with a thick, velvety Jarlsberg cheese cream sauce.

Leave it to the Greek culture to add meat in their version of macaroni and cheese. Pastitsio is a layered meal with penne pasta, rich ground meat cooked with a hint of cinnamon then more penne pasta, kefalotyri cheese and a rich béchamel sauce. Then it's baked in the oven to caramelize that rich cheese topping. It's delicious! I enjoyed this dish a long time ago when I owned a small café on the beach in Ventura, California. Every week 4 amazing Greek priests would ride their motorcycles up from Los Angeles to my café to have espresso, cookies and cigars. Well, one time those precious customers of mine gifted me a small food container filled with this rich scented comfort food. I savored every bite.
The Famous Blue Box
For a company that grew its roots in 1914 as the National Dairy Products Corporation, which later became Kraft Foods in 1924 the journey of feeding the world had started. Their fresh milk and cheese products were distributed across America and exported to Canada. In 1915 Kraft Foods invented a revolutionary process of pasteurizing processed cheese which meant refrigeration was no longer needed. With this patented process and the start of World War I the U.S. Army bought quite a lot of this product and included it in soldiers' rations.
In 1937, Kraft Foods marketed a meal that served four and cost 19 cents, this was an innovative meal for a family during the Great Depression.
A box filled with pasta and a packet filled with a shelf-stable powder cheese mix. It was basic, filled bellies and in a time where fresh milk and cheese were scarce, Kraft macaroni and cheese delivered a homemade meal.
With the start of World War II, food rationing and a shortage of fresh dairy and meat happened again. Kraft macaroni and cheese became an even more popular item to serve at the dinner table. Besides feeding Americans, the company sent over four million pounds of their cheese products to Britain weekly.
America and Comfort Food
Americans rely on comfort food day in and day out to feed their souls in times of stress, longing, happiness and celebration. One way to celebrate comfort food is by visiting food festivals across this country. Many are dedicated to the rich and fatty side dishes and desserts we crave. Below are the top five comfort food festivals and where to enjoy them.
Vermont Cheese Festival in Shelburne. For 12 years, the cheesemakers of Vermont have been sharing their delicious cheese and artisan products to the public. With hands-on classes and seminars, you can sign up for an in-depth look at these processes. With over 40 award-winning cheese makers showcasing their cheeses the local wine, craft beer and distilleries helping you understand how to pair cheese with spirits this is a festival not to be missed.
Memphis in May World Championship Barbecue Cooking Contest in Memphis, Tennessee. Every true barbecue lover puts this event on their bucket list, trust me! During this four-day event over 230 teams gather along the banks of the Mississippi River and cook their hearts out for over $120,000 in prize money. The sweet scent of oak, hickory, pecan and applewood linger around every corner. From beef to chicken and pork all the traditional flavors are there for you to enjoy and celebrate as they announce the winners.
Dessert Wars, the largest dessert festival in America, Miami, Florida. Where can you savor over 50 types of desserts from the leading pastry chefs around the country. From cookies, cupcakes, donuts, ice cream and hundreds of other decadent desserts, this festival will have your sweet tooth thanking you.
2020 Idaho Spud Day, Shelley. Now the potato may be humble but think about all the comfort that starchy food brings. Who hasn't crunched their way through a basket of tater tots or piled mashed potatoes on their plate only to drag their fork in swirling patterns to make train tracks? I know I have and if there is a way Idaho can celebrate their famous crop, you know they are doing it correctly with the community festival for all to join in on the fun, games and tastes.
State Fair of Texas, Dallas. They say everything is bigger in Texas and living in the Lonestar state I can tell you our State Fair tops them all. For a 24-day span, 2.25 million visitors eat their hearts out with delicious fair food. Funnel cake, deep-fried Twinkies, fried smothered chicken, smoked turkey legs, and a thousand other sinful foods are available for you to sample. Come see Big Tex and all that the fair has to offer, buying a season pass is the way to go.
Comfort with Every Bite
In our home, macaroni and cheese is a comfort food item. Our daughter will eat bowls full of the rich and creamy, cheese sauce covered elbow pasta. She has been a fan of this dish since she was two and has a clear set way it has to be made and any changes make her squish her nose in disapproval.
The pasta must be al dente, the cheese sauce needs to be made from rich and creamy American and sharp cheddar cheese with a touch of white pepper and a bit of smoked paprika. That's it, no toppings, no meat additions or substitution of any kind, she is a true macaroni and cheese purest.
I've enjoyed this dish at the campground with the addition of grilled chicken or smoked kielbasas, pulled pork and even grilled onions and Hatch Chile's. Toppings range from sourdough croutons, extra shredded cheese, and butter bread crumbs. This dish is not just a side dish it truly is a meal that many people around the world sit down and enjoy eating. My version I'm sharing today has a bit of old school flavors and then a gentle twist that brings out the richness of the cheese and spices I've added.
If you are looking to enjoy a fun bowl of macaroni and cheese this year go visit the amazing Macaroni & Cheese Festival with 3 locations this year. I'm hoping to go to the one in New Mexico, I can only dream of the tasty creations that await me there.
Creamy Garlic Mac N' Cheese
1 pound elbow pasta
Cheese Sauce
1/2 cup unbleached all-purpose flour
1/2 cup unsalted butter
4 cups whole milk
3 cloves garlic minced
1 teaspoon Kosher salt
1 teaspoon white pepper
1 teaspoon mustard powder
3 cups shredded sharp cheddar cheese
1 cup shredded smoked gouda cheese
1 cup American cheese cut into small cubes
Topping
1 cup panko bread crumbs
4 tablespoons unsalted butter
1 teaspoon granulated garlic
1 teaspoon dried parsley
1/2 teaspoon ground white pepper
1/2 teaspoon kosher salt
Directions
Preheat oven to 350 degrees F
Lightly grease a 9×13 inch pan and set aside
Cook your pasta according to the package directions, once done pour contents into a colander and drain the water away, set aside but return the pot to the stove.
While the pasta is cooking warm the milk in a saucepan over medium-low heat. Add in the garlic, salt, pepper and mustard powder whisk to combine. Do not allow this to boil, simmer for 15 minutes whisking occasionally. Turn off heat and set aside.
For the topping. In a skillet melt the butter over medium-high heat and add in the panko bread crumbs and stir to combine. Continue stirring until the bread crumbs turn a medium golden color like the color of caramel. Turn off the heat once they have toasted and add in the remaining ingredients; granulated garlic, white pepper, salt and parsley, mix to combine, set aside.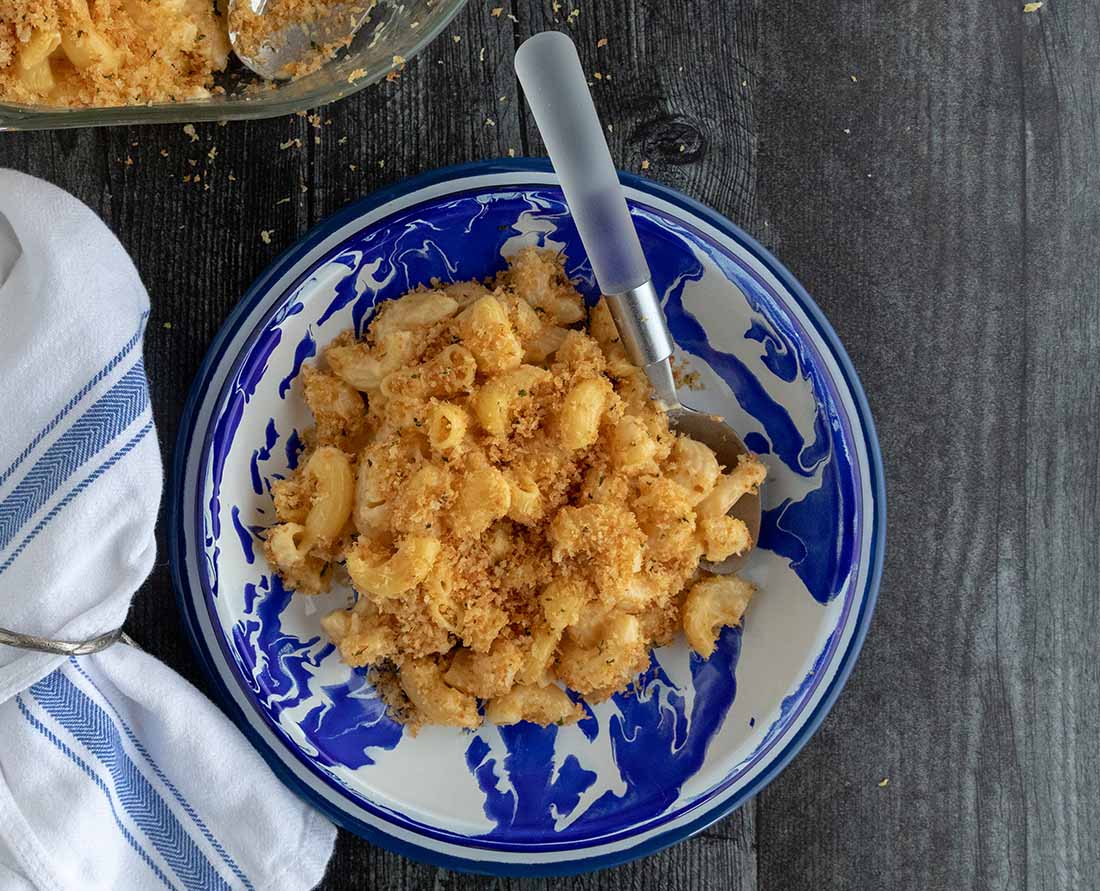 In the large pot you cooked your pasta in add in the butter and allow it to melt, once melted sprinkle in the flour, whisk the butter and flour together for 2-3 minutes. Carefully add in the milk mixture, keep whisking this will help prevent lumps. Once the mixture is smooth, add in one hand full of cheese at a time, continue to whisk. Once all the cheese has melted, and the sauce is smooth turn the heat off. Pour the drained pasta into the pot with the cheese sauce, gently mix until the cheese sauce is distributed evenly throughout the pasta.
Carefully pour the macaroni and cheese into the greased glass pan, now sprinkle your toasted panko crumbs all over the top of the pasta. Place the pan in the oven and bake until its bubbly and golden brown, about 30 minutes.