A long time ago, all that was required to be ranked "The Best Campground between Chicago and Denver" was to be the only campground with a dump station and indoor plumbing. Now, over 50 years later, Camp A Way, in Lincoln, Nebraska offers a lot more in terms of facilities in order to provide campers and RVers with a great variety of memorable experiences.
Amenities such as 60+ channels of cable TV, high speed WiFi internet access, and large Dog Parks have become campground basics, supplanting the heated pools and Big Rig pull-thru sites as the most asked about features of campgrounds. Not even the best campground can rest on their laurels. To stay relevant, campgrounds add family friendly attractions for the active and not so active parents, kids, grandkids, and fur babies.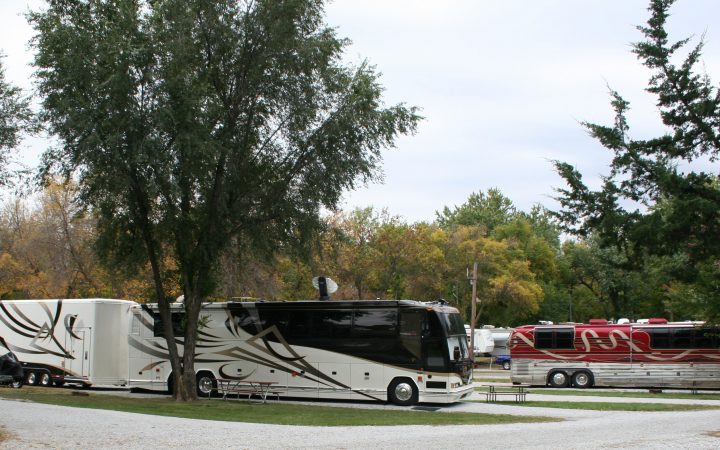 Camp A Way, one of Good Sam's "Top Parks" and Trailer Life Directory's best rated campground in Nebraska for many years running, has made continual improvements to provide more to their guests. Over the past few years, the park has added giant board games like chess and Connect Four, jumping pads, disc golf, trampoline basketball, a ZoomFloom waterslide, and WaterWars balloon battle to supplement the Barrel Trains, Hay Rides, pool, spa, social events,
and of course, that dump station.
Fun & Adventure
As a bonus to the great time spent inside the park, the city of Lincoln provides Camp A Way's guests a myriad of opportunities for fun and adventure. Disney World may call itself the "Happiest Place on Earth," but Lincoln was recently listed as "The Happiest City in the US" thanks in part to all the community activities, festivals, and spectacles. Sports enthusiasts can take in championship level college football, volleyball, softball, and baseball, as well as national
and international contests as diverse as roller skating, bowling, auto racing, and wrestling.
Patrons of the arts and humanities can enjoy the weekly, free, open air concerts, and view gardens and galleries. They can expand their horizons at ethnic and Native celebrations, cultural centers, and museums. Or attend the many concerts and shows at a wide assortment of venues. There's plenty to eat and drink thanks to Lincoln's award winning restaurants, breweries and vineyards, and the gastronomic festivals occurring throughout the year. There's so much to do Lincoln literally publishes a book each year.
Make a booking to stay in a cabin, your tent, travel trailer, fifth wheel, motorhome and/or big rig motorcoach to ensure you don't miss out on the best the Great Plains has to offer. Don't worry, be happy!
Contact: Camp A Way
402.476.2282
CampAway.com