General Info: Mammoth Cave National Park preserves the world's largest known cave system, stretching for more than 360 miles under Kentucky's southern mountains. It is also one of the oldest tourist attractions in the U.S., offering cave tours since 1816. This Cave is also #17 on the Good Sam Club's 20 Trips Every RVer Should Take (see Highways, November 2007).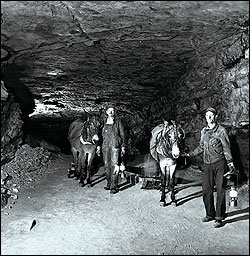 Hours and Fees: Entrance and access to most of the park facilities is free of charge, except for cave tours, camping and certain picnic shelter reservations. See the table of fees for more details.
Activities: Clearly the main activity is touring the caves, and there are several options of varying difficulty and length to satisfy your curiosity. Cave tours are only available in the spring and summer months. For the safety of all guests and the preservation of delicate cave structures, some items are banned from cave tours.
Since I have mild claustrophobia, I probably will not be venturing far into the cave system for a tour, but that's okay because there are plenty of fun things to do above ground! Take a hike or horse ride along the 70 miles of backcountry trails, or set a spell on the 31 miles of shoreline along the Green and Nolin rivers. With 52,800 surface acres, the park offers plenty of other interesting things to see and do aside from exploring the caves.
The park has trails of varying length and difficulty, making them accessible to virtually any level of ability. If you plan to bring your horses, see the horse riding page for regulations and trail information.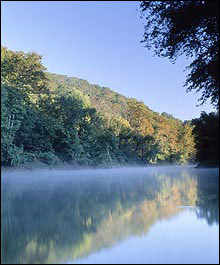 The rivers offer great opportunities to fish or paddle around in canoes and kayaks. The size and number of fish you can keep is restricted, so check the fishing regulations before you cast a line. Paddling the rivers by canoe is a fantastic way to view wildlife and experience the tranquil natural environment. Both rivers average about 10 feet in depth with average currents of about 5 mph. Coast Guard restrictions apply to all watercraft, so please adhere to them for your safety. Several outfitters rent canoes and kayaks if you didn't bring your own. Swimming is not recommended due to the strength of the currents.
Please use caution around the caves and other trail areas. The NPS strives to enhance visitor safety, but ultimately you are responsible for your own safety. Read the park guidelines before your visit.
Accessibility: Many of the park's facilities and activities are fully accessible, including the Visitor Center, restrooms, Mammoth Cave Campground, picnic areas, trails, dining and lodging facilities. See the Mammoth Cave N.P. website for complete details.

Pets: You're welcome to bring your leashed pets, but they are not allowed in the caves (service animals excepted). Don't leave your pet unattended at the campsites, and please dispose of all pet waste properly. The Mammoth Cave Hotel maintains a kennel. Call (270)758-2225 for availability.
Weather: Kentucky has a moist, moderate climate with warm summers and cool winters. Spring is the rainiest season, and most storms blow through the area between March and September. Expect warm temperatures in the low-mid 80s with humid air in summer. Summertime lows average in the 60s.
Camping Info: Mammoth Cave Campground has no hookups but each site has a fire ring, picnic table and a paved parking area. Full service restrooms and a dumping station are available. Each site costs $17 per night with a 14-day limit. Reservations are advised during peak season from May 15 to September 15.
The Caver's Camp Store sells gasoline, auto supplies, groceries and picnic foods. You can also buy Coleman brand fuel for lanterns and camp stoves. The store also features showers, self-service coin-operated laundry (with two washers and two dryers) and an adjacent full-service Post Office. The showers are coin operated: $2 gets you 10 minutes of shower time, but bring your own toiletries (or buy some at the store if you're running low).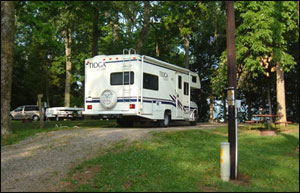 If you'd prefer a campground with full amenities, try the Horse Cave KOA or the Cave Country RV Campground in nearby Cave City. Both are open year-round.
Please Note: Edmonson, Hart, and Barren counties are "dry", except for Cave City, where individual restaurants may serve alcoholic beverages by the glass. Alcohol is prohibited in park buildings, and the consumption and/or possession of alcohol is prohibited except for certain park concessions. I'm not sure how this governs alcohol in your RV while camping, but I just wanted y'all to be aware of the general regulations.
Also, be aware that all plants are protected in the park, so you are not allowed to collect any portion of any plant. However you may pick up any dead or downed wood or purchase wood from the camp store. Read the park's camping regulations for more details.
If you're from the central Kentucky or have visited Mammoth Cave National Park in the past, please chime in with your stories and tips! Your insights can help others have a fantastic trip. Also, check out the RV.net forum to see what other RV campers have to say about visiting Mammoth Cave!