General Info: Glacier National Park covers one million acres of Rocky Mountain wilderness in northwestern Montana along the Canadian border. As the name suggests, glaciers carved the landscape of the park thousands of years ago, creating the valleys, lakes and jagged peaks seen today. Although the remaining glaciers are receding and will eventually melt completely, the park name will not be changed. A diverse array of wildlife makes it home in the park, including grizzly bears, golden eagles, moose, and harlequin ducks.

Hours and Fees: The park is open every day, but winter weather closes some facilities for part of the year. Generally most facilities are open from May to September. Call (406) 888-7800 for visitor information. Vehicle entrance fees are good for 7 days and include all people in the vehicle; the charge is $25 in summer (May 1 to November 30) and $15 in winter. An annual pass costs $35 and is good for all passengers in a single, private, non-commercial vehicle.
Activities: Without a doubt you must drive the magnificent, scenic Going-to-the-Sun Road. This 50 mile stretch of asphalt high in the mountains connects the east and west entrances of the park and gives you a chance to see the park's wild interior.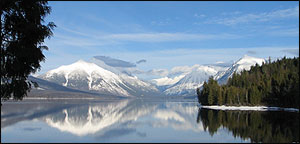 Bring your binoculars for some great birding: more than 260 species of birds live in the varied habitats of Glacier National Park. However, bears and mountain lions also make their home here, so keep an eye on your surroundings and store food and garbage in bear-proof containers. Review the park visitor safety guidelines before your visit.
More than 700 miles of maintained nature trails traverse the park, offering opportunities for a range of day hikes and backpacking excursions. Bring your best hiking shoes and stop by a park visitor center for current warnings and trail conditions. Knowing these conditions will increase your odds of a safe hike, decrease your disturbance to park wildlife, and lessen cumulative damage to resources. From boating and cycling to fishing and bus tours, this large park features plenty of outdoor activities for the whole family to enjoy.

Pets: Pets are not allowed on any park trails. Leashed pets are only allowed in drive-in campgrounds, along park roads open to motor vehicles, and in picnic areas. Your pet cannot be left unattended for any length of time. Kennels are available in several towns surrounding the park for your pet's comfort while you're busy exploring the park attractions.
Weather: Weather in the mountains can be fickle, especially at these latitudes along the Continental Divide. Visitors may experience temperatures high into the 90s F with clear and sunny skies, and then see snow showers and falling temperatures all in the same day. Bring a variety of clothing and dress in layers for maximum comfort and flexibility.

Camping Info: There are half a dozen campgrounds along the Going-to-the-Sun Road alone, which will put you right in the middle of the scenery and many park activities. Check the Glacier National Park campground map for details. However, not all will accommodate larger RVs. Review the park campground guidelines for detailed information before your arrival.
There are several privately-owned, pet-friendly RV campgrounds in Kalispell, MT, about 20 miles down the road from the park's west entrance. Or staying at one of the private RV campgrounds in West Glacier (located just outside the park) is another convenient option for those of you wanting a bit more space for slideouts and longer rigs.
Check out the Montana State Travel website for more information about Glacier and Yellowstone national parks. If you're from the Treasure State or have visited Glacier National Park in the past, please chime in with your stories and tips! Your insights can help others have a fantastic trip.