By Bob Difley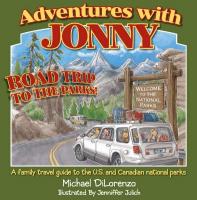 If you travel with young children or grandkids you know how difficult it can be to keep them occupied and interested in the outdoors in this digital age we live in. Mike DiLorenzo, a father of three, had the same dilemma, and as a lover of the outdoors, he not only wanted to keep his kids interested and occupied, but also to teach them about the outdoors so they would generate their own interests. So he wrote a book.
Adventures with Jonny traces a typical American or Canadian family on a camping trip to the National and Provincial Parks, and is written through the eyes of a young boy, Jonny, and combines both entertainment and education to help more kids understand and appreciate–and be excited by–the outdoors.
The first part of the book is illustrated (with wonderful illustrations by Jenniffer Julich) and follows the young family on their camping trip, including a game–or what Mike calls a "Funtivitity"–on every page designed to keep young minds engaged on the long road trip to the park.
But the book is more than a clever illustrated guide for parents and kids, the second part of the book includes educational material such as; safety tips for the outdoors; hiking, camping, and travel tips; road games; the Junior Ranger program in the National Parks along with thumbnail sketches on some of the most popular National Parks; pictures and fun facts about animals of the National Parks; state parks; Canadian Provincial Parks;  and even a list of some of the things visitors do that frustrate park rangers so that you and your family don't fall into the same trap.
It is a well done and entertaining book that will help you to travel with young ones–and teach them about the outdoors at the same time. You can get more information on Jonny books and gear on the Adventures with Jonny website or buy the book for $17.95 in Jonny's store.
For more RVing articles and tips take a look at my Healthy RV Lifestyle website, where you will also find my ebooks: BOONDOCKING: Finding the Perfect Campsite on America's Public Lands (PDF or Kindle), 111 Ways to Get the Biggest Bang for your RV Lifestyle Buck (PDF or Kindle), and Snowbird Guide to Boondocking in the Southwestern Deserts (PDF or Kindle), and my newest, The RV Lifestyle: Reflections of Life on the Road (PDF or Kindle reader version). NOTE: Use the Kindle version to read on iPad and iPhone or any device that has the free Kindle reader app.