By Barry Zander, Edited by Monique Zander, the Never-Bored RVers
This week we arrived in New Orleans for Mardi Gras.  Our 2,000-mile journey included desert, range, forests, bayous … and Butterbean!
Had we been in a great hurry, we would have opted for Interstate 10 all the way, but we chose instead to veer from the desolate path that we have suffered too often for the "excitement?" of Interstate 20, the route connecting West Texas with Abilene, Dallas, Nashville and beyond.
"Butterbean" is a name many of you will recognize from his frequent comments at the end of RV.net blogs.  Appreciating his interest in our RVing community and often jovial contributions to the blogs, we decided to take him up on an invitation to drop by "the ranch" if we were in the neighborhood.  We had the time for a visit, so off the beaten path (if I-20 can be called an unbeaten path) we ventured.
In Las Cruces, New Mexico, we scanned the Texas State Map for a good stopping point along the way, eventually choosing Colorado City State Park.  The 'miles and miles' of 'miles and miles' were relentless.  For RVers longing for hours of isolation from the real world, this is a recommended route.
Texas, famous for its oil wells, does not disappoint.  The vast level scrub desert is dotted with ground-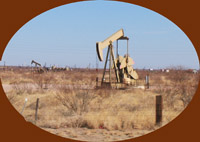 pecking pumps, and when their reign over the landscape ends up jump the power-producing windmills … miles of them grazing among the barren never-ending desert … in rows, in clusters, a few strays, all apparently connected to the power grid with underground cables.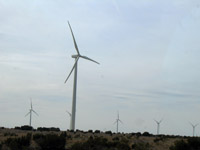 The windmills and a few pumps dominate the sandy terrain, eventually giving way to rangeland with a few small herds of cattle.  We didn't see any of the trademark Texas Longhorns until we got to East Texas and Louisiana.
One surprise was prosperity surrounding Odessa.  Manufacturing and distribution facilities abound, many of them oilpatch-related, cropping up in the middle of nowhere, and even more, we were caught off-guard when the population of plants continued to line the interstate and well back into the desert for mile after mile.
As per instructions, we veered from I-20 for a 75-mile drive on side roads.   Once we traversed the cattle guard, there was Butterbean, wife Joyce and their menagerie of horses coming out to greet us.  Their home, mostly hidden by their Georgie Boy parked in the front yard, is a traditional rustic one-story, featuring walls lined and countertops speckled with items they have collected over the years before and since their move from the Dallas area.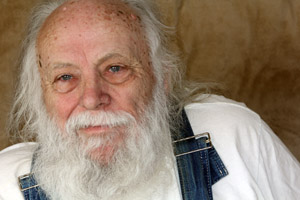 Both have retired to the work of taking care of the half-dozen or so American miniature horses plus Rosie, the mare who was the first to beg Monique for attention.  When not outside with the herd, Butterbean said he spends his time on the computer, monitoring RV.net and other websites and blogsites.
Running short of time, we threaded our way over the cattle gap and between the fence posts back onto the country road heading to the U.S. 84, once a major highway, now a connection between red lights and once prosperous towns.
That led us to the beautiful city of Natchitoches, Louisiana, worth a blog on its own, and then on narrow roads to visit my new granddaughter, her sister and mother near Fort Polk (my son is attending a military school for promotion).  From there we showed up at my sister's home in time for 16 pounds of the best crawfish we ever tasted.
And finally, we reached our destination:  New Orleans, where Mardi Gras is just 10 days away.  New Orleans, my hometown, is where I grew up, worked and was part of the local scene for the first two-thirds of my life.  Beginning tomorrow, we will experience New Orleans to its fullest, having decided to participate in Adventure Caravan's* Mardi Gras Rally.
You'll be hearing more about our experiences here over the next two weeks.  As for us, we're getting ready to meet our fellow travelers at orientation.
"Laissez les bons temps rouler" – Let the Good Time Roll!
From the "Never-Bored RVers," We'll see you on down the road.
*Please note, we are not employed by this caravan company.  We made our selection based upon their itinerary.
© All photos by Barry Zander.   All rights reserved