This year we've been examining all those products that have made our RV travels enjoyable. After wading through the stack of posts, here are 20 great ideas for RV campers…

20. Inverter Generator for RV Camping
Let's think big, shall we? One of the most useful devices one can own is an inverter generator for RV camping. We have a Yamaha generator (EF3000iSEB) and it has served us well. But many RV campers swear by their Honda generators. Honda benefits from a large dealer network and readily available parts. Whatever you choose, this is a gift that keeps on giving – in the form of clean electrical current!
19. Camco Leveling Drill Socket Extension
We thought big, so now let's think small. A great item for those RV campers who have manual stabilizer jacks is this little guy. With a Camco adapter, you can use an ordinary electric drill to extend and retract the stabilizers. It saves time – and your back!
It's small and cheap…and incredibly useful! (Click the pic for more info.)
18. Pink Flamingos
Guaranteed to get a smile (and probably a laugh), every dedicated RV camper needs a pink flamingo. This is a RV camping tradition that dates back to the 1950s. It's kitschy, it's retro, and it's fun. Not to be taken too seriously, but they actually come in handy around fish ponds.

Click to flap your flamingo wings.
17. Roku Box
RV campers are often without cable TV; wifi Internet access is becoming the norm. We've tried many different Internet media streaming devices, and the Roku is simply the best at streaming video content from services like Netflix and Amazon Prime. It's extremely small (perfect for RV storage), has a clean and easy to navigate user interface, offers loads of channels, and streams the best looking video. The only downside is the lack of a YouTube Channel. Recommended.
Roku makes several variations on its basic box. Don't sweat the details too much; they are all quite good at streaming Internet video.
16. Microfiber Door Mat
These "as seen on TV" mats may be the best doormats for an RV. These are low profile mats that are loaded with highly absorbent microfibers that suck up dirt and mud.
15. Trailer Aid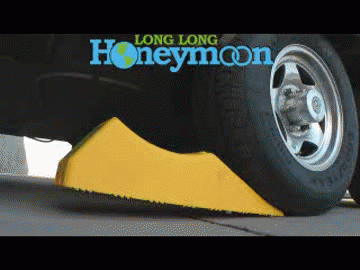 Trailer Aid – when you need it, you'll be thankful you got it!
If you have a twin axle trailer, you need a Trailer Aid. This is especially true if you own an Airstream. Why? It makes tire changes easier and safer. Trailer Aid is a specially designed ramp that eliminates the need to use a jack when changing tires. No worries about some stranger damaging your Airstream axle by using an improper jack point.
14. Work Gloves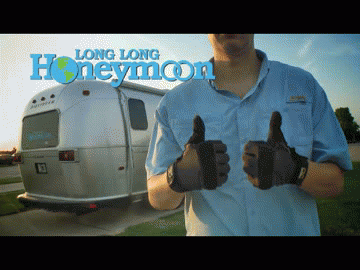 CLC (Custom Leathercraft) are probably the best work gloves for the money.
Work gloves always make for a nice stocking stuffer. If you plan to RV camp, your hands will end up doing some work. CDC gloves feature a very nice build quality with several thoughtful design features. Rest assured that these CLC gloves are meant for work. They are not fashion statements, but if you're handling firewood this is what you want.
13. LED Spotlight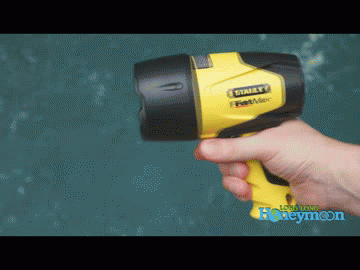 Every real man (or woman) needs a ridiculously bright spotlight in his (or her) pickup truck. These LED spotlights are awesome. Not only are they crazy bright, they feature cool operating temperatures and long battery life. Get a waterproof model if fishing and/or boating is a possibility.
12. MERRELL SHOES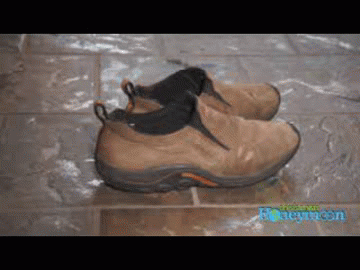 Great feature for RV camping: slip on, slip off!
The ultimate RV camping shoe? Jungle Mocs are incredibly popular (Merrell's #1 selling shoe) for several reasons. Not only are they unusually comfortable, they easily slip on and off. They are durable, resist water and dirt, and go well with a variety of clothing.
11. Tilley Hat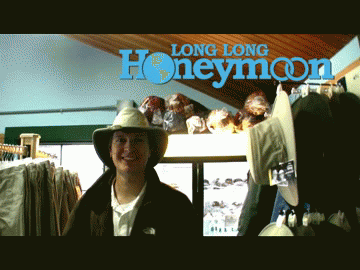 Tilley hats are great RV camping gear.
Tilley hats are awesome. They not only look great, they are great for travel since they're lightweight and fold flat for storage. They keep one's head warm in winter, cool in summer, and dry in rainy weather. There's a built-in drawstring to hold the hat firm in windy conditions. They are built like nylon tanks, and come with a lifetime guarantee – if a Tilley hat ever wears out, it will be replaced free of charge!
10. Memory Foam RV Mattress and/or Pillows
Sleep – it does a body good! Alas, the average RV mattress resembles a medieval torture device. Upgrading is the key to survival. Whether you go for memory foam pillows, mattress toppers, or a complete mattress – you'll sleep better with memory foam. Now you can get full foam RV mattresses at a reasonable price.
9. Battery Tender and/or Charger
Like the rest of us, our batteries are born to die. (There's your deep philosophical thought of the day). A battery tender will keep 'em in good shape even when they are in storage. A quality battery charger makes for a nice addition to any toolkit. Think of it like vitamins and exercise for your batteries.
8. Tire Gauge / Air Compressor
If your significant other has a lousy tire gauge, consider spoiling him or her with a nice one. It's the sort of thing we might not buy ourselves, but appreciate every time we use it. Along these lines, a nice air compressor doesn't blow. Well, actually it DOES blow, in a complimentary fashion. (On this note gentlemen, if you're buying your wife an anniversary gift, don't start with an air compressor.)
7. Kindle Fire or iPad
RV campers tend to be readers. Maybe that's because campgrounds tend to be quiet places without a lot of heavy metal concerts. With a Kindle device, you get access to just about every book ever written. There are loads of free books out there to enjoy. If you'd prefer an iPad, you can always load the Kindle app.
6. Walkie Talkies
Walkies-talkies have come in handy since World War 2. They also help avoid World War 3 when husband-and-wife are backing up the RV into a campsite. There are many uses for walkie-talkies, from national parks to Walmart parking lots. They often work better than cellphones, especially in remote rural locations.
5. Boeshield T-9
This "miracle in a can" should be found in every RV camper's toolkit. It's kind of like WD-40, but better in every way. It lubricates while helping to prevent corrosion. Spray it on anything that might rust or squeak! Works wonders on an RV. Yes, Boeshield T-9 is our favorite lubricant. (Are we really admitting this in public?!)
4. Oxygenics Shower Head
Save water while enjoying a great shower! The Oxygenics shower head uses 70% less water than an ordinary shower head. This not only allows RV campers to extend the life of their water supply, it also makes the hot water tank seem larger. Because if you're using 70% less hot water in the shower, your tank lasts that much longer.
3. Dyson Vacuum Cleaner
A nice vacuum cleaner is always appreciated, especially by anyone sharing space with a typical male RV camper. Dyson vacuums are not exactly cheap, but their premium quality and innovative design are well established. We have a handheld Dyson in our Airstream and love it. Many people sharing space with pets and husbands opt for the Animal model.
2. Air-Dryr
This is one of those products that works great in an RV, especially one slated for storage. An Air-Dryr helps to keep mold and mildew out of RVs by simply drying the air. It's not a dehumidifier so there's no water collection to empty. It's a simple low maintenance device.
1. OBDII Code Reader
There are three certainties in life: death, taxes, and "check engine" lights. Every person needs one of these code readers in his or her toolkit. Even the basic Autel Maxiscan MS300 gets the job done, but for a nice gift you might look at one of the more upscale models (which feature nicer screens, on board diagnostic codes, error code "erase" buttons, and so forth).