By Barry Zander, Edited by Monique Zander, the Never-Bored RVers
Day 1 – Our group's introduction to Mardi Gras was beautiful, a bit chilly, but when the sun smiled on us, it couldn't have been much better.
Before I continue, I want to clarify something.  Participating in the revelry in New Orleans is not dangerous.  Some places do get crowded, but most places are family-friendly.
On Mardi Gras Tuesday (February 21, this year) and the weekend preceding it, the city swells to a million people.  It's fun, and considering the number of people over-indulging, it's unusually safe and fun.
Crime?  Every city faces it, but none of them have the high level of crowd control and crime deterrence that New Orleans has and incidents are relatively rare.  THAT'S WHY THE MILLION PEOPLE RETURN.
We are part of a rally.  That's like a caravan, but we all put down levelers in one park (a state park this time) and are bused to events – and there are dozens on the schedule.
Today, Sunday, we traveled across the Mississippi River from the park to "the Avenue," which all N'Awlins natives know as St. Charles Avenue, one of thestately, mansion-lined residential streets in America.  We put down our folding chairs, got ready for the King of Carrollton's float and were not disappointed when it rolled toward us a few minutes later.
Mardi Gras parades are not like any others you've experienced.  There is the splendor, of course. Masses of folks line the streets … but that's where the first difference shows up.  Where else do you see children in homemade seats atop folding ladders?
Where else do you see so many parade-watchers wearing silly hats?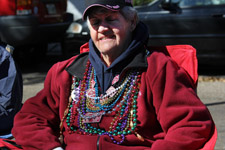 When the parade arrives, that's when all hell breaks loose.  At no other parade venue do sensible, sedentary, normal-type citizens jump out of their chairs to vie for the cherished beads and other items thrown from the floats.
For today's parades, we boarded buses mid-morning to position ourselves early with ample turf from which to compete with cute 5-year-old towheaded children and grey-haired great-grandmothers for Mardi Gras beads, cups and stuffed toys, etc.  Don't be accusatory! It's part of the ritual accepted by even the weakest of the species along the route.
Each parade is manned by a "krewe," the local name for carnival organizations, as in the first parade we saw today, the "Krewe of Carrollton."  Krewe members are mostly masked and wearing costumes that carry out the theme of the float, which helps carry out the theme of the entire parade.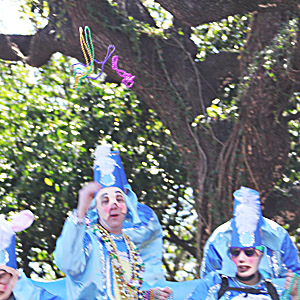 All that is very interesting, of course, but when you're trying to catch beads, it's hard pay attention to any of it.   In the second of Sunday's parades, the Krewe of King Arthur, floats depicted "King Arthur Celebrates the Louisiana Statehood Bicentennial."  The theme is lost to many concentrating on the next float approaching their viewing spot.  The krewes take a lot of time and go to a lot of expense to explore the theme.  On the ground, however, probably only a small percentage even realizes there was a theme.
Members of our rally "krewe" got their first glimpse today of what Mardi Gras is all about.
I'll mention here that I spent the first two-thirds of my life in New Orleans.  Whenasked where I'm from, it's always New Orleans.  The Crescent City has a culture all its own, and I am still part of that culture.
Monique, on the other hand, is experiencing her first Mardi Gras.  She liked it, but I think the most memorable part was eating beignets (famous New Orleans powdered-sugar-coated donuts) at New Orleans Coffee & Beignets a few feet from our viewing area.  It was when we climbed back into our travel trailer at about 4 p.m. and she spread our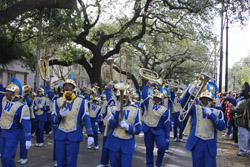 "loot" out on the floor that she was struck by the glittering fun and excitement of Mardi Gras.  And that's just the beginning.
From the "Never-Bored RVers," We'll see you on down the road.
© All photos by Barry Zander.   All rights reserved