Remember the Alamo on a San Antonio RV trip along the river.
Take a stroll along San Antonio's River Walk and you will likely find your own personal nirvana, whether you're interested in history, shopping, dining, theater, museums, golfing, nightclubs or a zoo experience. For a more relaxing trip, take a seat on a tour boat that runs parallel to the walkway on the San Antonio River.
River Walk is divided into three sections, each of which renders a portion of all of the wonderful nuances that make San Antonio, Texas, a "must-see" destination on anyone's bucket list.
San Antonio RV Trip on Foot
Mission Reach, an 8-mile segment of the walk encompassing four missions, yields an historic perspective of San Antonio. Dating from as far back as 1720, these preserved structures represent the largest intact concentration of Spanish colonial buildings in the United States today. All four missions still serve as active Catholic churches. Architecture enthusiasts will discover Spanish, Moorish and Romanesque designs here.
Museum Reach, a 1.33-mile extension of River Walk completed in 2009 at the northeast end of River Walk, provides multiple choices for exploration, play or enlightenment. Ranging from the world-famous San Antonio Zoo, to the Brackenridge Park and Golf Course, or three very different museums along this stretch of the river, deciding on which site to visit first will be challenging.
Downtown San Antonio
In the middle, Downtown Reach encompasses the heart of San Antonio. Dine high in the sky at the Tower of Americas, or float down the river under a canopy of trees and greenery on a river barge tour. Here again, find inspiration by making a stop at the Blue Star Contemporary Art Center, with its exhibitions of innovative contemporary art. Step over to the Alamo and immerse yourself in history before browsing through the shops at Rivercenter. Then relax in a riverside restaurant or pub to savor the sights, sounds and tastes of River Walk. Several restaurants serve up delicious Texas barbecue.
Aldmiralty RV Resort is a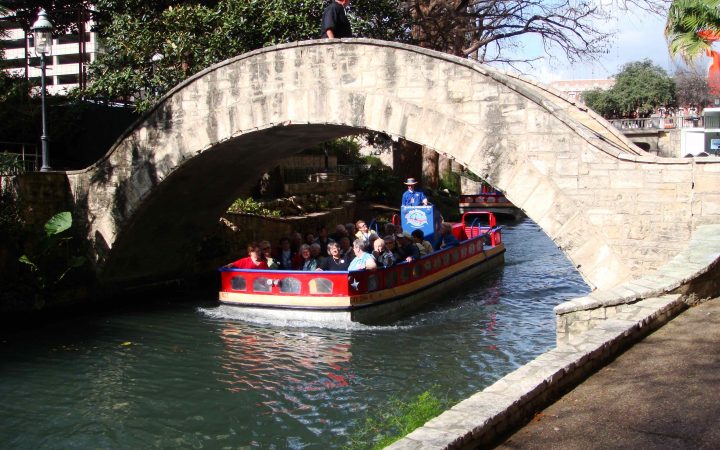 great option for your stay here, with their free shuttle to River Walk, and a relaxing pool to add a finishing touch to your day.
Read more about San Antonio and other Texas destinations.
From along the road,
Chris