Head south to Red Coconut RV Park. We have 170 sites located on the small island of Fort Myers Beach, FL. Park your motor home a seashell's throw away from the Gulf of Mexico, and take advantage of the many things to do around the island that are only a quick walk from the Camp Ground.
On Site Amenities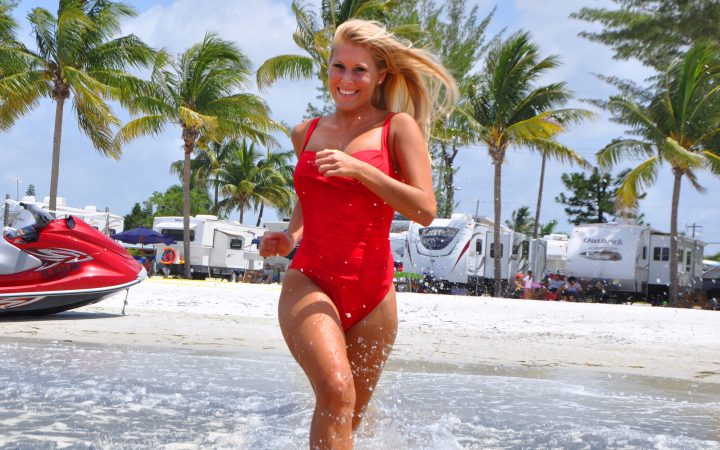 The Red Coconut is one of the only campgrounds in Florida where you can park your RV with nothing in front of you but sugar soft sand leading to the ocean. All sites in the park have full hook up that includes cable, water, power, sewer and even FREE WiFi. With four rows of sites on the beach, you will never be too far from hearing the ocean waves gently calling you over for a swim. Don't have a camper? Then stay in our fully furnished three-story beach house. There is no need to hull your stuff down to the beach, the back door opens right out to the sand.
There are plenty of activities in the area to keep you busy as well, fabulous fish restaurants and beach souvenir shopping is just a relaxing beach stroll away. If you don't feel like walking, we have two restaurants on site, along with a nail salon, and massage parlor. No need to bring a car either, let the beach trolley system take you from place to place all up and down the island with stops at all the major shopping areas, they will even pick you up right in front of the campground.
Winter Activities
Our snowbirds have a great time setting up dances and pot lucks that any visiting member can be part of. In the clubhouse, you can find campers playing all sorts of social games while waiting for the sun to set or getting the campground's float ready for the annual Shrimp Parade which the whole island looks forward to.
Ft Myers Beach Activities
If you're into exciting water sports or relaxing sightseeing tours, the island of Fort Myers Beach is for you. Just in front of the Red Coconut you can rent jet skis and kayaks to explore the Gulf of Mexico. If you're looking for a more relaxing adventure the Ft Myers Beach Pier is just a mile away, there you can shop and dine while watching the sun set into the Gulf.
The Red Coconut RV Park is a vintage park and has been on the island since the early 1930's. Campers come from all over and book their spots for next year before they leave to make sure they get to come down again and see their friends and camping family. Book your stay now and see why the Red Coconut is the place to be if you enjoy beachfront camping at any time of the year. We offer daily, weekly, and monthly rates with summer specials. Call us at 1-888-262-6226, and book your spot now!