While you're in New Mexico for The Rally be sure to venture north a bit to see fascinating Sante Fe and scenic Taos! Discover the captivating natural landscape that makes New Mexico a hub of fantastic art and culture. Here's a great route from the folks at Woodall's to help you plan an entertaining excursion on one tank of fuel starting just 60 miles north of Albuquerque.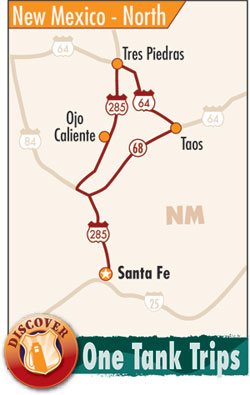 The "Land of Enchantment" is justly named. New Mexico's natural beauty truly has to be seen to be believed, especially the sunsets–each one is a masterpiece that not even the most gifted artist could adequately replicate. New Mexico is rich with sparkling lakes and majestic mountains, and is an ideal spot to camp, hike, go fishing, or just sit back and watch the desert life pass by.
Santa Fe
Our starting point of Santa Fe has been rated as one of the "30 Best Towns in America" due to its diverse mix of culture, shopping, and natural wonder. Santa Fe is nestled in the stately Sangre de Cristo Mountains, and the area enjoys an average of 300 days of sunshine per year. Not a bad place to keep the chill off the bones! Santa Fe is also the location of the Georgia O'Keeffe Museum, dedicated to the display of the works of one of the most noteworthy artists of the 20th century. The museum's collection consists of nearly 3,000 paintings and sculptures, and several of them are part of an ever-changing exhibit. Other artists that have been exhibited at the museum include Jackson Pollock, Frank Stella, and Andy Warhol.
Taos
Taos is a beautifully scenic seventy-mile drive that takes us north on the 285, then northeast on the 68. On arrival, we can go to the Taos Plaza for an eclectic mix of shops that sell authentic Native American jewelry and other crafts. The Paseo del Pueblo Norte is another fine place to investigate, being rich with many fine art galleries and the Taos Art Museum. No matter what time of year we visit, Taos affords us plenty of opportunities for outdoor adventure. In the spring, summer and fall we can go horseback riding (and even bring along an alpaca or a llama), or we can bike, hike, fish, or hunt. Winter brings the chance to go skiing, snowboarding, or racing down the hill in an inner tube if we like. No matter what our choice or season of our visit, local outfitters are stocked and ready to equip us with whatever gear we need.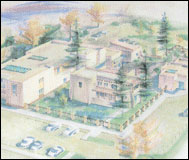 Tres Piedras
A quick ride northwest on Highway 64 brings us to Tres Piedras, which has wide expanses of desert suitable for hiking and off-roading, hunting and horseback riding. The Carson National Forest is nearby, and is ideal for camping. Another terrific spot is Hopewell Lake, situated among pine and aspen trees in the national forest. Trout fishing is the main "lure" here, with fully-stocked waters providing ample opportunity to fill our ice chests to the brim. At nearly 10,000 feet above sea level, it gets chilly at night, so be sure to bring warm clothing no matter what time of year you visit.
Ojo Caliente
The return trip from Tres Piedras to Santa Fe takes us south on the 285, through Ojo Caliente. This is the home of the world famous Ojo Caliente Spa, whose mineral waters have been a source of healing properties by the Native American tribes of the region, dating back hundreds, perhaps even thousands of years. We can soothe our hiking-weary bones in these rejuvenating waters, pamper ourselves with massages and mineral wraps administered by highly-trained professionals, enjoy a swim in one of their private outdoor pools, or spread mud all over our bodies and bask in the warm sunlight. Those who've treated themselves to the privilege of Ojo Caliente make this a destination spot, basing their entire vacation around returning to these sacred waters.
All told, the natural wonders and native mysticism inherent in New Mexico makes it not only a don't-miss-destination, but also one to be returned to again and again to experience the magic of this one-of-a-kind desert paradise.
Other Area Sponsors in New Mexico:
Enchanted Trails Camping Resort
KOA of Tucumcari
Los Campos de Santa Fe RV Resort
Santa Fe KOA Campground
The Trailer Ranch RV Resort