Combining work and RV fun with Good Sam.
When we became empty nesters about 20 years ago, we wasted no time in pursuing our dream of RV travel. In a month, we'd sold our house in Colorado, loaded up our fifth-wheel and hit the road. Our RV horizons opened up even more when we became reps for Good Sam, giving us the best of both worlds: A fulfilling job that also lets us drive around exploring, meeting people, eating great food (we travel by food!) and making terrific new friends.
Becoming Good Sam Reps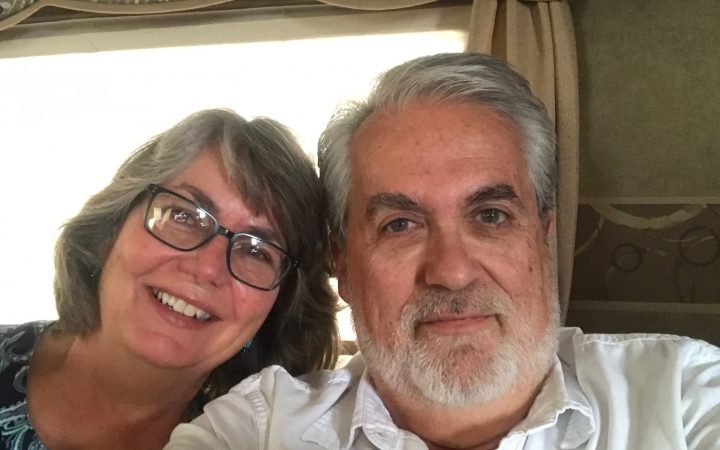 RVing wasn't always in the picture for us. Randy is from Missouri Valley, Iowa, home of the world-championship goose calling contest. Debbie hails from Greenwood, South Carolina, with the widest main street in the world. We met in St. Louis, got married in Colorado and raised two sons as we ran several successful optical stores.
We met a couple working as reps in our early RVIng days, and they told us how much fun they were having. We followed in their tire tracks, and for the last 19 years, we haven't looked back. As reps, we have the time to visit our two sons and three grandchildren when we're not inspecting parks and developing market plans with customers for the Good Sam RV Travel & Savings Guide. We love getting to travel and go camping while working (none of our family thinks we work for a living).
Work and RV Fun On the Road
Our favorite part of being a rep team is the people we meet along the way. If an RV park owner is to be successful, that owner is probably a good, hard-working and friendly sort. It has been truly fun getting to know some of these brave entrepreneurs.
So what does it take to succeed at this job? The most important part is genuinely loving the RV lifestyle – this enthusiasm will show to your customers. Believing in Good Sam and being able to educate park owners of the many benefits we offer is key. It's also important to have a good online and social media comfort level, along with a solid track record in sales. (Check out more rep stories).
Do you have what it takes? See below for more info.
---