When you stay at Wanderlust Crossings RV Park  get ready for an out-of-the-ordinary experience you're sure to love! Where modern-day amenities meet traditional traveling fun. As Oklahoma's premiere RV park, we're thrilled to offer visitors a full scale facility, complete with all your traveling needs. There's something for everyone, just check out these amazing museums nearby:

Stafford Air & Space Museum
The Stafford Air & Space Museum is named in honor of famed test pilot and astronaut Lt. General Thomas P. Stafford. Stafford was born in 1930 and raised in Weatherford, OK. The Stafford Air & Space Museum houses one of the finest collections showcasing the history of aviation and spaceflight and one of the best collections of aerospace artifacts in the central United States.
The museum showcases thousands of items representing the evolution of aviation and spaceflight. Examples include a ten-story Titan II rocket, actual space suits – including Stafford's flown Apollo 10 pressure suit, an Apollo Command & Service Module, and one of the most impressive collections of rocket engines in the world. Highlights are a gigantic F-1 from the Saturn V, a flown Shuttle Main Engine, and a flown segment of a Shuttle Solid Rocket Booster you can walk through. The museum has over 3,500 artifacts on display. It houses over 50,000 Sq. Ft. of exhibits and interactive fun.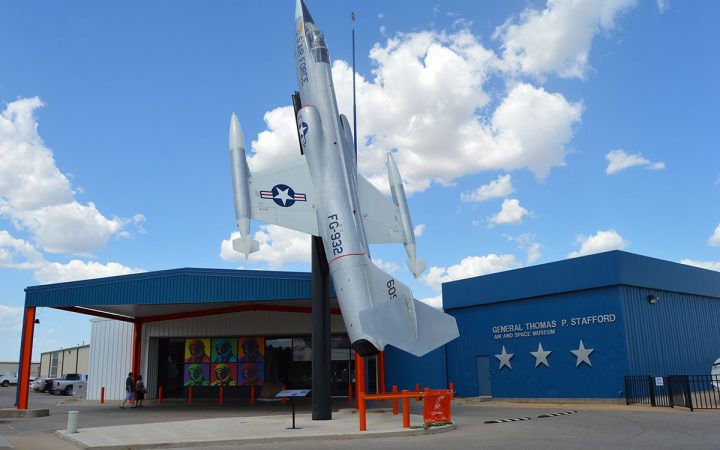 The museum's newest outdoor display has already become an iconic monument for the region.  Situated just outside the museum's front entrance, one of the most revolutionary aircraft ever built, the Lockheed F-104 "Starfighter," now points majestically six stories straight up into the sky!
Heartland of America Museum
Visitors can see, up close and personal, many artifacts from the late 1800s through the 1950s as they walk through the 32 major historical exhibits and nearly 40 aisle cabinet exhibits. The 12,000 square foot building is located on the southeast edge of Weatherford, Oklahoma and is readily visible from Interstate 40 between exits 82 and 84.
In addition to the main exhibit building, the Heartland Museum features four historic theme buildings on the museum grounds. These include: An authentic Weatherford Route 66 Diner (Elvis Presley stopped here three times). A one-room schoolhouse, and a 1930s era Blacksmith shop.
Wanderlust Crossings RV Park
Located just east of Weatherford off I-40 and Exit 84 (Airport Road – South 1/8 mile) is Oklahoma's newest RV Paradise. Wanderlust Crossings RV Park is a brand new spacious RV Park with 102 concrete pads and all asphalt roads. The entry to the park is beautifully landscaped with twin ponds and many waterfalls, trees, shrubs and flowers.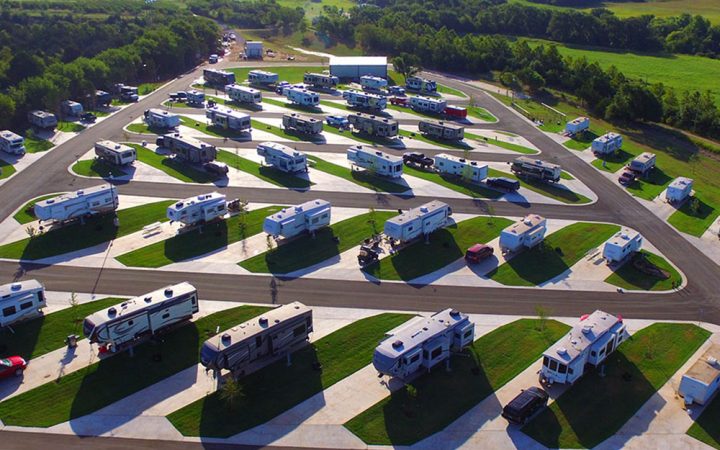 All pull-thrus are Big Rig friendly with some up to 100 ft. long and 35 ft. wide. All sites are 30/50 amp full hookups. Some sites will accommodate 100 amp service.
Restrooms and laundry are extremely nice with a separate family/handicap room. Other amenities include free WiFi, fire rings, table at sites, a playground, and games.
Wanderlust Crossings RV Park is pet friendly too with a large dog park and a pet wash room that is very convenient for grooming your pet. So far, 119 trees have been planted throughout the park along with fountains and other landscaping focal points. In the event of bad weather, this park has you covered with 5 storm shelters located throughout the grounds.
Wanderlust features a recreation hall with pool table and welcomes RV groups and clubs. The office includes a store with unique gifts, RV supplies, camping gear, and a game room.
Don't forget your Good Sam card. Wanderlust Crossings RV Park is one of our newest park members. Call for reservations at (580) 821-2464
1038 Airport Rd
Weatherford OK 73096