The Narrows sits on the edge of the Malheur National Wildlife Refuge, an oasis in the southeast Oregon desert. The wetlands are fed by the Donner und Blitzen River, named by German Civil War soldiers who marched through the area in a thunderstorm, which made them think of "thunder and lightning." The waters are revered for their wild trout fisheries. Krumbo Reservoir is another desert lake with top-notch fishing.
---
Planning a visit? Stay at the Narrows RV Park.
---
The Narrows is a base camp for the 69-mile Diamond Loop Back Country Byway that meanders through the high desert terrain to the tiny ranching community of Diamond and its restored Hotel Diamond. The volcanic vents, craters and cones lend the area its name. The Loop also visits the one-time property of land baron Peter French who built a unique round barn in the 1880s for breaking horses; it now operates as a Visitor Center.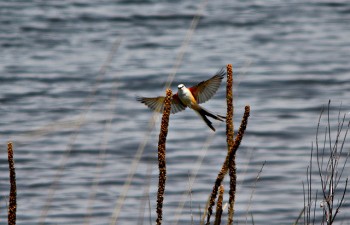 This stark landscape is typified by the basaltic mass of Steens Mountains and the harsh Alvord Desert that receives about seven inches of rain a season. Land speed records have been set on the dry lake bed in the dry season.