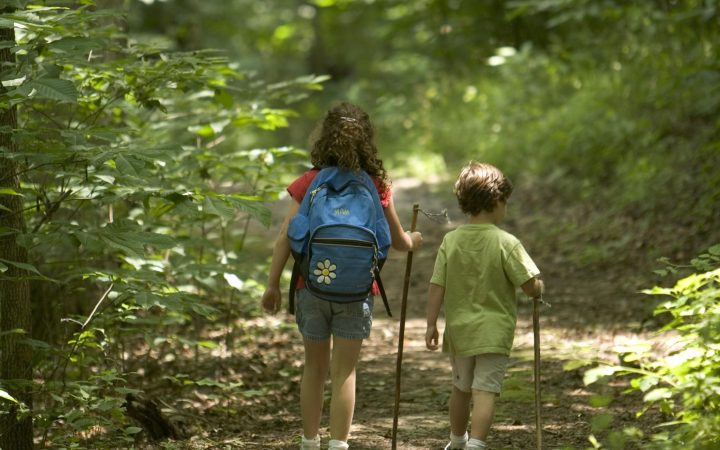 5 Things To Bring When Hiking With Kids
1) Sun Protection–  The Rash Guards that have a UPF (ultraviolet protection factor) double as great hiking shirts since they dry fast (if they sweat in them or get wet while hiking). They also offer great sun protection without the need for applying sunscreen on the areas it covers. For the rest of the skin that is exposed, you will want to apply at least a 30spf sunblock on the face, ears, arms, and legs. Plus, a hat on their head will help keep their face protected from the sun as well as extra protection from heat stroke.
2) Camera—You will want to capture all of the fun pictures of your family hiking together as well as all of the interesting things that you encounter along the way. Kids are only little once and you will want to have pictures to remember the fun experience hiking as a family. Before you know it, the kids are a lot bigger and aren't wanting to hike anymore or simply do anything outdoorsy. Pictures are always fun to look back at and kids will appreciate their times out in nature when looking at the pictures of them as kids hiking.
3) Hiking Poles—These are helpful for both adults and kids. When going uphill, they help with pumping your arms and using the poles to propel yourself upwards. Going downhill, they help with stability and act as shocks and can even help prevent a fall. For kids, its mostly just a novelty for them to use the poles that Mommy and Daddy use. They will usually get excited to use them, which in turn gets them excited about hiking. They will inevitably give them back at some point during the hike, when they tire of using them, which is just as well, since I like to use them. So, its really a win-win. Just purchase the ones that adjust so they will work for both you and your child.
4) Change of Clothes—Layers are the best, since kids will get warm when hiking on their own two feet, but the second you put them in the carrier, for a rest, they might need a light sweater or jacket. If they splash through a stream or step in some puddles (as kids so often do), you will want to have a spare set of clothes so that they are comfortable for the remainder of the hike. Also make sure they have proper hiking boots with a higher top and ankle support. Long pants are also smart to wear, especially on narrower paths that might have poison oak growing nearby.
5) Survival Manual/Skills—Worse case scenarios happen. Heaven forbid, your child or you get bit by a snake during your hike, you are going to want to know what to do. Whether you do some research beforehand (always a good idea) or have a pocket survival manual you bring with you, your life might depend on it someday, so be prepared. Also, always make sure to educate your children on what to look out for. For example, on our local trails you really want to keep an eye out for poison oak. Teach the kids what it looks like and how to avoid touching it, even with their clothes.
Hiking with Kids is an unforgettable blast every time. Being prepared is key and this list will help guide you when starting to plan what you'll bring with you while Hiking with Kids.  Happy Trails!