Vero Beach Kamp is nestled between Sebastian to the North and Vero Beach to the South in a little town called Wabasso, Florida. The RV and tenting campground is a tropical oasis, with 14 1/2 acres of large grassy sites and lush oak trees. There are 120 full hook-up sites available throughout the year.  Only 2 miles to ocean beaches and 5 miles to the fishing mecca.
There is a reason that this part of Florida is called the Treasure Coast. People have been known to find interesting sunken treasure from Sebastian down to Vero Beach.  If you want to fish or just cruise the water, boat ramps are located about 1 mile from the campground.
4 miles away are Mel Fishers' Treasure Museum, the McLarty Museum, the Jungle Trail and the Sebastian Inlet State Park.  A little bit further into Vero Beach you will find McKee Botanical Garden, Indian River Citrus Museum and the Vero Museum of Art.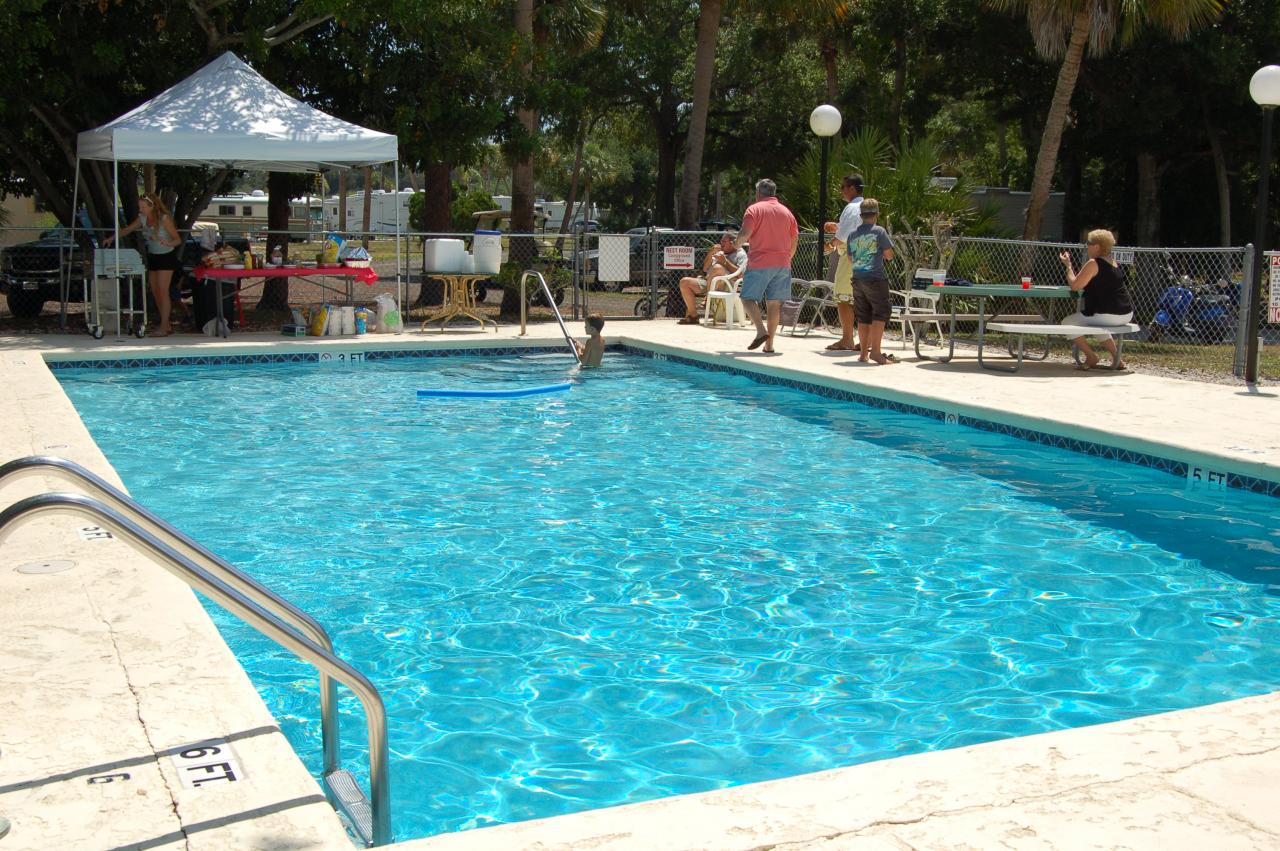 Vero Beach Kamp is located about an hour south of the renowned Ron Jon's Surf Shop and 1-1/2 hours south of the Kennedy Space Center NASA.
About six miles North into Sebastian you will find great local and national talent.  Captain Hiram's has 2 live bands daily and its Key West atmosphere is a great place to spend the afternoon for an appetizer, cocktail or one of their dinner entrees.  Just down the road from Captain Hiram's is Earl's Hideaway Lounge and Tiki Bar, where you can enjoy good food, great friends and live music.
Activities
There are many things for those who love sports.  In Sebastian on CR 512 you can test your skills at the shooting range.  In Vero Beach you can try your aim with arrows at the Indian River Archers. For those of you that enjoy baseball, the Vero Beach Sports Village is just minutes away. Enjoy family activities at Hobart Park Soccer Complex which is located a little over 2 miles away.  The Indian River Fair Grounds are host to many different events such as Music Festivals, Flea Markets, the Firefighter County Fair, Seafood Fest, dog shows and much more.
Amenities
Full hook-up sites are grassy and roomy with cement pads, 30 and 50 amp service, water, sewer, cable TV and a picnic table.
Tent sites are located toward the rear of the property for a more rustic camping experience.  Fire rings are available upon request.
The one room cabin and two room cottage include electric, cable hookup and air conditioning.  The cabin sleeps four and the cottage sleeps six.
Vero Beach Kamp is your destination campground to get away from the hustle and bustle of everyday life.
Vero Beach Kamp
8850 N US Hwy 1
Sebastian, FL 32958
772-589-5665
Reservations Only 1-877-589-5643