by Chris Guld, www.geeksontour.com
When we first bought our motorhome, it had 2 TVs.  One in the front, living/dining area, and one in the back – the bedroom.
 We got rid of both of them and set up a TV tuner with a projector and a window-shade screen.  It's great!  We have a big screen with surround sound – a pretty good home theatre for any house, let alone a 30 foot class C motorhome!
 When I recently purchased a new Windows 7 laptop, we wondered what to do with my old laptop.  It was still working fine, ( see rule #1 for buying a new computer) so I wasn't going to send it off to recycling.  How about a TV for the bedroom!  Jim found a stud in the wall and installed a TV shelf bracket that fits my old laptop just perfect.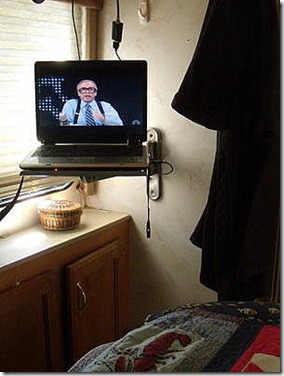 The antenna connection was already there, all we needed was the TV tuner.  The one Jim got is the ATI  TV Wonder (he got a great deal – $25 – by buying it on the daily special at Woot.com), but he's also used the Hauppage.  Just google for USB TV Tuner to see lots of other choices.  Basically this tiny box is the guts of a television!  Just plug one end into the USB port of your computer, and the other end into an antenna.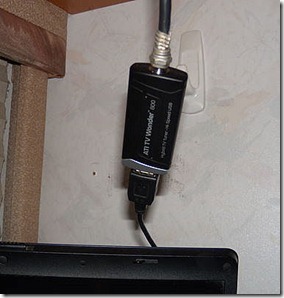 Of course, there is software as well, and you need to be sure whatever you get works with your computer's operating system.  Once you have it all set up, you have TV!  Ours even came with a remote control.  And, since it is still a computer – it is even better than a TV – you can get the Guide from the Internet, you can record and playback shows using your computer as a Digital Video Recorder (DVR.)   And, if you can't find anything on TV you can use the computer to play a DVD or watch Internet video on Hulu. 
Be aware that this system is a bit of a resource hog.  Don't expect it to work on a computer that's too old – read the system requirements on the tuner.  And, be ready to get a bit geeky in setting it up. 
I actually have no clue what's involved in setting it up 🙂  That's Jim's job!  But, I do like having TV in the bedroom – when Jim's watching football on the big screen, I now have other choices!