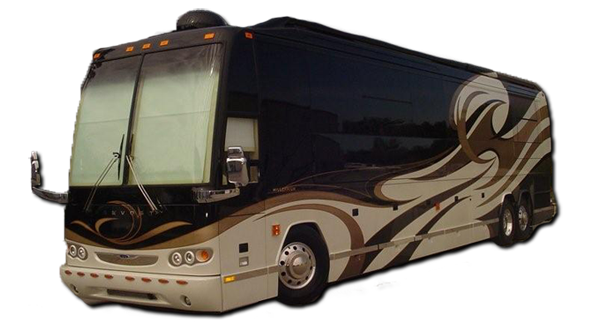 Conversion coaches are the highest-priced class A motorhomes in the country. These luxurious rolling mansions can cost in excess of two million dollars. But are these really the ultimate in class A coaches?
Well, they certainly may be when it comes to proven chassis and opulent bling. All of this, however, may have some substantial trade-offs when compared to a conventional luxury class A coach. Let's look at some of the not-so-great feature let-downs.
Air Level Only—Chassis such as Prevost do not have hydraulic stabilizers, nor can they be fit. Most high-end Class A coaches come standard with both air-leveling and hydraulic-leveling jacks.
Non-Swiveling Front Seats—Capturing living space at the front of a motorhome is accomplished by rotating the front seats for use in the living room area. Conversions cannot rotate either seat except for a very limited number of passenger seat configurations. This reduces the camping living space by up to five feet, or 40-plus square feet.
Lower Power-to-Weight Ratio—The power-to-weight ratio on these conversions is about 105 pounds per horse power. Although this is only 5 pounds heavier than the recommended 100 pounds, it falls short of the conventional big rig's that are in the area of 90 pounds.
Two-piece Windshield—The two piece windshields found on conversions may work for a bus application, however it lacks the panoramic viewing sought by the majority of RV owners.
Basic Function Dashboard—Most conversions have the standard old bus dash. While it is functional, it lacks the crisp electronic feature filled panels that conventional coaches come with today.
No Driver Window Opening—Conversion coaches have only a toll ticket window opening. The lack of an opening window makes things like going through the border at customs more awkward.
Lack of Kitchen Storage—Due to the wrap-up window designs and the decorative art-like displays that current builders provide, there is little storage for food, cooking supplies and needed small appliances. Generally, gourmet cooks need not apply.
Now, please do not misunderstand me. The conversion buses are beautiful and certainly are a quality product. However, the base chassis is designed for a bus application, not a motorhome.
So, there are trade-offs! Perhaps most prospective owners could overlook them. Then the only real trade-off is the one that's reflected in your bank account balance.